This post was originally published here May 9, 2016. I've since updated the text and photographs. This fabulous cake can be served for brunch or dessert. It's a wonderful treat when rhubarb is in season!
RHUBARB IS HERE!
Sorry for yelling. But I'm excited. Maybe even more so than usual.
Yes. I'm always thrilled for the arrival of seasonal produce. It's literally what me and my family have based our entire lives on. But these days, it seems even more special. As I approach a full two months of sheltering-in-place by myself, it's these small, simple joys that are really driving me.
So being able to make a wonderfully fragrant and tender cake with the first stalks of sturdy pink rhubarb really feels like something. And I'm fully embracing it.
This Rhubarb-Almond Cake has been around the blog for a while now. And it's well loved by many. But I decided to give the photographs a facelift, in hopes of enticing even more of you to try it. Flavored with orange zest, cardamom and a splash of both vanilla and almond extract, this dessert (although I also find it "wholesome" enough to be served at brunch) is as tasty as it is beautiful. And even if you don't have an ounce of cake decorating skills in your body, you need not to worry. Because this cake looks best when it's a bit rustic. A simple light dusting of powdered sugar is the only finishing touch you'll need.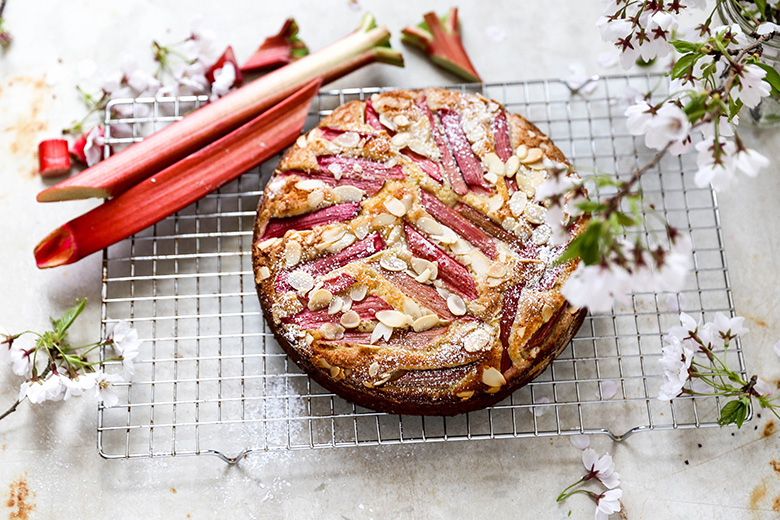 Due to recent events (ahem), I didn't have a couple of the ingredients I needed when I remade this recipe this past week. But guess what? Nothing bad happened! So I thought I'd share my slight changes, just in case you find yourself in a similar situation. First, I was out of Greek yogurt. In its place, I used one container of fruit-on-the-bottom (it was mango flavor, I believe) low fat yogurt. Second, I only had about half the amount of rhubarb that I would typically use. So in step 5, I simply skipped the middle layer and only used rhubarb for the top. There was a little less overall rhubarb flavor, but the cake was still delicious!
If you're looking for something special to make Mom for Mother's Day this weekend, I highly recommend this Rhubarb-Almond Cake. If you try it, let me know!
Cheers,
Liz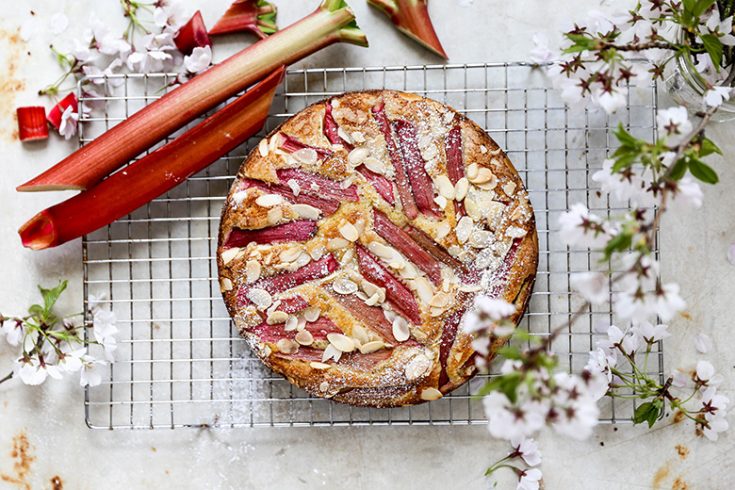 Rhubarb-Almond Cake
Yield: Makes one 10-inch cake
Prep Time: 15 minutes
Cook Time: 50 minutes
Total Time: 1 hour 5 minutes
Ingredients
1/2 cup (8 tablespoons) unsalted butter, softened at room temperature
1 cup plus 1 tablespoon granulated sugar, divided
2 eggs
1 cup Greek yogurt
1 tablespoon fresh orange zest
3/4 tsp. vanilla extract
1/4 tsp. almond extract
1 1/2 cups all-purpose flour
1/2 cup almond meal
1 tsp. baking powder
1/2 tsp. baking soda
1/2 tsp. ground cardamom
1/4 tsp. salt
About 3/4 lbs fresh rhubarb
1/3 cup sliced almonds
Powdered sugar, for dusting
Instructions
Pre-heat your oven to 350 degrees. Line the bottom of a 10-inch springform pan with a round of parchment paper. Then generously coat the parchment paper and the sides of the pan with non-stick cooking spray. Set aside.
In your stand mixer fitted with the paddle attachment, beat the butter and 1 cup of the sugar on medium-high speed until light and fluffy, about 3-4 minutes. Stop to scrap down the sides of the bowl as necessary. Add the eggs in one at a time, beating after each addition. Then beat in the yogurt, orange zest and extracts.
In a medium bowl, whisk together the flour, almond meal, baking powder, baking soda, cardamom and salt. Gradually add the dry ingredients to your mixer, beating on low speed until no more white streaks remain. The batter will be thick.
Trim and discard any leaves and woody ends from the rhubarb. If the stalks are thick, slice them in half lengthwise. Then cut the rhubarb into pieces about 1 1/2-2 inches in length.
Spread about half of the cake batter into an even layer on the bottom of your prepared springform pan. Layer about half of the rhubarb on top, leaving about 1-inch between the pieces and around the edges of the pan. Then carefully spread the remaining cake batter on top, followed by the remaining rhubarb, the sliced almonds and the remaining 1 tablespoon of sugar.
Transfer the pan to your pre-heated oven and bake the cake for 45-50 minutes, or until a toothpick inserted into the center comes out clean. Remove from the oven and set the pan on a wire rack to cool for about 15 minutes. Then run a knife around the outer edge of the cake, release the sides of the springform pan and lift it off. Slide the cake off the bottom of the pan and onto the wire rack to finish cooling.
Once cooled, slice and serve with a sprinkle of powdered sugar, if desired.
The cake can be stored at room temperature in an airtight container for 1-2 days.