Memorial Day is just around the corner. And do you know what that means? SUMMER! Hooray! I can't wait for sunshine, swimming, barbecues, bike rides, ice cream, tomatoes, sangria and everything else that comes with the season. My excitement runneth over.
Although here in Seattle, we say that summer doesn't officially start until after the 4th of July. But I'm just going to ignore that sentiment right now and pretend that summer starts in a few days. Are you with me?
I have a really fun appetizer-dessert hybrid that would be just perfect for any Memorial Day festivities that you might have planned. It's a Strawberry-Nutella Dessert Bruschetta. And it's soooo delicious and easy to put together! I know you're going to be hooked after your first bite!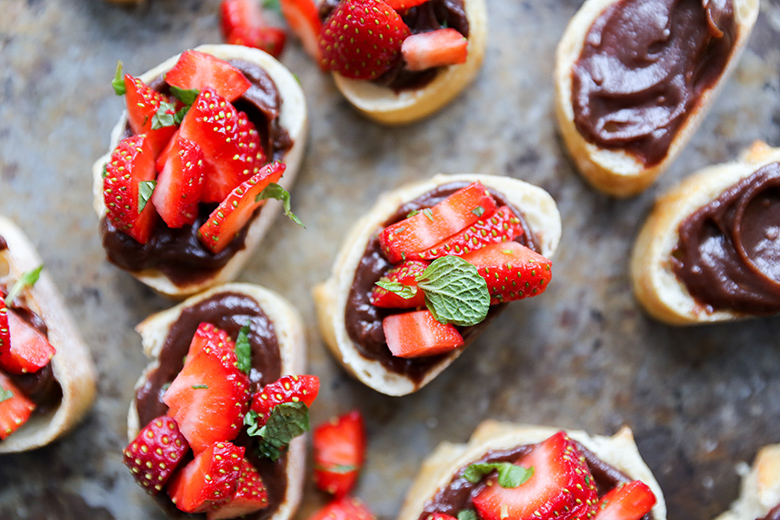 You've probably noticed that I've been on a bit of a strawberry kick lately. I've been adding them to salads, popsicles and of course, pairing them with my favorite chocolate-hazelnut spread. I love dipping strawberries in Nutella, which is how I came up with the idea to make these little toasts. Which by the way, also have a secret savory component: mascarpone cheese. It reduces the sweetness just a little bit and gives them an extra creamy mouth feel that is totally irresistible!
Try 'em out this weekend. You won't be disappointed!
Cheers,
Liz
Ingredients
1 loaf French bread, sliced
1 tablespoon butter, melted
4 ounces mascarpone cheese, softened at room temperature
6 ounces Nutella (or other chocolate-hazelnut spread)
2 cups strawberries, stems removed and diced
2 tsp. fresh mint, roughly chopped
Instructions
Pre-heat your oven to 400 degrees. Brush one side of the bread slices with the melted butter and place on a baking sheet, buttered side up. Transfer to your pre-heated oven and toast for 4-5 minutes. Remove from the oven and set aside.
In a medium bowl, combine the mascarpone cheese and the Nutella, mixing until no more white streaks remain. In a second bowl, toss together the diced strawberries and the fresh mint.
Assemble the bruschetta. Spread the Nutella/mascarpone mixture onto the toasted bread slices. Top with some of the strawberry/mint mixture. This part isn't an exact science. The amounts you use will depend on the size of your bread slices. Just do what feels and looks right to you. Have fun and enjoy!
https://www.floatingkitchen.net/strawberry-nutella-dessert-bruschetta/