This post was originally published here May 14, 2014. I've since updated the text and photographs. So get out your popsicle molds and let's get to it!
It's no secret that I love frozen treats.
I mean, hello did you see Monday's blog post?
And while ice cream will always be my "ride or die", popsicles are a close second. With endless flavor combinations (and you can even add alcohol!), minimal work and each one being the perfect serving size, it's hard not to love a popsicle.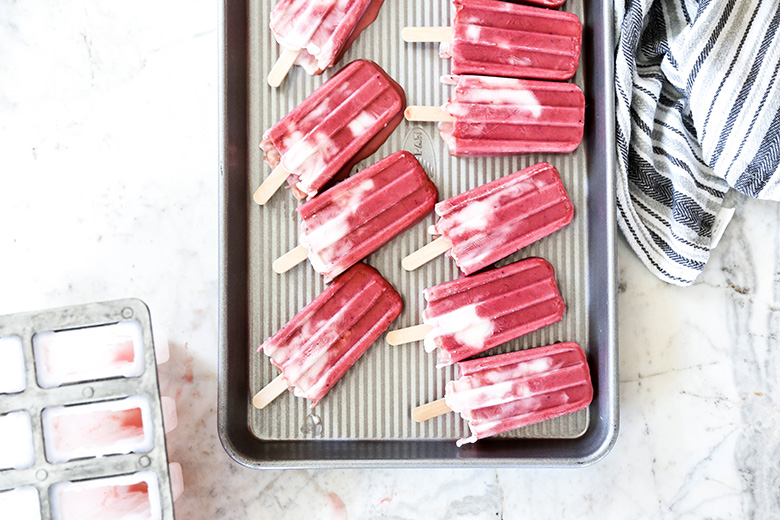 So with Summer unofficially here, my popsicle mold (I have this one) is finally seeing some action after a long Winter. And first up: these pretty in pink Strawberry-Rhubarb Yogurt Popsicles.
This quintessential Spring/Summer combination is great for cakes and pies. But now I think I like it even better in popsicle form. These Strawberry-Rhubarb Yogurt Popsicles are sweet, tart and tangy. And some might even say they are almost wholesome.
Popsicles for breakfast, anyone?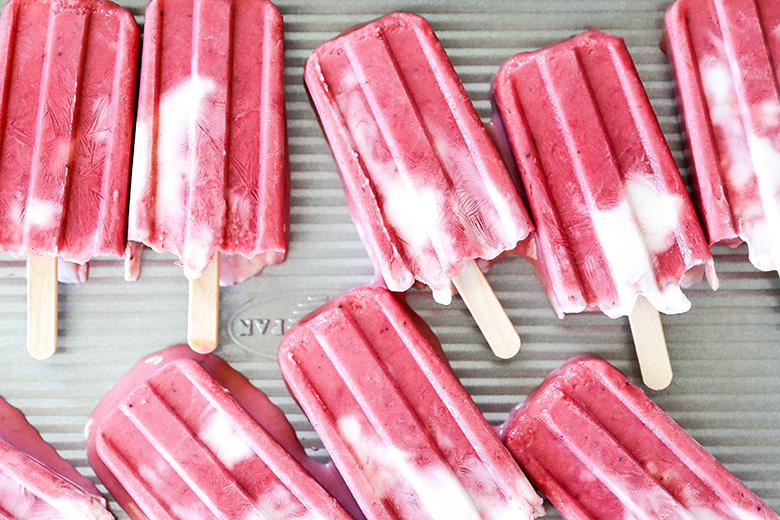 To make these popsicles, start by cooking down the strawberries and rhubarb with sugar and water until they are soft and broken down. Since both are in season now, I used fresh strawberries and rhubarb for this recipe. But here is a great place to substitute in with frozen, if necessary. I also add in a vanilla bean for lots of vanilla goodness. But you can use vanilla bean paste, a splash or vanilla extract or skip it all together. Next you blend the mixture in your blender with Greek yogurt until smooth. Then divide it between your popsicle molds and dollop in a little bit more Greek yogurt for a swirly, artsy flare. So easy! The hardest part is waiting for them to freeze!
Cheers,
Liz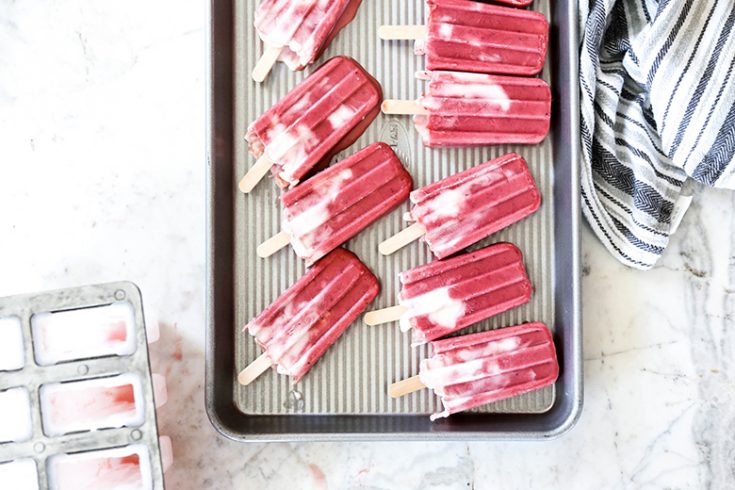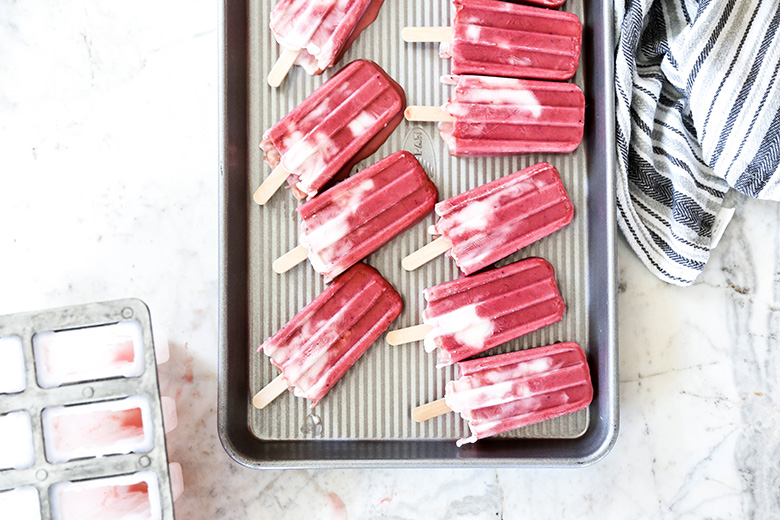 Strawberry-Rhubarb Yogurt Popsicles
Yield: Makes 10-12 popsicles, depending on your mold
Prep Time: 5 minutes
Cook Time: 15 minutes
Additional Time: 6 hours
Total Time: 6 hours 20 minutes
Ingredients
2 cups stemmed and sliced strawberries
2 cups sliced rhubarb
1/2 cup granulated sugar
1/2 cup water
1 vanilla bean, seeds scraped and pod reserved
About 8 ounces Greek yogurt, divided
Instructions
In a saucepan over medium heat, combine the strawberries, rhubarb, water, sugar, and the vanilla bean seeds and pod. Bring the mixture to a simmer and cook, stirring frequently, for about 15 minutes or until the fruit is softened and almost completely broken down. Remove the saucepan from the heat and set it aside to cool to room temperature.
Remove and discard the vanilla bean pod. Transfer the fruit mixture and all the accumulated cooking liquid to your blender. Add about two-thirds of the Greek yogurt. Then blend on high until smooth.
Divide the mixture evenly between your popsicle molds, filling them about three-quarters of the way full. Then dollop about a teaspoon of the remaining Greek yogurt into the tops of each of the molds and using a popsicle stick, push it down into the mold and swirl it around slightly.
Insert popsicle sticks and place your popsicle molds in the freezer. Freeze until the popsicles are completely firm, about 6-8 hours. Once completely frozen, the popsicles can be removed from their molds and enjoyed.