Disclosure: This post is sponsored by Harry & David. All opinions are my own. Thank you for supporting brands and companies that support Floating Kitchen.
If a cake could be famous, then Marian Burro's plum torte, originally published in the New York Times in 1983, would "take the cake".
The New York Times declares it to be one of their most requested recipes of all time. As the story goes, the original recipe was published every September from 1983 to 1989, at which time the editors decided to stop printing it. They warned readers in advance, even encouraging them to cut it out and save it for future posterity, but it's omission from the paper the following year did not go over well. Letters of outcry came flooding in with a singular message: bring back the plum torte.
The recipe has since been published thousands of times (cookbooks, magazines, food blogs, etc.), making one thing for sure: the recipe will never be "lost" again.
The resulting cake is certainly greater than the sum of its humble parts. But it's hard to pinpoint exactly what makes it so famous and well loved. It's delicious, easy, highly adaptable (I plan to make this savory version very soon!) and it can seamlessly go from brunch to dessert. But so aren't a lot of other cake recipes, right? It's kind of a mystery. But it's one that I'm happy to accept and leave un-dissected. Sometimes you have to just trust that something is truly glorious, even if you can't exactly explain why that is so.
Today, I'm partnering with Harry & David to bring you the ultimate Summer version of the original, beloved plum torte. It's an adaptation that you won't want to miss!
You also don't want to miss out on the Harry & David giveaway! Two winners will be selected to receive a prize valued at $60.00! Keep reading and enter below!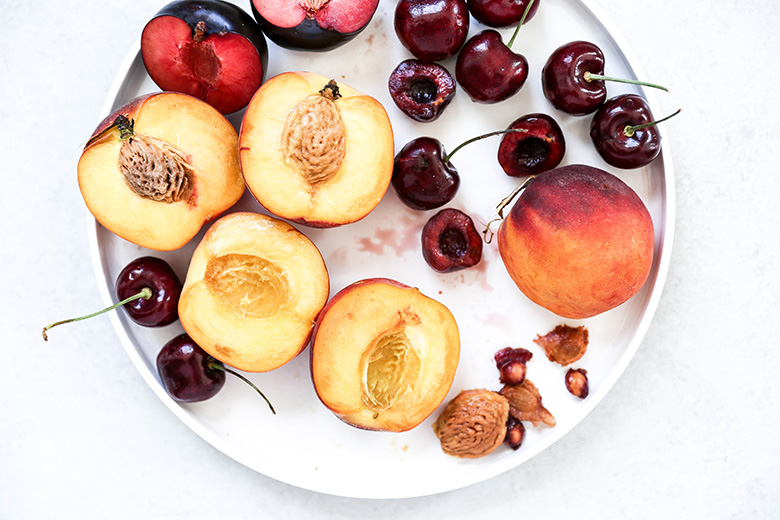 This Rustic Stone Fruit Torte features Harry & David's famous Oregold Peaches, Dark Sweet Plums and Cherry-Oh! Cherries. With so much stone fruit coming into season, I couldn't bring myself to pick just one to highlight (although I'm a *teeny* bit more smitten with the Oregold Peaches right now, but let's just keep that a secret from the other fruits). So I've included all three varieties here. And I have zero regrets.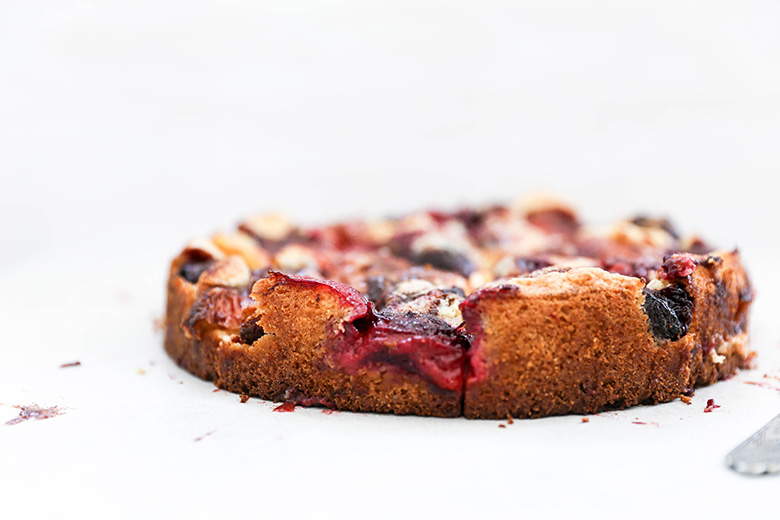 This torte feels like multiple desserts in one. The top is jammy and juicy (and has the most wonderful combination of ground cinnamon and cardamom). The layer immediately underneath the fruit is moist and almost pudding-like in consistency. And the bottom layer gets crisped just enough to achieve a subtle, golden brown crust all along the outside edge. Like I said before: the final product is greater than the sum of its parts.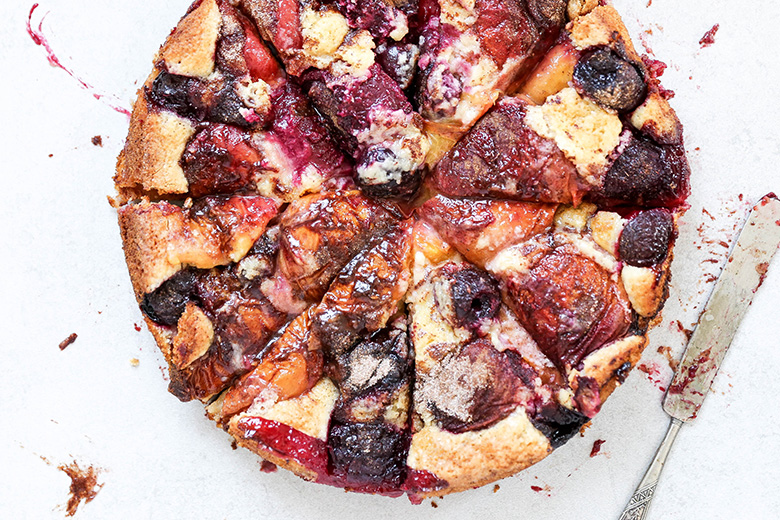 One word of caution about that second "pudding-like" layer that I just described above. It does have a bit of an "undercooked" gooey-ness about it. Which personally, I love. But I'm also the girl who would rather eat raw cookie dough than a fully baked cookie. And who obsessively licks the batter from mixing bowls and utensils. If that's NOT you, no worries. I got you covered. Just cut back on the total amount of fruit on top, leaving some open spaces at the surface, so the layer underneath has more of an opportunity to firm up during baking.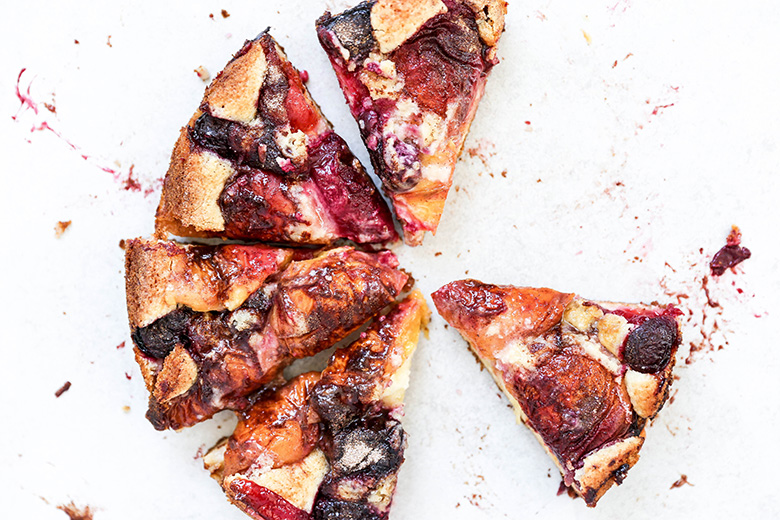 Harry & David is a wonderful place for fresh, seasonal fruits. Especially for those of us who don't live in climates that can support the growth of many of the varieties that they are lucky enough to be able to cultivate in the Pacific Northwest. And today, I'm excited to be able to give YOU the chance to enjoy their signature Royal Verano Pears, Oregold Peaches and Cherry-Oh! Cherries. Two lucky Floating Kitchen readers will receive Harry & David's Summer Tempting Fruit Trio Gift Box. It's a prize valued at $60.00, and all you have to do to enter for your chance to win is leave me a comment below, telling me which out of the three fruits featured in the Gift Box you'd be most excited to dig into first. You have until August 10, 2018 5pm EST to enter. And you must be 18+ years of age, have a US shipping address and a valid email address (which I will use to contact the two winners). Good luck! Update: This giveaway has ended and two winners have been selected. Thank you to everyone who participated!
And if you try this Rustic Stone Fruit Torte, please let me know. I would love to hear form you!
Cheers,
Liz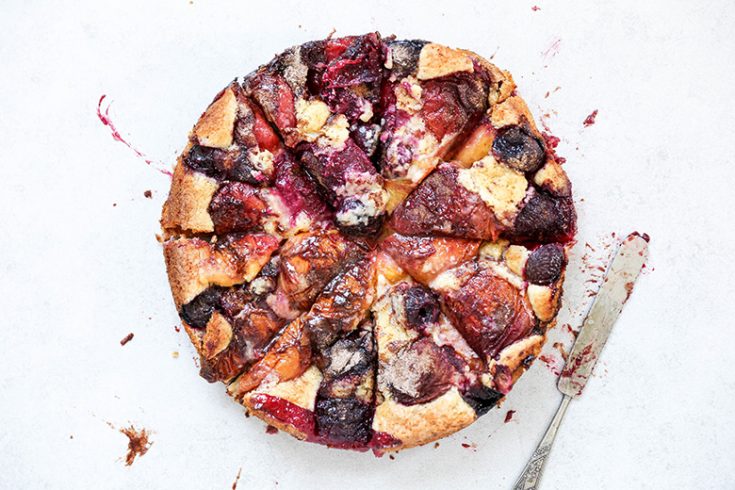 Rustic Stone Fruit Torte
Yield: Serves 8

Prep Time: 15 minutes

Cook Time: 55 minutes

Total Time: 1 hour 10 minutes
Ingredients
1 cup plus 2 tablespoons granulated sugar, divided
1/2 cup (8 tablespoons) unsalted butter, softened to room temperature
2 eggs
1 cup all-purpose flour
1 tsp. baking powder
1/2 tsp. salt
3 plums, halved and pitted
3 peaches, halved and pitted
1 cup cherries, pitted and stemmed
2 tsp. fresh lemon juice
1 tsp. ground cinnamon
1/2 tsp. ground cardamom
Instructions
Pre-heat your oven to 350 degrees. Lightly coat the bottom and sides of a 9-inch springform pan with non-stick cooking spray. Set aside.
In the bowl of your stand mixer with the paddle attachment, beat together 1 cup of the sugar with the butter until light and fluffy, about 2-3 minutes. Add in the eggs one at a time, beating after each addition and scraping down the sides of the bowl as necessary. Add the flour, baking powder and salt and beat until the ingredients are just combined and no more dry spots remains.
Spoon the batter into your prepared springform pan, smoothing it to create an even surface. Arrange the plums, peaches and cherries over top of the batter so the surface is almost completely covered. The plums and peaches should be placed skin side up. Sprinkle the lemon juice over top.
In a small bowl, stir together the remaining 2 tablespoons of sugar with the cinnamon and cardamom. Sprinkle this mixture over top.
Transfer the springform pan to your pre-heated oven and bake for 45-55 minutes. The torte should be puffed and golden brown on top, and the fruit should be bubbly. Remove the pan from your oven and set it on a wire rack. Allow the torte to cool completely before removing the outer ring and slicing.
Notes
Depending on the size of your fruit, you may need to adjust the amount to cover the surface of the batter.

Recipe adapted from Marian Burros via Smitten Kitchen.

SaveSave
SaveSave
SaveSave