The post was originally published here on April 24, 2015. I've since updated the photographs and adjusted the recipe slightly. I hope you try out these fun Summer treats!
I'm saying a big HELLOOOO to Summer with these Gluten-Free Vanilla Cream Popsicles with Brownie-Toffee Crunch. Come and join me!
These popsicles are everything a popsicle should be. They have a rich, creamy base. And every single bite is filled with soft brownie chunks and crunchy pieces of toffee. I made damn sure of that. Because I hate it when I have to "dig around" for the good stuff. You feel me?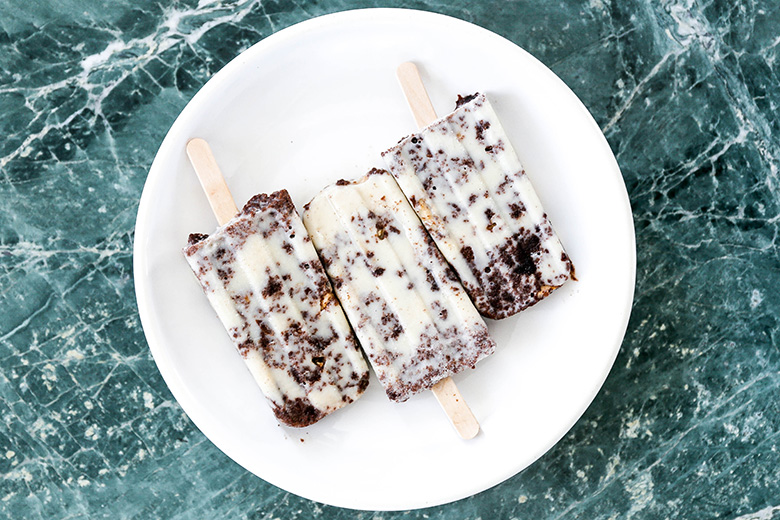 I used one of my favorite flourless brownie recipes for the brownies because it's SO deeply chocolatey and decadent. The fact that it also happens to be gluten free is an added bonus. The recipe makes a standard 8 X 8-inch pan of brownies, and you'll probably only use about 1/3 of the pan to make the popsicles. Which means you'll have leftover brownies. But I think you can figure out a way to deal with this "problem".
But if you don't want this "problem", you can purchase a couple brownies from your favorite bakery and use those instead!
The exact number of popsicles you'll get will depend on the size/shape of your molds. I typically get 10-12 popsicles from this recipe using this mold. Filling them isn't really an exact science. It's kind of just something you have to eyeball.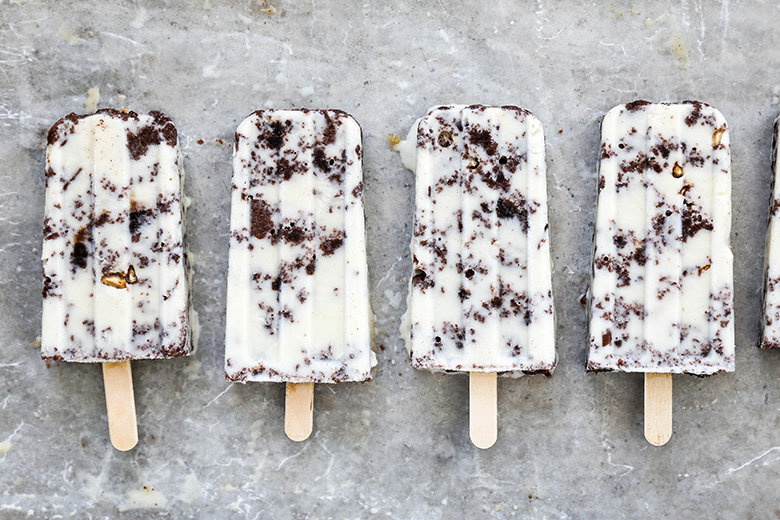 If you're going to be serving these up at a party, I recommend removing all the popsicles from their molds, placing them in a single layer on a wax paper-lined baking tray and keeping the baking tray in your freezer until they're ready to be enjoyed. This makes it a lot easier to just grab one or two popsicles at a time. And you won't run the risk of the other popsicles getting melty!
I'm hoping to make a few more popsicle recipes this Summer. Any suggestions on what I should try next? Fruity? Boozy? Crunchy? Let me know your thoughts!
Cheers,
Liz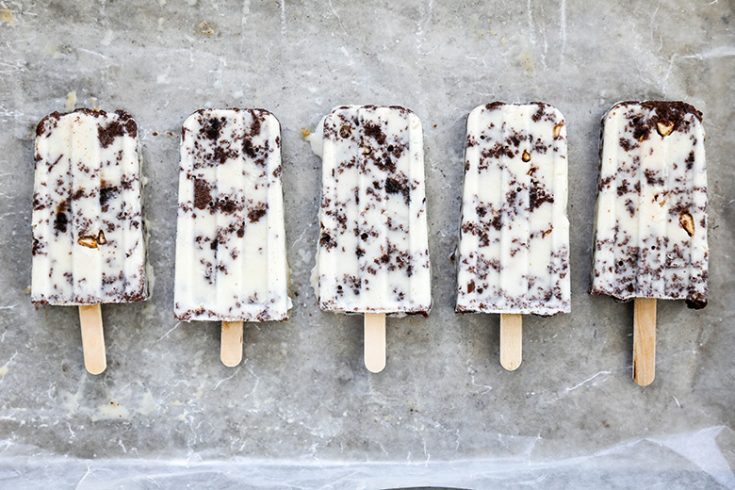 Gluten-Free Vanilla Cream Popsicles with Brownie-Toffee Crunch
Yield: Make 10-12 popsicles
Prep Time: 30 minutes
Cook Time: 30 minutes
Additional Time: 8 hours
Total Time: 9 hours
Ingredients
For the Brownies:
6 tablespoons unsalted butter, cubed
8 ounces dark chocolate, roughly chopped
3/4 cups granulated sugar
1/8 tsp. salt
2 eggs, room temperature
3 tablespoons cornstarch
1 tablespoon unsweetened cocoa powder
About 1/2 cup chopped toffee pieces
For the Popsicle Base:
1 1/2 cups whole milk
1 (14 ounce) can sweetened condensed milk
2 ounces cream cheese
1 vanilla bean, seeds scraped
Instructions
Pre-heat your oven to 350 degrees. Line an 8 X 8-inch baking pan with parchment paper, leaving some hanging over the sides. Then spray the parchment paper with non-stick cooking spray. Set aside.
In a medium saucepan over medium heat, melt the butter. Turn the heat down to low and add the chopped chocolate. Stir with a wooden spoon until the chocolate is melted. Then remove the saucepan from the heat and stir in the sugar and salt.
Add the eggs one of a time, stirring between each one. Then add the cornstarch and the cocoa powder and stir the batter vigorously for about 1 minute. The batter will appear lumpy at first, but it will smooth out and become glossy as you continue to stir it.
Pour the batter into your prepared baking pan and transfer to your pre-heated oven. Bake for 25-28 minutes. Remove from the oven and let the brownies cool completely in their pan. Then once completely cooled, crumble about 1 1/2 – 2 cups of the brownies and place in a medium bowl. Add the toffee pieces and toss to combine.
Divide the crumbled brownie-toffee mixture among your popsicle molds, filling the molds about 3/4 full. Don't pack the brownie-toffee mixture down into the molds. Let there be space between the ingredients. Set aside.
Add all the ingredients for the popsicle base to your blender and blend on high until combined. Then slowly pour this liquid mixture into your popsicle molds until the liquid comes to the top and covers the brownie-toffee mixture. Insert popsicle sticks and place your popsicle molds in the freezer. Freeze until the popsicles are completely firm, about 6-8 hours. Once completely frozen, the popsicles can be removed from their molds and enjoyed.