Remember when I declared that November should be Cranberry Month? Well, clearly I took my own statement very seriously. Because this is my third cranberry recipe on the blog this month. And we're only just hitting the halfway mark now. AND I think I have one more cranberry recipe up my sleeve.
Have I gone too far? Are you sick of cranberries already? I sure hope not. Because THIS recipe for Chocolate-Cranberry Bread Pudding is a total winner and you don't want to miss out on it.
This Chocolate-Cranberry Bread Pudding comes from Alice Medrich's cookbook, A Year in Chocolate. Which could also be re-named "The Key to My Heart". Because I want to make everything in this cookbook. And then eat it all myself. No sharing.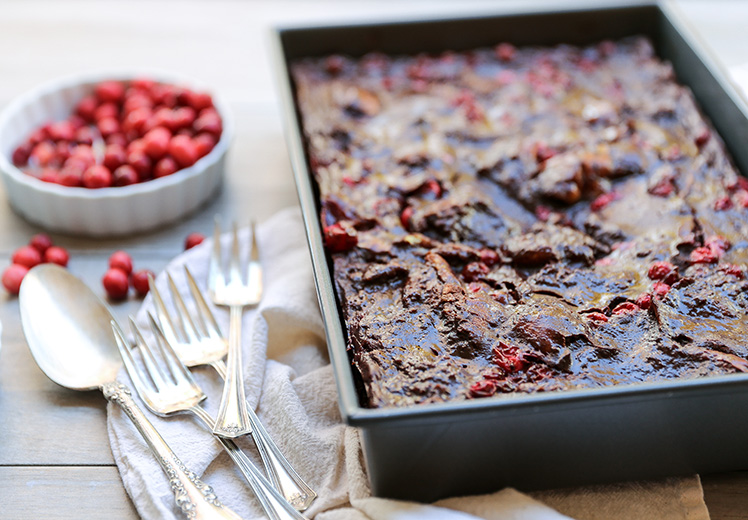 OK. I suppose I can share. In fact, this bread pudding is just meant to be shared, because it makes a whole 9 X 13-inch pan. I brought this into work and people were not shy about digging right in. It was a hit with everyone. And I know it would be the perfect dessert for Thanksgiving or Christmas.
Make sure to use high quality chocolate in this recipe (i.e. not chocolate chips). And for something even extra special, serve it up with a little bourbon whipped cream. Because why not, right?
Cheers,
Liz
Recipe slightly adapted from A Year in Chocolate
Ingredients
For the Bread Pudding
1 (16-ounce) loaf challah or brioche bread
1/2 cup (8 tablespoons) unsalted butter, melted
2 cups fresh cranberries (thawed if using frozen)
Zest of one large orange
1 2/3 cups whole milk
1 cup heavy whipping cream
3/4 cups sugar
14 ounces dark chocolate, chopped
7 eggs
1 tsp. vanilla extract

For the Bourbon Whipped Cream
1 cup cold heavy whipping cream
1 tablespoon bourbon
1 tablespoon powdered sugar (you can also use granulated sugar)
Instructions
Pre-heat your oven to 350 degrees. Position a rack in the lower third of your oven.
Tear the loaf of bread into large pieces, about 2-inches in size. Spread the bread pieces out onto a large rimmed baking sheet and bake in your pre-heated oven for 5 minutes. Remove from the oven and immediately drizzle the melted butter over the bread, tossing to coat. Then transfer about half of the buttered bread to a greased 9 X 13-inch baking pan. Sprinkle the cranberries and orange zest over the top of the bread. Top with the remaining bread. Set aside.
In a medium heavy-bottomed saucepan, combine the milk, cream and sugar. Bring to a simmer over medium heat, stirring constantly until the sugar is dissolved. Remove from the heat and add the chopped chocolate, stirring until the chocolate is fully melted. Set aside.
In a medium bowl, whisk together the eggs and vanilla extract. Then temper the eggs by adding about 1 cup of the warm chocolate mixture to the egg mixture, whisking constantly as you add. Then whisk the tempered eggs into the remaining chocolate mixture, whisking until everything is well combined.
Pour the chocolate-egg mixture evenly over the bread. If any of the bread pieces are sticking out, gently push them down so they are covered by the chocolate-egg mixture. Cover your pan loosely with aluminum foil and transfer it to the lower third of your pre-heated oven. Bake for 15 minutes. Remove the foil and bake for an additional 20 minutes. Remove the bread pudding from the oven and set it on a wire rack to cool. The bread pudding will still be slightly jiggly in the very center. That is OK. It will thicken and set-up as it cools. Wait about 30 minutes before attempting to serve.
While the bread pudding is cooling, make the whipped cream. Place the bowl of your mixer and the whisk attachment in your freezer for 5-10 minutes. Once chilled, remove from the freezer, immediately add the cream and the bourbon and start whisking. Whisk until the cream starts to thicken and then add the powdered sugar. Continue whisking until peaks form. Whipped cream is best when it's used immediately after making it, but it can be stored in the refrigerator for a couple hours if necessary.
Once the bread pudding has cooled and set-up, spoon it into bowls and serve with a dollop of the whipped cream. Leftover bread pudding can be stored, covered, in your refrigerator for 2-3 days.
https://www.floatingkitchen.net/chocolate-cranberry-bread-pudding/