Is anybody else sick of pumpkin yet? I know it's only the beginning of November, but pumpkin seems to be all anyone can talk about these days. Or at least that's how it feels in my little food blogging world. I don't know about you, but I'm ready for some new flavors to take center stage.
So I'm pushing pumpkin off to the side and I'm declaring that November be considered Cranberry Month. Is anyone else with me here? Anyone?
No? Well maybe I can convince you with these Cranberry-Pecan Muffins.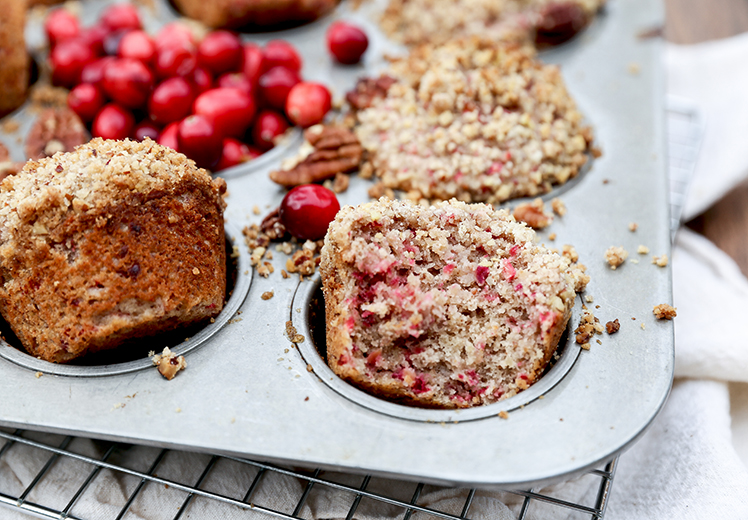 I'm never one to turn down a baked good with a streusel topping. But I think the thing I love the most about these muffins is that every single bite is loaded with both pecan AND cranberry flavor. Literally. Every single bite. That's because the pecans and cranberries are chopped up into itty bitty pieces before being incorporated into the batter, resulting in an even distribution of ingredients throughout the entire muffin. Pretty smart.
These muffins have a moist and delicate crumb. And they are just barely sweet. Not overly sweet at all. So you can feel good about enjoying them for breakfast or as a snack with some afternoon tea or coffee. I guarantee you won't miss the pumpkin one bit!
Cheers,
Liz
Recipe from The Cook's Illustrated Baking Book
Ingredients
For the Streusel Topping
3 tablespoons all-purpose flour
1 tablespoon brown sugar
4 tsp. granulated sugar
2 tablespoons unsalted butter, cut into 1/2-inch pieces
1/8 tsp. salt
1/2 cup pecans

For the Muffins
2 large eggs
6 tablespoons unsalted butter, melted and cooled
1/2 cup whole milk
1 1/4 cups pecans
1 cup plus 1 tablespoon granulated sugar
1 1/2 cups all-purpose flour
1 1/2 tsp. baking powder
1 tsp. salt, divided
2 cups fresh cranberries (thawed first if frozen)
1 tablespoon powdered sugar
Instructions
Make the streusel topping. In the bowl of your food processor with the blade attachment, pulse together all of the ingredients except for the pecans until the mixture resembles course sand. Add the pecans and pulse 4-5 times, or until the pecans are coarsely chopped. Transfer the streusel topping to a small bowl and set aside.
Make the muffin batter. In a large bowl, whisk together the eggs, melted butter and milk until well combined. In your food processor (it's not necessary to wash out the bowl from above), process the pecans and the granulated sugar until a course meal is formed. Add this to the egg mixture and whisk to combine. Then add the flour, baking powder and 3/4 tsp. of the salt and whisk until the flour is fully incorporated. Set the batter aside for 30 minutes at room temperature to rest.
Meanwhile, pre-heat your oven to 425 degrees. Spray a standard 12-cup muffin tin with non-stick cooking spray and set aside.
Pulse together the cranberries, powdered sugar and the remaining 1/4 tsp. of salt in your food processor (again, you can use the same bowl and no need to wash it out) until the cranberries are coarsely chopped. Using a rubber spatula, fold the cranberries into the muffin batter.
Scoop the batter into your prepared muffin tin, dividing it evenly among the 12 cups. Top each muffin with the streusel topping and press down gently to adhere. Transfer the muffins to your pre-heated oven and bake for 17-18 minutes, or until a toothpick inserted into the center comes out clean, rotating the pan halfway through baking. Remove the muffins from the oven and let them cool in their tin for about 10 minutes before removing and transferring them to a wire rack to finish cooling.
Once completely cooled, the muffins can be stored in an airtight container at room temperature for 2-3 days.
https://www.floatingkitchen.net/cranberry-pecan-muffins/