Want to add a little twinkle and shine to your holiday party? And want it to be completely edible?
Yes? Well here is how you do it: Sparkling Sugared Cranberries.
Otherwise known as the easiest way to add some festive sparkle to your Holiday dinner parties.
Here is all you have to do: soak some cranberries in a simple syrup, drain them, roll them in sugar, let them dry and enjoy! That's it! Easy peasy. But also totally impressive. Your dinning room will look like a page that's been torn straight out to the pages of a Pottery Barn Catalog!
These Sparkling Sugared Cranberries very versatile and effortlessly go from savory to sweet courses. Try serving them with your cheese and cracker spread. Or sprinkle some on top of a spinach salad. They also make a lovely garnish for your turkey platter.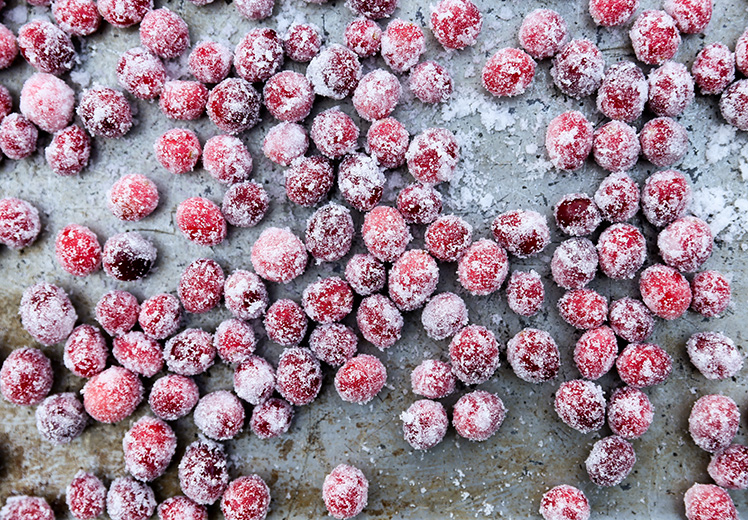 But my favorite way to enjoy them (other than just popping them straight into my mouth!) is paired with desserts. These slightly sweetened cranberries are a delicious and fun addition to all your Holiday pies, cakes and custards (hint: cranberries + chocolate = amazing!).
Make sure to use fresh cranberries that haven't gone through a freeze-thaw cycle. This is because the freezing and thawing causes the skins gets all wrinkly, so the sugar coating won't come out as even and pretty.
Cheers,
Liz
Recipe barely adapted from 101 Cookbooks
Ingredients
2 1/2 cups granulated sugar, divided
2 cups water
Peel from 1 orange, cut into large strips
2 cups fresh cranberries
Instructions
In a medium saucepan, combine 2 cups of the sugar, the water and the orange peel. Heat over medium heat, stirring occasionally, until the sugar is dissolved. Don't bring the simple syrup to a full rolling boil, or it will get too hot and the cranberries may burst when you add them.
Remove the simple syrup from the heat and allow it to cool for about 5 minutes. Stir in the cranberries. Transfer the cranberries in their simple syrup to your refrigerator and let them soak for at least 2 hours or up to overnight. Stir the cranberries occasionally during this time.
Using a strainer or a slotted spoon, remove and drain the cranberries from the simple syrup. You can save the simple syrup in an airtight container in your refrigerator. It will keep for at least a week, and you can use it to make up a second or third batch of cranberries. Transfer the cranberries to a paper towel-lined rimmed baking sheet to help soak up some of the excess liquid.
Coat the cranberries in the sugar, working with a small number of cranberries at a time to help prevent the sugar from getting too damp and clumpy. Put a few tablespoons of sugar in a shallow bowl and add a handful of cranberries. Roll them around until they are completely coated, then transfer them to a rimmed baking sheet. Continue adding more sugar and cranberries to the bowl until all the cranberries are coated.
Let the coated cranberries dry at room temperature for about 2 hours. Once they are dry, they can be used immediately or stored in an airtight container in your refrigerator for 5-7 days.
https://www.floatingkitchen.net/sparkling-sugared-cranberries/