When March arrives, I always get overly excited and hopeful about the return of Spring. But the reality of life in New England is that March is still very much Winter. A fact that Mother Nature "gently" reminded us of this past weekend when she delivered one of the worst storms we've seen so far this season.
So while I'm still wearing my Winter layers (so many layers!). And driving around with a shovel and a bucket of sand in the trunk of my car. I can at least pretend it's Spring in my kitchen. Case in point, these light and bright Kiwi and Lime Curd Fools with Blackberries.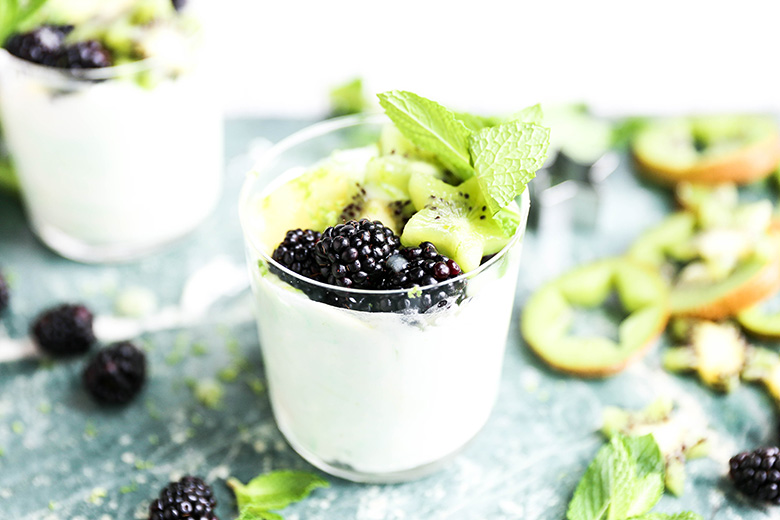 Fools are something that I had seen floating around the internet many times before, but I had never attempted to make my own until about a month ago. Now, I am completely hooked on these easy and totally customizable individual desserts!
Traditionally made with a custard base, most modern fools are now made using a whipped cream base. So if you can make whipped cream (I know you can!), you can totally make this dessert. And then the rest is up to you to "accessorize" to your hearts content!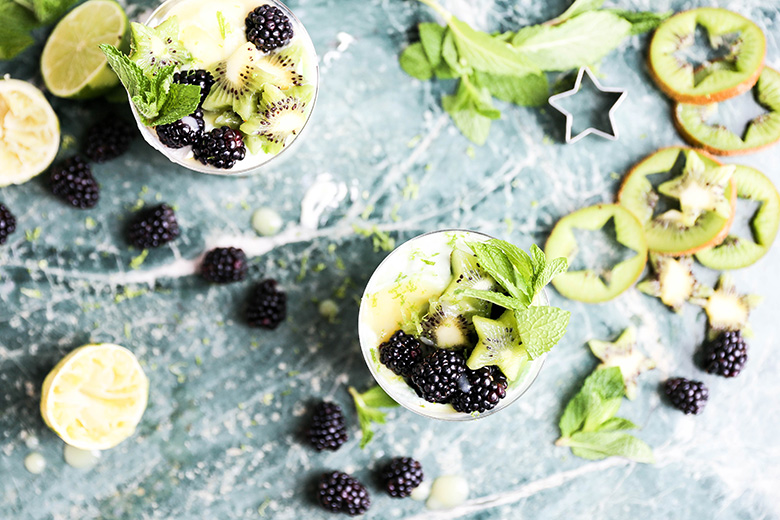 I decided to play up a couple seasonal ingredients in this recipe, by making a homemade lime curd to swirl into the whipped cream base (although you could totally make a lemon curd, if you prefer). And then I used fresh kiwi (star shapes optional, but highly encouraged!) and blackberries for topping. Technically blackberries aren't in season yet, but I couldn't resist them because they pair so well with lime. Hey, I'm not perfect.
If you want some crunch, you could try adding chopped nuts, granola, toasted coconut flakes or brittle. Like I said, these babies are totally customizable.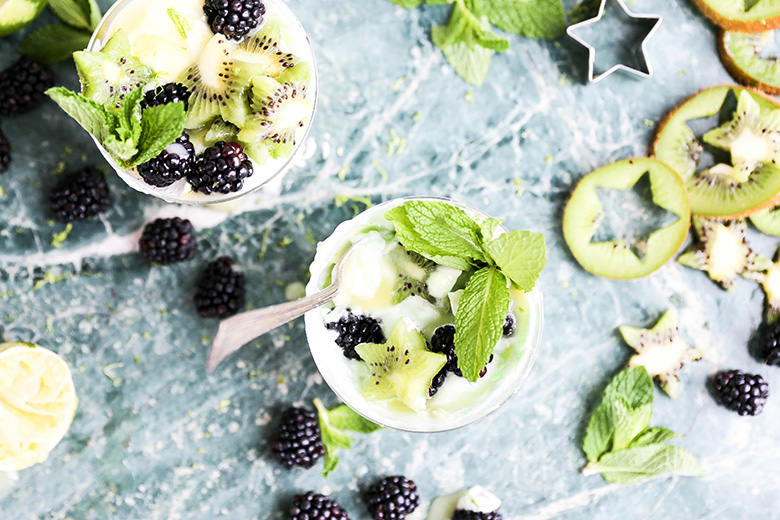 The lime curd can be prepared well in advance, and stored in your refrigerator until you're ready to use it (you'll get about 1 cup from the recipe below). The whipped cream base, however, should be prepared just before serving. These pretty treats are impressive enough for guests (I'm thinking Easter or Mother's Day). But simple enough that you don't need a special occasion to enjoy them.
And while these Kiwi and Lime Curd Fools with Blackberries aren't really green, I think they're close enough to be a cute, festive dessert for St. Patrick's Day as well.
For more cooking and baking inspiration, check out the links below to see what some of my favorite bloggers have created this month using fruits and vegetables that are currently in season. And tell me what ingredient you're most excited for this Spring season!
Cheers,
Liz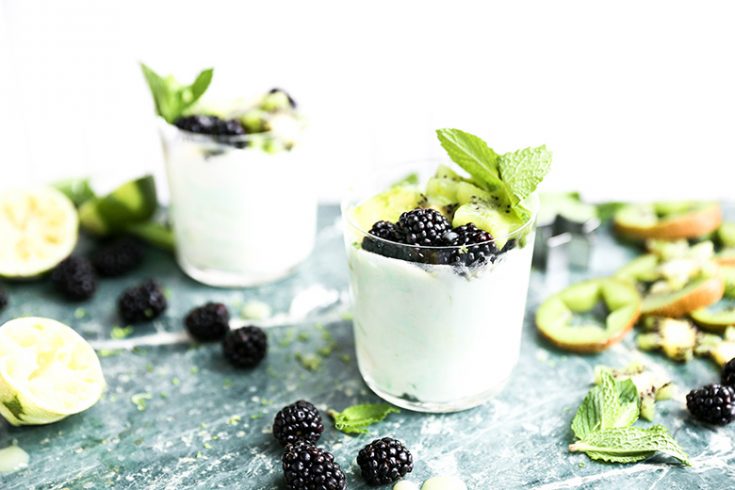 Kiwi and Lime Curd Fools with Blackberries
Yield: About 6 servings
Prep Time: 2 hours
Cook Time: 10 minutes
Total Time: 2 hours 10 minutes
Ingredients
For the Lime Curd:
3/4 cups granulated sugar
Zest from 2 limes
1/2 cup fresh squeezed lime juice
2 eggs, separated
8 tablespoons unsalted butter, cubed
For the Whipped Cream Base:
1 1/2 cups cold heavy whipping cream
1/4 cup powdered sugar
1 teaspoon vanilla extract
1/2 cup Greek yogurt
For Serving:
Kiwi, peeled and sliced
Fresh blackberries
Fresh mint leaves
Finely grated lime zest
Instructions
To make the lime curd, stir together the sugar, lime zest, lime juice and egg whites in a medium bowl. Set aside. Then in a saucepan over medium heat, melt the butter. Once the butter is melted, remove the saucepan from the heat and quickly whisk in the egg yolks. Then whisk in the sugar/lime mixture. Return the saucepan to low heat and cook the lime curd, whisking constantly, until it's thickened and coats the back of a spoon, about 5 minutes. Remove from the heat and strain the lime curd through a fine mesh strainer into a clean bowl, discarding any collected solids. Cover and refrigerate until well chilled and thickened. The lime curd can be made 1-2 weeks in advance.
To make the whipped cream, start by whisking the heavy cream on medium speed in your stand mixer with the whisk attachment. Once the cream begins to thicken slightly, stop your mixer and add in the powdered sugar and vanilla extract. Then whisk on high until peaks form. Add the Greek yogurt and whisk briefly, just until the yogurt and whipped cream are incorporated.
Remove the bowl with the whipped cream from your stand mixer and spoon about half of the lime curd into the bowl with the whipped cream. Gently fold the two ingredients together, using about 3-4 large strokes. You don't want to fully incorporate the whipped cream and lime curd. You want some streaks remaining.
Spoon the fool into individual serving glasses. Top with kiwi, blackberries, mint leaves and finely grated lime zest. If desired, spoon extra lime curd on top. Serve immediately.
March Eat Seasonal Recipes
Flavor the Moments – Healthier Blueberry Lemon Muffins
Joy Food Sunshine – Rainbow Fruit Pizza
Letty's Kitchen – Roasted Asparagus with Cilantro Chimichurri Sauce
She Likes Food – Easy Broccoli Fried "Rice" with Tofu
SaveSave