I don't want to jinx myself, but I think I'm finally (and completely) recovered from being sick.
Most of January and February, I was feeling pretty miserable. I had a cold that just WOULD NOT GO AWAY.
I was very grumpy. And tired. And unenthusiastic about most things. Including food.
So for about 4 weeks, I ate soup. There were times when I just reached for a box of Lipton Noodle Soup (my childhood favorite and my go-to when I'm not well). But I also managed to make a couple stockpots of this Lemony Chicken Noodle Soup with Tarragon and Ginger. And it made me feel so comforted, even on the days when I was at my lowest, that I decided it was appropriate (and necessary, given how severe this cold season has been for so many people) to share the recipe with you today.
I'm guessing most of you have your go-to chicken noodle soup recipe. Which I think is awesome. Because chicken noodle soup is one of those dishes that everyone needs to have in their arsenal. But humor me if you will, and consider some of my additions/changes. Maybe you'll surprise yourself with a new and improved family favorite recipe!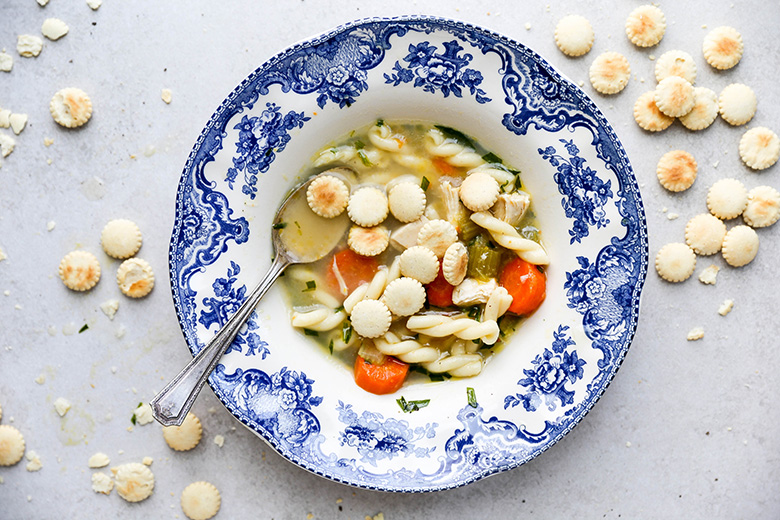 I start things off by doing a quick sauté of the vegetables and seasonings. Then I add in chicken broth, water and two bone-in split chicken breasts with rib meat. I prefer to remove and discard the skin from the chicken breasts before adding them to the pot, because I find this results in a less "fatty" broth without compromising the overall flavor of the soup. Once the chicken breasts are cooked, I remove them and let them cool until they are easy to handle. Then I remove the meat from the bones and add it back to the pot along with the lemon juice, lemon zest and tarragon.
Don't skimp on the lemon and tarragon. Trust me. It makes all the difference in the world and gives this soup a fabulous brightness that other chicken noodle soups just don't have.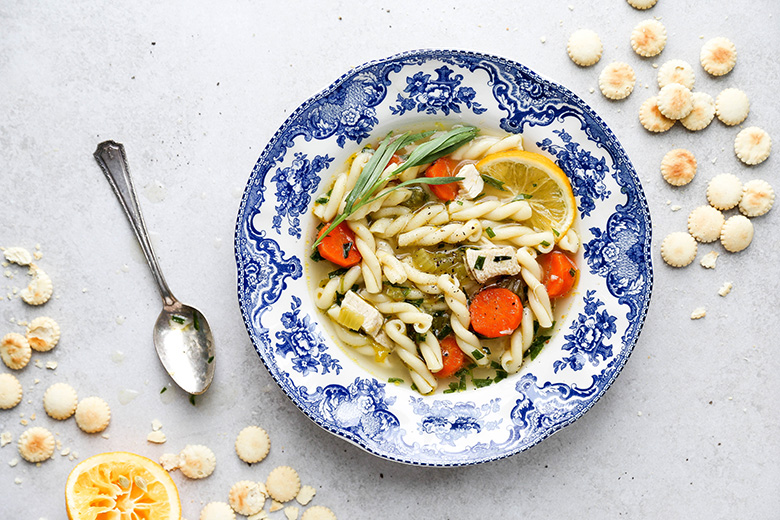 Another thing that I think is important is taking the time to cook the pasta separately. This prevents excess starches from being released into the soup itself, which results in a clearer, fresher tasting broth. And when I'm feeling sick, that's exactly what I'm craving. You can use any shape pasta (or egg noodles) that you want. I usually just grab whatever looks fun to me that day!
Wishing you all a healthy end (or near end!) to this Winter season.
Cheers,
Liz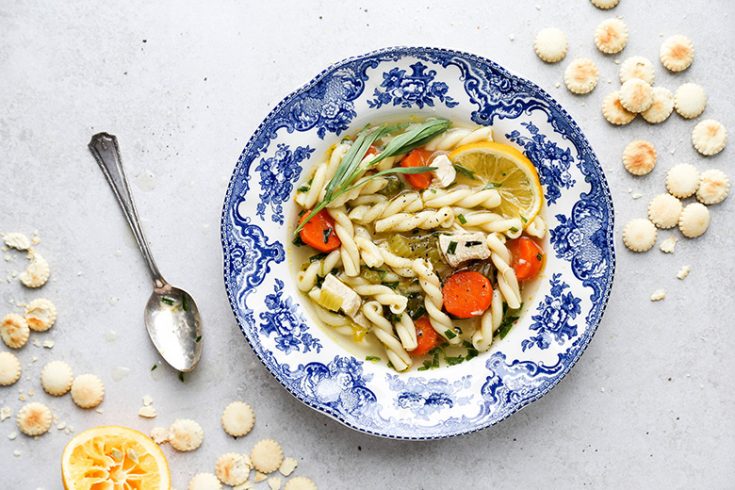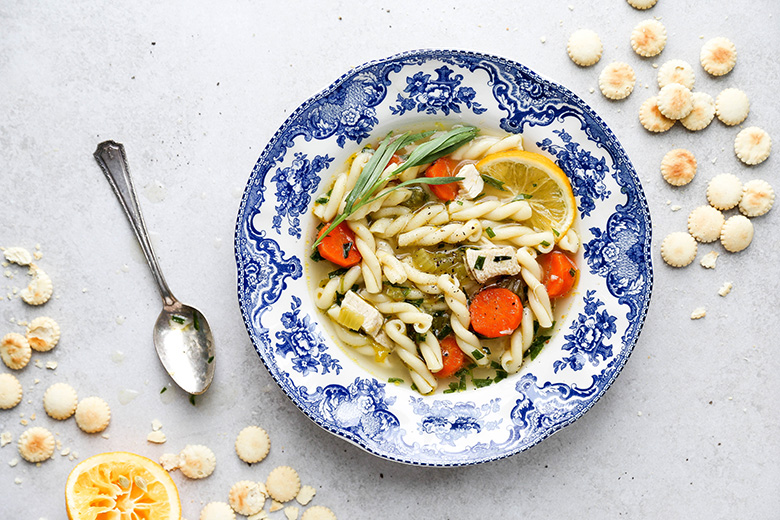 Lemony Chicken Noodle Soup with Tarragon and Ginger
Yield: 6 servings
Prep Time: 10 minutes
Cook Time: 1 hour
Total Time: 1 hour 10 minutes
Ingredients
2 tablespoons extra-virgin olive oil
2 cups peeled and sliced carrots
1 cup sliced celery
1 cup sliced leeks
2 garlic cloves, peeled and minced
4 cups low-sodium chicken broth
2 cups water
2-inch piece fresh ginger, peeled
1 bay leaf
1/2 tsp. salt
1/2 tsp. black pepper
2 bone-in split chicken breasts with rib meat (about 2 1/2 lbs)
1 1/2 cups uncooked pasta
Zest from 1 lemon
1/3 cup fresh squeezed lemon juice
1/4 cup fresh tarragon, chopped
Instructions
In a large heavy-bottom stockpot over medium-high heat, warm the olive oil. Add the carrots, celery, leeks and garlic and cook for 5 minutes, stirring occasionally. Stir in the chicken broth, water, ginger, bay leaf, salt and black pepper.
Meanwhile, remove and discard the skin from the chicken breasts. Then add the chicken breasts to your stockpot, cover and bring to a simmer. Let the chicken breasts simmer in the soup for 30-35 minutes, flipping them over once half way through cooking time. Then using a pair of tongs, carefully remove the cooked chicken breasts to a clean plate and set them aside to cool. Turn off the heat so the vegetables don't overcook in the soup. Remove and discard the bay leaf and ginger.
While the chicken cools, bring a second pot of water to a boil and cook the pasta according to the package instructions until it's al dente. Drain and set aside.
Once the chicken is cool enough to handle, remove the meat from the bones and chop or shred it into bite-sized pieces. Discard the bones. Add the chicken meat back to the soup along with the lemon zest, lemon juice and tarragon. Bring the soup back up to a simmer and cook for approximately 10 minutes more. Stir in the cooked pasta. Taste and add additional salt and black pepper, if desired.
Serve warm with crackers or bread. Leftovers can be stored in an airtight container in your refrigerator for 3-4 days. You may need to add more liquid (either chicken broth or water) when re-heating the leftovers.