This post was originally published here January 5, 2017. I've since updated the photographs and text. This hearty, nourishing soup is ready in about 30 minutes!
I hate to be the bearer of bad news…but it's still Winter.
I know. I'm sorry. Don't shoot the messenger.
But I'm making the best of the situation and I'm sneaking in one final hearty soup recipe before the Spring thaw. This Winter Vegetable Minestrone Soup is so delicious AND easy that it might even make you glad that it's still Winter!
Ok. Probably not. But I tried.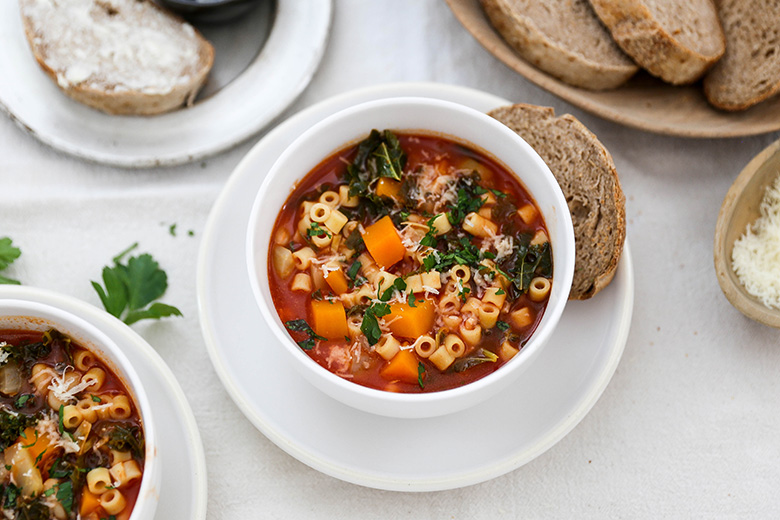 If you search recipes for minestrone soup, you'll find many different versions. There aren't really any hard-and-fast rules about which vegetables must be present to make a minestrone soup. And it often varies depending on the season and region. For this Winter Vegetable Minestrone Soup, I used a combination of chopped butternut squash, onion and fennel for the bulk of the recipe. I've also included lots of fresh herbs (rosemary, thyme and parsley) and a couple big handfuls of kale. Basically, it's all my favorite nourishing ingredients in one big pot!
To make the broth for this soup, you'll need a jar of tomato passata. Tomato passata is an uncooked, strained tomato purée that you can find next to the other shelf-stable tomato products in your grocery store. It typically comes in a jar, but I've also seen it in cartons. If, however, for some reason you can't find tomato passata, the next best thing would be to buy canned whole tomatoes and purée them in your food processor or blender. Canned tomato sauce is a cooked tomato product, and thus is not an exact substitute for tomato passata in recipes.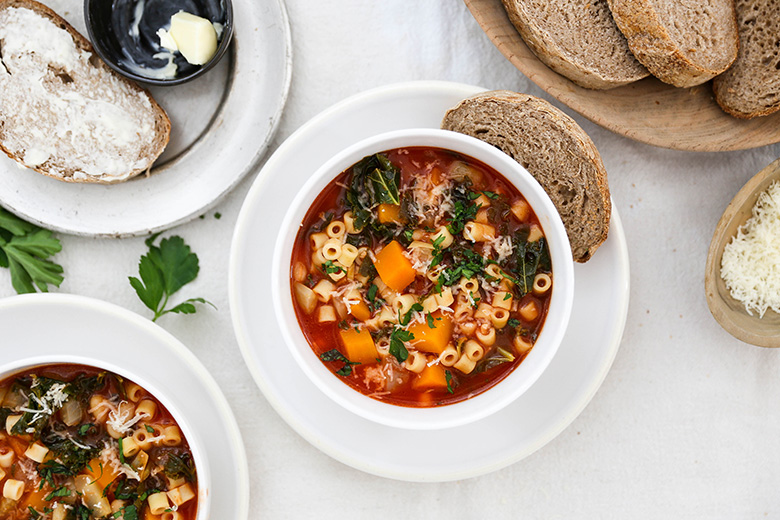 Whenever I make minestrone, I always cook the pasta separately and add it in at the end. If you cook the pasta in the soup itself, it will absorb a lot of the liquid. And it will also make the broth a bit starchy. Ditalini is my favorite pasta shape for this recipe and is somewhat traditional (although some minestrone recipes don't contain any pasta at all!), but other small pasta shapes can certainly be used.
Serve this Winter Vegetable Minestrone Soup with some freshly grated Parmesan cheese, a side of bread and a glass of wine and Winter won't be looking so bad after all!
Cheers,
Liz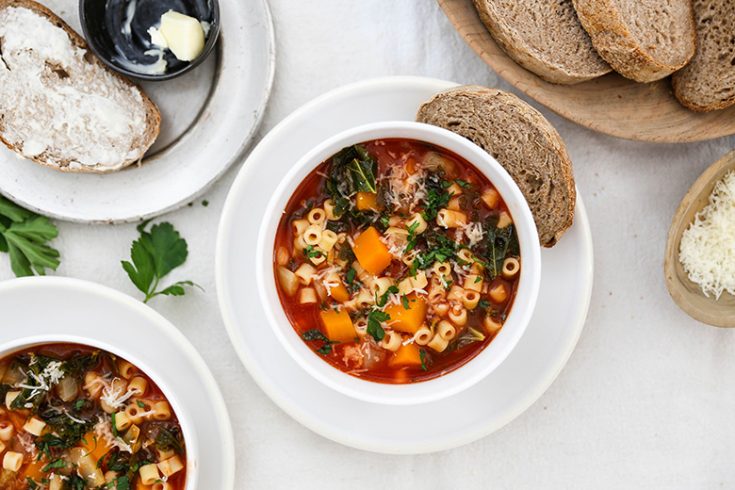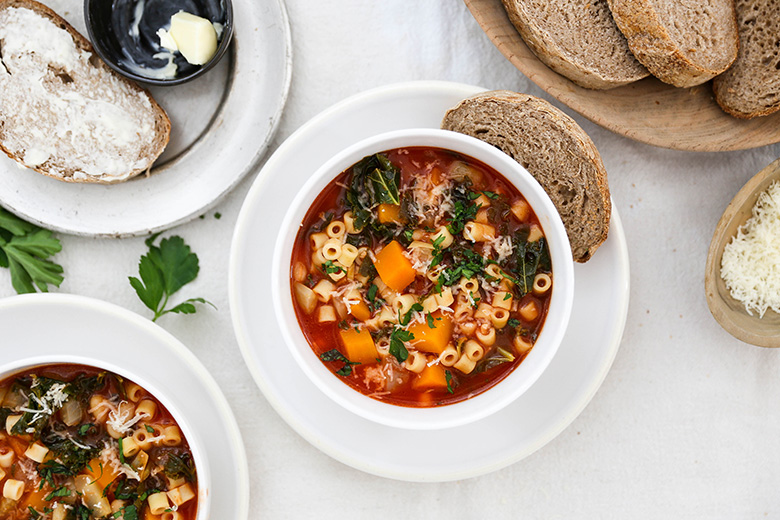 Winter Vegetable Minestrone Soup
Yield: Serves about 6
Prep Time: 10 minutes
Cook Time: 25 minutes
Total Time: 35 minutes
Ingredients
2-3 tablespoons extra-virgin olive oil
2 cups peeled and cubed butternut squash
1 cup diced yellow onion
1 cup diced fennel
3 garlic cloves, peeled and minced
1 tablespoon fresh rosemary, minced
1 tablespoon fresh thyme, minced
1 tsp. salt
1/2 tsp. black pepper
4 cups vegetable broth
1 (24.5 ounce) jar tomato passata
1 cup water
2 cups thinly sliced kale leaves
1 cup chopped fresh parsley, divided
1 (15.5 ounce) can cannellini beans, rinsed and drained
1 tablespoon fresh squeezed lemon juice
1 cup uncooked ditalini pasta
Parmesan cheese, for serving
Instructions
Warm 2 tablespoons of the olive oil in a large, heavy-bottom pot over medium-high heat. Add the butternut squash, onions and fennel and cook, stirring occasionally, for 7-8 minutes, or until the vegetables start to soften. If the pot is getting dry you can add the remaining tablespoon of olive oil. Stir in the garlic, rosemary, thyme, salt and pepper and cook for 2 minutes more.
Add the vegetable broth, passata and water (use the water to rinse out the passata jar). Bring the soup up to a boil, then turn down the heat to maintain a simmer. Simmer the soup, uncovered, for 10 minutes.
Stir in the kale, 3/4 cups of the chopped parsley, cannellini beans and lemon juice. Simmer until the kale is softened, about 3-4 minutes. Remove from the heat and cover to keep warm.
Meanwhile, bring a pot of water to a boil and cook the ditalini according to the package instructions until it's al dente (mine was 8 minutes). Drain. Then stir the cooked ditalini into the soup. Taste and adjust for salt and black pepper. Rewarm the soup as needed.
To serve, ladle the warm soup into bowls. Top with some of the reserved parsley and some freshly grated Parmesan cheese, if desired.
Leftovers can be stored in an airtight container in your refrigerator for 3-4 days. The soup will thicken as the ditalini absorbs some of the liquid. You can add additional vegetable broth or water to thin the soup, as needed.