This post was originally published here on November 7, 2013. That's a lifetime ago in the blogging world! So I decided to freshen up the text and photographs. Enjoy!
Are we ready to embrace soup season?!?!
I think I'm officially on board. We've finally had a stretch of cooler air temperatures. The leaves are changing colors (and all ending up in my driveway!). And the "leaf peepers" are arriving in droves. All telltale signs that it's about time for me to jump back on the soup bandwagon.
It's not that I don't enjoy eating soup(s) all year long. And I know a lot of you do, too I mean, where would I be without Summer staples like gazpacho and fresh corn chowder? But soup in the Fall and Winter just feels better. I don't know. Does that make sense? I sure hope it does.
So today, I'm officially/unofficially kicking off "soup season" with one of my favorite sunny-hued creations: Thai Roasted Carrot and Golden Beet Soup.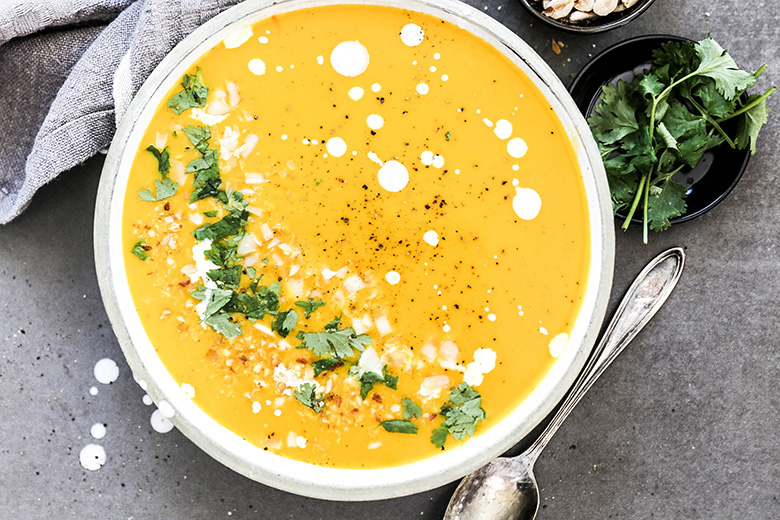 Many of my soup recipes end up being some shade of orange. I think it's because I tend to lean heavily on butternut squash and sweet potatoes as core ingredients during the cooler months. But this time, I decided to pick on some alternate vegetables of the same color palette: carrots and golden beets. And the results were particularly satisfying. A unique, earthy tasting soup that's as pretty to look at as it is delicious to eat.
Oh and one that just so happens to be vegan AND super creamy, thanks to a can of full-fat coconut milk. So luscious!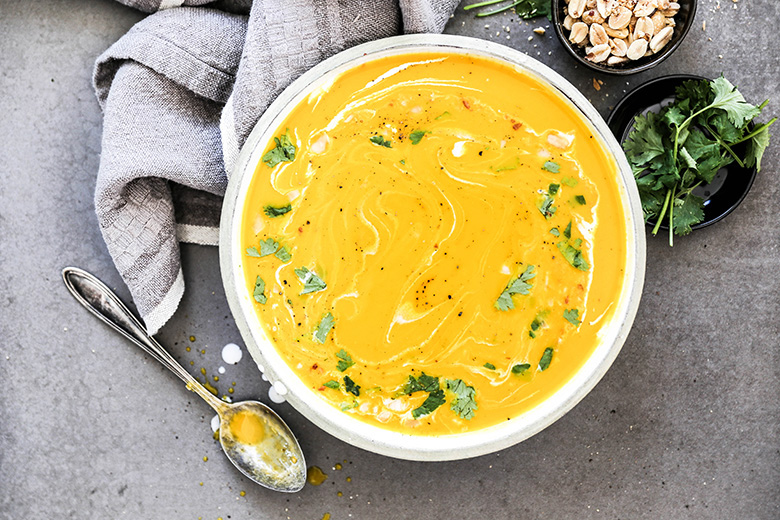 The spice level in this recipe is just enough. It's warming. But flames certainly won't be coming out of the top of your head (who really likes their food THAT spicy, anyways?). If you have a cold, this Thai Roasted Carrot and Golden Beet Soup is the perfect way to kick it to the curb!
Cheers,
Liz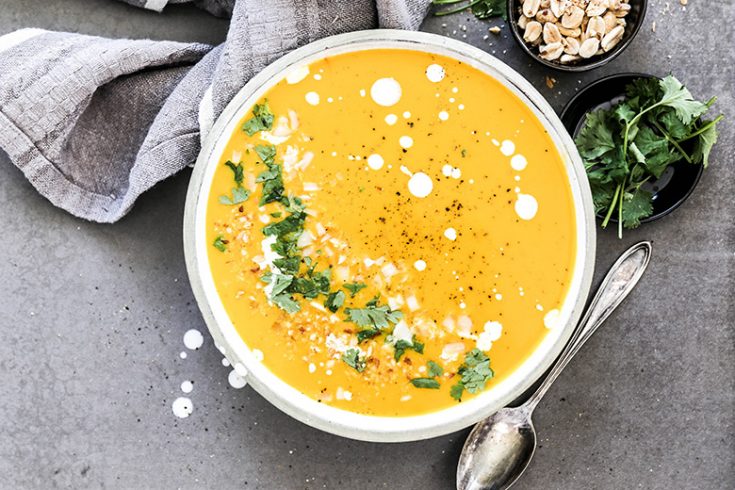 Thai Roasted Carrot and Golden Beet Soup
Yield: 4-6 servings

Prep Time: 10 minutes

Cook Time: 1 hour 10 minutes

Total Time: 1 hour 20 minutes
Ingredients
For the Soup:
1 lb golden beets, trimmed and peeled
1 lb carrots, trimmed and peeled
3 tablespoons extra-virgin olive oil, divided
1 tsp. salt, divided
1 tsp. black pepper, divided
1 cup diced yellow onion
2-3 tablespoons red curry paste
4 cups vegetable broth
1 (13.5-ounce) can full-fat coconut milk
For Garnish:
Toasted coconut flakes
Crushed peanuts
Fresh cilantro
Instructions
Pre-heat your oven to 400 degrees.
Roughly chop the beets and carrots into 1 1/2-inch pieces. Toss them on a large rimmed baking sheet with 2 tablespoons of the olive oil and 1/2 tsp. each of the salt and black pepper. Transfer to your pre-heated oven and roast until softened, about 30-40 minutes, stirring once halfway through the cooking time. Remove and set aside.
In a large heavy-bottom pot, warm the remaining tablespoon of olive oil. Add the diced onion and sauté until softened, about 5 minutes. Add the red curry paste and the remaining salt and black pepper and cook, stirring constantly, about 2 minutes.
Add the vegetable broth and the roasted beets and carrots. Bring the soup to a simmer and cook, covered, for about 20 minutes, or until all the vegetables are very soft. Remove the pot from the heat and allow the soup to cool slightly. Then carefully purée the soup using an immersion blender, blender or food processor with the blade attachment. Work in batches as necessary and be careful when transferring hot liquids.
Return the puréed soup to your pot and re-warm it over low-medium heat. Stir in the coconut milk. Taste and adjust for salt and black pepper.
To serve, ladle the warm soup into bowl. Garnish with toasted coconut flakes, crushed peanuts and fresh cilantro, if desired. Enjoy immediately.
SaveSave