Hi Friends! I hope you all had a fabulous 4th of July weekend. Can you believe today is already Thursday? I mean, it's pretty awesome that the week is almost over. But I also feel totally behind and out of whack. The whole Tuesday Holiday thing has really messed with my brain (and my schedule).
But I can't complain. Because my weekend was really flipping awesome. Most weekends, I tend to work way more than I should. It's super hard for me to let go of my responsibilities (even my fictitious responsibilities) and relax. But this weekend, I said "screw it" and I completely soaked in all the glory that is Summer. I went boating, had a pool party, went to a cook-out, ate s'mores, drank beers, listened to live music, had a girl's night and just generally had a blast.
I'm tired. And I have a lot of catching up to do now. But it was completely worth it.
I also did a lot of cooking and baking (for aforementioned parties and cook-outs). So this week, I'm taking it easy in the kitchen. Which means this Watermelon and Tomato Gazpacho with Chimichurri Sauce is on repeat.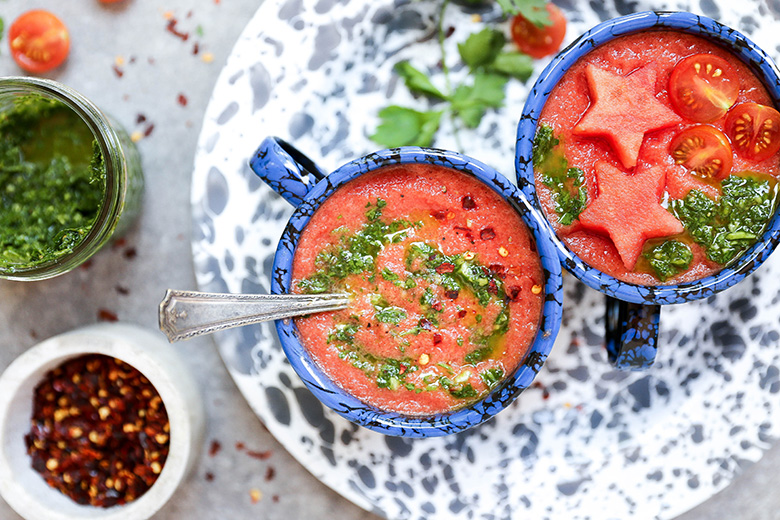 There aren't many foods I can think of that are as quick to prepare as a chilled soup. Just trim and chop your produce. Then drop it all straight into your blender and push the button. Easy peasy.
My house stays cool. And so do I. That's a major win in my book.
This recipe is loosely adapted from Ina Garten's gazpacho recipe, which I used to make religiously each Summer. But now I prefer a smoother texture (I don't want to feel like I'm eating salsa with a spoon!), so I blend mine more thoroughly. And I've added in fresh watermelon to give it some sweet notes, all while really upping the hydration factor. The homemade chimichurri sauce makes great use of Summer's bounty of fresh herbs. And it provides a necessary savory contrast to the sweetness in the gazpacho. Remember, this is suppose to be soup. Not a smoothie bowl.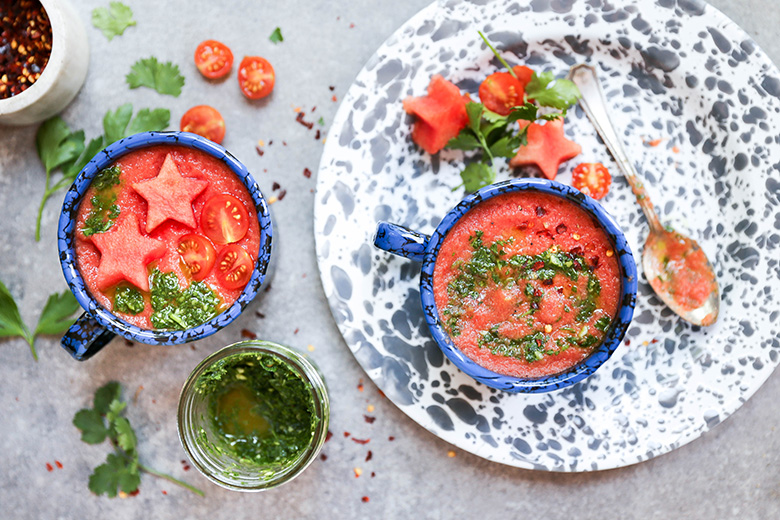 You can use any kind of tomatoes you like. Roma or plum tomatoes are what I gravitate towards most often, because they have fewer seeds than some other varieties. But it's hard to resist those beautiful heirlooms this time of year. So use what you love and/or have on hand. Also, don't be afraid to play with the proportions in this recipe. If you want more zip, increase the amount of jalapeño pepper or red onion. If the soup seems too sweet to you, drizzle some vinegar on top before serving to cut the sweetness. It's hard to go wrong here. Especially when all the Summer produce is so abundant and flavorful.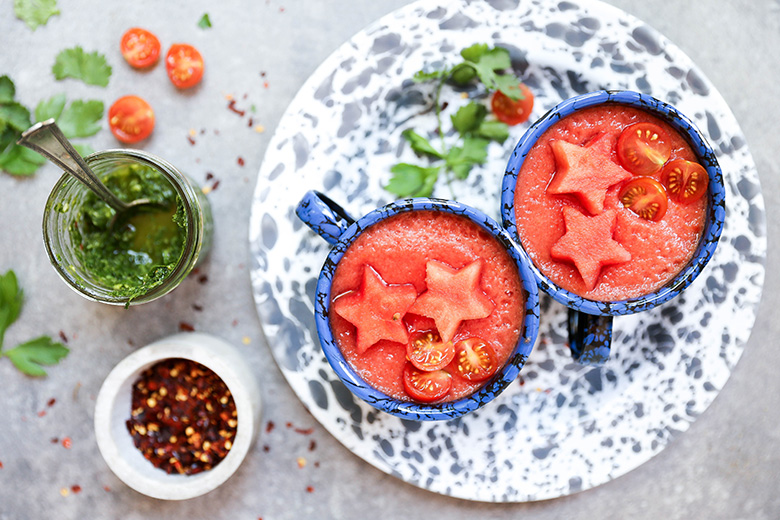 It's also fun to play with additional toppings. If you want something more hearty, try adding croutons, crumbled cheese, a spoonful of Greek yogurt, chopped nuts or some roasted chickpeas. The watermelon stars are cute, but totally optional.
I'm sharing this Watermelon and Tomato Gazpacho with Chimichurri Sauce as part of our monthly 30 Minute Thursday series. You can find more quick and easy recipe ideas below (just click the links!). Or check out the hashtag #30MinuteThursday on Instagram for additional inspiration. Because it's way too nice out to be stuck inside cooking dinner!
Cheers,
Liz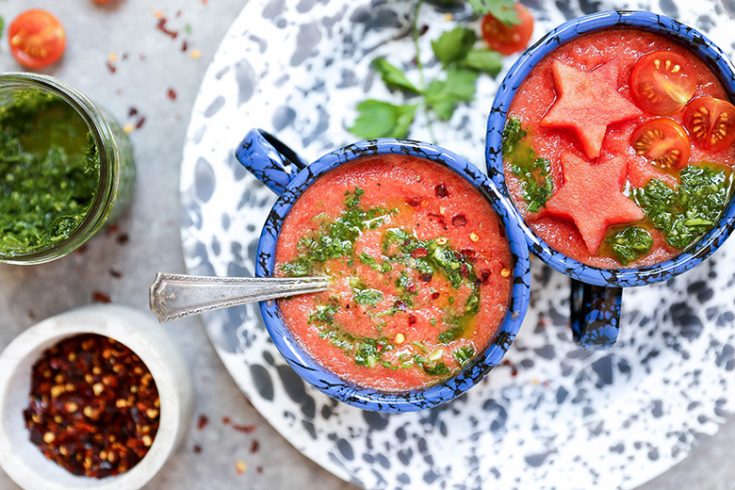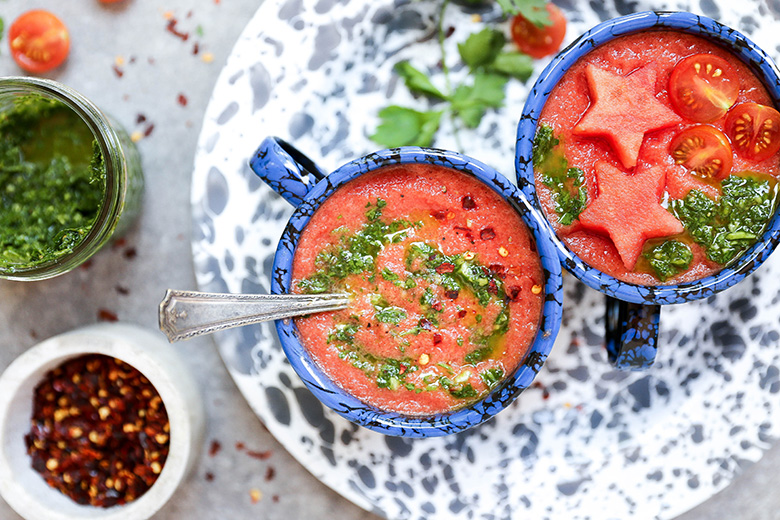 Watermelon and Tomato Gazpacho with Chimichurri Sauce
Yield: About 6 servings
Prep Time: 15 minutes
Total Time: 15 minutes
Ingredients
For the Chimichurri Sauce:
1 cup loosely packed fresh parsley
1 cup loosely packed fresh cilantro
1 tablespoon fresh oregano
1 tablespoon red wine vinegar
1 garlic clove, peeled
Zest from 1/2 lime
1/4 tsp. salt
1/4 tsp. black pepper
1/4 tsp. red pepper flakes
About 1/4 cup extra-virgin olive oil
For the Gazpacho:
4 cups cubed watermelon
2 lbs tomatoes, seeded, cored and roughly chopped
1 red bell pepper, seeded, cored and roughly chopped
1/2 large cucumber, peeled and roughly chopped
1/2 cup chopped and peeled red onion
2 garlic cloves, peeled
1/4 jalapeño pepper, roughly chopped
2 tablespoons red wine vinegar
1 tablespoon fresh squeezed lime juice
1/2 tsp. salt
1/2 tsp. black pepper
Instructions
To make the chimichurri sauce, add all the ingredients except for the olive oil to the bowl of your food process fitted with the blade attachment. Pulse several times to combine. Stop to scrap down the sides of the bowl. Add about 2-3 tablespoons of the olive oil and process until just combined. You want a little bit of texture to the sauce, so don't over process it. Add 1-2 tablespoons more olive oil if you prefer the sauce to have a slightly thinner consistency. Transfer the chimichurri sauce to a small bowl, cover and refrigerate it until you're ready to use it.
To make the gazpacho, add of the ingredients to your blender and blend on high until smooth. Taste and add additional salt and black pepper, if desired.
Pour the gazpacho into a large container, cover and refrigerate it until well chilled. Before serving, give the gazpacho a quick stir as some of the liquid may have separated out.
To serve, pour the chilled gazpacho into bowls. Swirl in a spoonful of the chimichurri sauce. Garnish with chopped tomatoes and watermelon, if desired. Serve immediately.
Leftovers can be stored in an airtight container in your refrigerator for 2-3 days.
30 Minute Thursday Recipes
Cheesy Beef Tortellini Skillet by Pumpkin 'N Spice
Lemon Garlic Shrimp and Zucchini Noodles by Kristine's Kitchen
Grilled Fig, Bacon, and Arugula Flatbread Pizza by Flavor the Moments
Avocado Pesto Quesadillas by She Likes Food
Mexican Quinoa Salad by Life Made Sweeter
Southwestern Grilled Turkey Burgers (Freezer) by Sweet Peas & Saffron
One Pot Pasta Primavera by The Recipe Rebel
Shrimp Quesadillas with Avocado Cream by Bake.Eat.Repeat.
SaveSave
SaveSave