Disclosure: This post is sponsored by Zoup! Good, Really Good® Broth. All opinions are my own. Thank you for supporting brands and companies that help to support Floating Kitchen.
If there is one thing that's consistent about Winter in New England, is that it's wildly inconsistent. We've had mild 65 degree days. Only to be immediately followed with freezing temperatures and snow storms. It's a wild ride. One that often results in me getting sick.
I battled an unruly cold for more than half the month of January. So most of my recent days have been spent in isolation, working on jigsaw puzzles, crushing binge-worthy television series and making pot after pot of homemade soup.
So I couldn't have asked for a better partner for today's blog post than Zoup! Good, Really Good® Broth. Their premium line of homemade tasting broths have been a lifesaver.
Don't miss the giveaway below! Keep reading and enter for your chance to win 4 jars of Zoup! Good, Really Good® Chicken Bone Broth!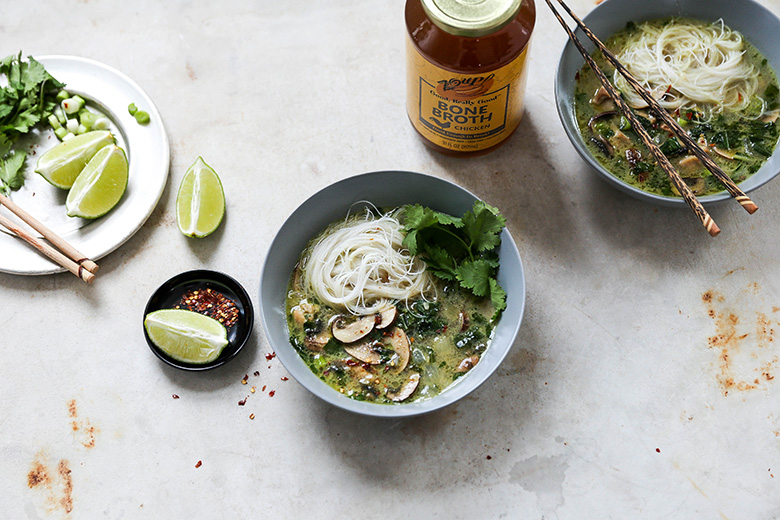 Zoup! Good, Really Good® Broth has its roots in the restaurant industry. Originally starting with multiple soup-focused restaurants (you can check out their daily offerings and locations by following @ZoupEatery on social media), the team took the feedback they received from their customers and employees (mainly that people were looking for the same top-quality broths to enjoy at home), and began packaging and selling their broths in retail stores nationwide and online.
Zoup! Good, Really Good® Broths are all made in small batches with real, high-quality ingredients. They are low in calorie and free of fats, hormones and GMO's. And they are also gluten-free and paleo-friendly. But most importantly, they taste amazing! They have a rich, satisfying flavor. And they can even be enjoyed straight out of the jar (side note: I love that all their broths come in recyclable glass jars!). On the days I was the sickest, I would simply warm a cup of either their chicken or beef bone broth and drink it as it.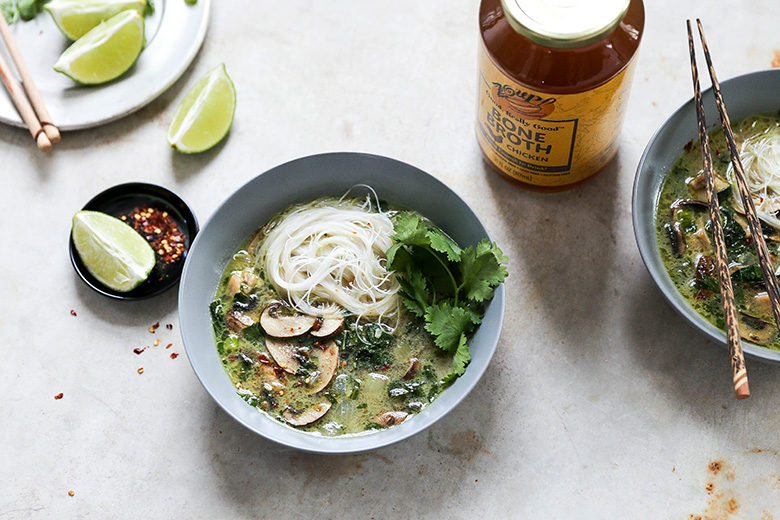 Zoup! Good, Really Good® Broths have also been helping me elevate my soup game. Even quick weeknight soups, like this Easy Thai Green Curry Chicken Soup, taste like they've been simmering for hours. Zoup! Good, Really Good® Broths provide such a luxurious base, that no one would ever guess that you made this recipe in under 30 minutes!
My Easy Thai Green Curry Chicken Soup is the perfect recipe if you're feeling a bit under the weather. It's loaded with fresh, feel-good ingredients, like garlic, ginger, bok choy and cilantro. And it's laying down mega umami vibes from the mushrooms, green curry paste, fish sauce and a jar of Zoup! Good, Really Good® Chicken Bone Broth. I love adding rice noodles at the end, for a more filling bowl. But you can always enjoy this soup without the noodles, if you prefer. Either way, it's supremely nourishing.
I did test this recipe with both full-fat and lite coconut milk. Hands down go for the full-fat version. It really makes a difference in the end.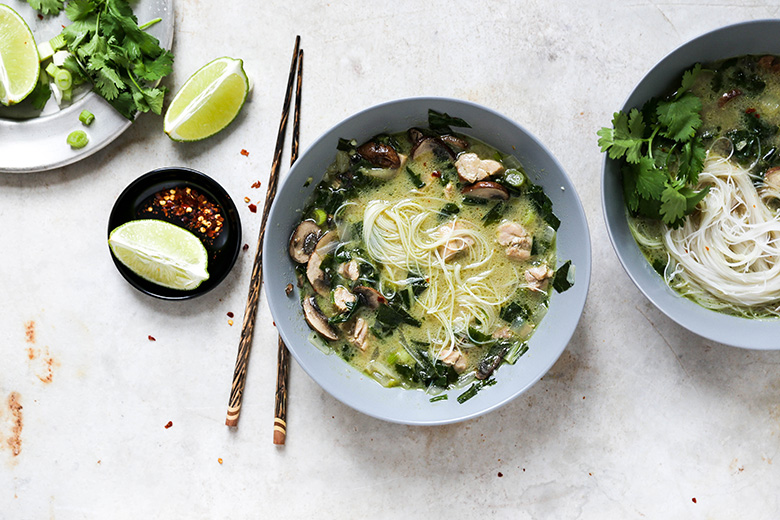 Because I want everyone to experience the Zoup! Good, Really Good® Broth difference, right now you can grab THIS COUPON for in store purchases. There are dozens of different retailers nationwide, including Sprouts Farmers Market, Albertsons-Safeway, Wegman's, Walmart and more. You can also head to their website for online ordering. Their lineup of flavors includes new Certified Organic Veggie Broth, new Certified Organic Chicken Broth, original Chicken Broth, Low-Sodium Chicken Broth, Vegetable Broth, and both Chicken and Beef Bone Broths. I know you'll find plenty of ways to stock your pantry!
AND LASTLY, I'm giving away four jars of Zoup! Good, Really Good® Chicken Bone Broth to one lucky Floating Kitchen winner. To enter, simply leave me a comment telling me your favorite Winter soup. You can enter anytime between now and February 10, 2020 5pm EST. You must be 18+ years of age, have a valid US shipping address and a valid email address (which I will use to contact the winner). Good luck! Update: This giveaway has ended and a winner has been selected. Thank you to everyone who participated!
Cheers,
Liz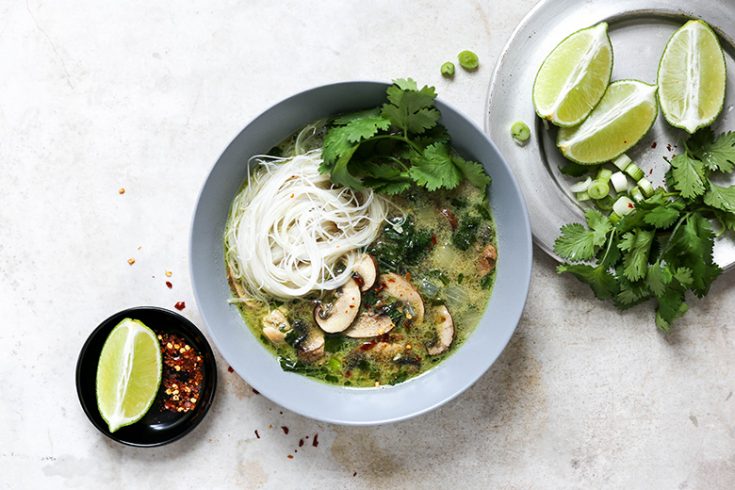 Easy Thai Green Curry Chicken Soup
Yield: Serves 4
Prep Time: 10 minutes
Cook Time: 20 minutes
Total Time: 30 minutes
Ingredients
1-2 tablespoons canola or vegetable oil, divided
1 lb boneless, skinless chicken thighs, cut into 1-inch pieces
1 tsp. salt
1/2 tsp. black pepper
1 medium onion, peeled and diced
2 garlic cloves, peeled and minced
1 1/2 tablespoons peeled and minced fresh ginger
3 tablespoons green curry paste
1 tablespoon fish sauce
1 (14-ounce) can full-fat coconut milk
8 ounces brown mushrooms, cleaned and thinly sliced
2 cups chopped bok choy leaves
3 scallions, white and light green parts thinly sliced
1/3 cup fresh cilantro, roughly chopped
Juice from 1 lime
4 ounces rice noodles
Instructions
Warm 1 tablespoon of the oil in a large, heavy bottom pot over medium-high heat. Add the chicken pieces in a single layer and sprinkle with the salt and black pepper. Cook, stirring occasionally, for about 2 minutes.
Stir in the onion, garlic and ginger and cook for an additional 2-3 minutes. If the bottom of you pot is getting dry, you can add the remaining tablespoon of oil. Then add the green curry paste and fish sauce, stirring to coat the ingredients in the curry paste, and cook for 1 minute.
Stir in the bone broth and coconut milk. Bring the soup to a simmer and cook, uncovered, for 10-12 minutes. Then add the sliced mushrooms and cook for 5 minutes more.
Stir in the bok choy, scallions, cilantro and lime juice and cook for 1-2 minutes. Then remove the pot from the heat. Taste and add additional salt and black pepper, if desired. Cover to keep warm.
Cook the rice noodles according to the package instructions. Drain.
Serve the soup warm with rice noodles. Top with additional scallions, cilantro or lime juice, if desired.
Leftovers can be stored in an airtight container in your refrigerator for 2-3 days. Store the soup and cooked rice noodles separately.