This post was originally published here January 9, 2014. I've since adjusted the recipe slightly and updated the text and photographs to reflect those changes.
Meyer lemons are here!
Sweeter, juicier and more aromatic than regular lemons, Meyer lemons always seem to arrive right when I need them the most. Right when the cold, dark days of Winter really settle in. And my spirits take a bit of a nose dive.
Meyer lemons are like a little pick-me-up from Mother Nature!
I have a few must-make recipes for Meyer lemon season. And this Meyer Lemon and Pine Nut Fettuccine is one of them.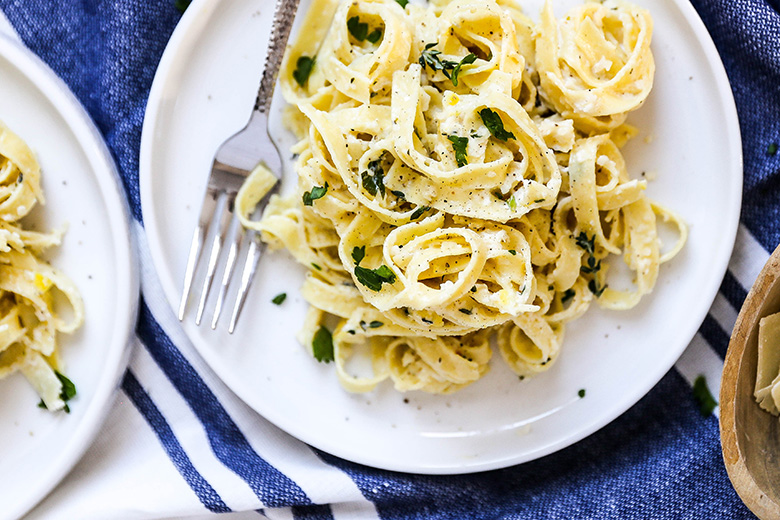 The preparation for this pasta dish may seem a bit odd (go ahead and take a peek at the instructions, I'll wait). But it works. You start by creating a paste in your food processor with the pine nuts and shallots. Then you add in an entire Meyer lemon (peel, pith, flesh and juice!) plus the zest of a second Meyer lemon. This mixture then gets combined with heavy cream, Parmesan cheese, fresh herbs, salt, pepper and a little reserved cooking water to create what I would describe as a creamy, zippy sauce that's a little bit toothsome.
It's comfort food that doesn't carry the weight of a lead blanket. Which is exactly what I'm in the mood for right now.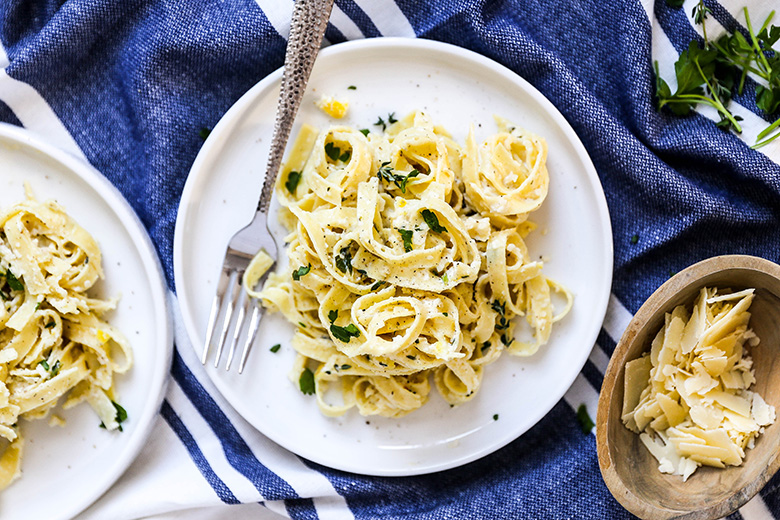 Not a fan of pine nuts? I've made this recipe with macadamia nuts with equally great results!
Are you as obsessed with Meyer lemons as I am? And do you have a favorite recipe you make with them? Let me know!
Cheers,
Liz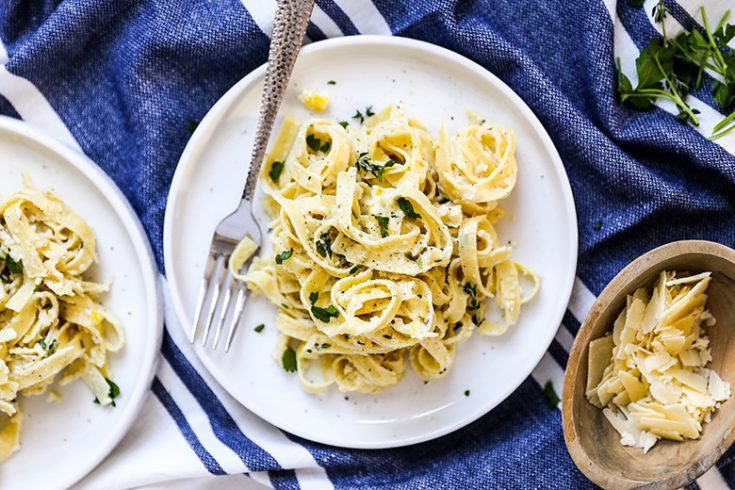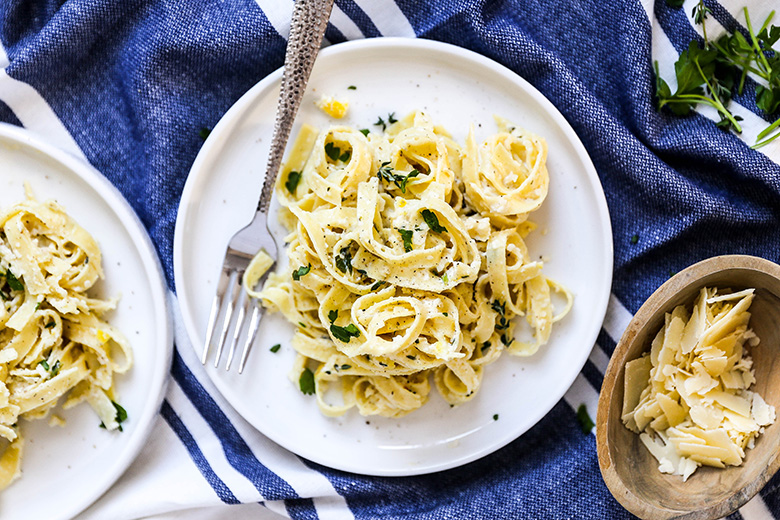 Meyer Lemon and Pine Nut Fettuccine
Yield: Serves 4
Prep Time: 10 minutes
Cook Time: 10 minutes
Total Time: 20 minutes
Ingredients
1/2 cup pine nuts
3 tablespoons peeled and minced shallot
2 Meyer lemons
10 ounces fettuccine
1 cup heavy cream
1/4 cup grated Parmesan cheese
1 tablespoon fresh parsley, minced
2 tsp. fresh thyme, minced
1/2 tsp. salt
1/2 tsp. black pepper
Instructions
In a small dry skillet over medium heat, toast the pine nuts until they are just starting to become fragrant, about 2 minutes. Remove and set aside to cool.
In the bowl of your food processor with the blade attachment, process the toasted pine nuts with the minced shallot until a thick paste is formed. Scrape this paste mixture into a small bowl. Add the zest from one of the lemons and stir.
Wash and trim the ends from the second lemon. Cut the lemon into chunks, removing and discarding all the seeds. Add the lemon chunks to your food processor and process until finely chopped, but not puréed. Scrape this chopped lemon into the bowl with the paste mixture and stir to combine. Set aside.
Meanwhile, bring a large pot of salted water to a boil. Cook the fettucine according to the package instructions. Drain, reserving about 1 cup of the cooking water.
Place the pot back on your stove over medium heat. Add the heavy cream and warm it until small bubbles start to form at the surface. Then add the Parmesan cheese, parsley, thyme, salt, pepper and the lemon paste mixture and about 1/2 cup of the cooking water. Whisk until everything is well combined and mostly smooth. Add back the fettucine and toss gently to coat the fettucine with the sauce, adding more cooking water to thin the sauce if necessary.
Transfer the fettucine to serving bowls and enjoy immediately.
Leftovers can be stored in an airtight container in your refrigerator for 2 days.