This post was originally published here August 17, 2015. I've since adjusted the recipe slightly and updated the text and photographs to reflect those changes.
For probably 15+ years of my life I made dieting resolutions at the start of the new year. Always thinking that THIS was the year that was going to be different. That I'd finally be able to give up sugar or lose 20 pounds or insert whatever else was trending at the time.
News flash. I was wrong. And all I ever ended up doing was torturing myself.
The last few years I've tried to break that mindset and re-focus my attention towards more positive actions. So instead of "what do I need to lose" I try and think about "what can I add".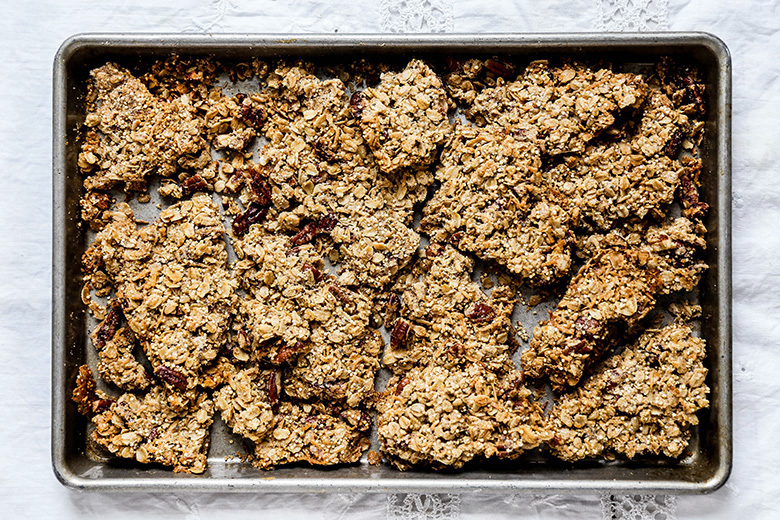 As I was going through my refrigerator and pantry the first week of January, I noticed I had accumulated a lot of processed food items during the months of November and December. Things like salad dressings, cereals, jams, etc. All things that I can easily make myself. But with the craziness of the Holidays, I got a bit lazy. And in those hectic moments, it just seemed easier to reach for those convenience items rather than spend MORE time prepping even MORE food.
Hey. It happens to the best of us. I was in full-blown Christmas cookie mode. Everything else took a backseat.
So I'm trying to get back the wagon and replace those convenience items with homemade versions. Like my Super Chunky Maple Pecan Quinoa Granola.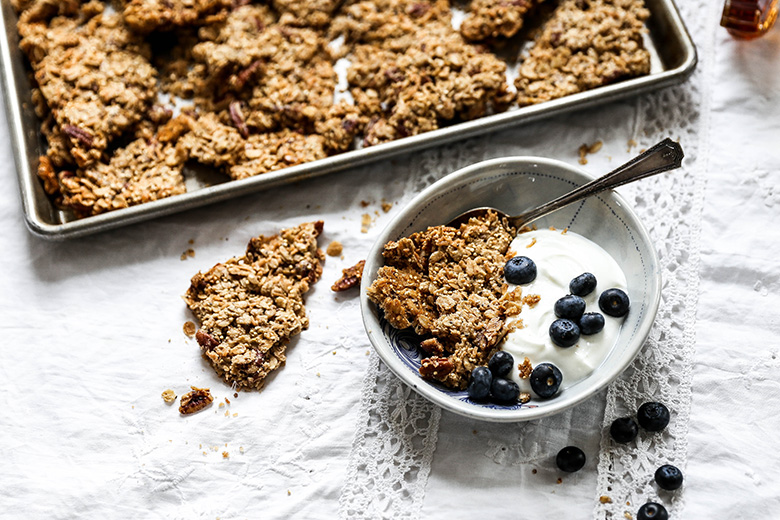 Gosh. I forgot how much I absolutely adore homemade granola. It's so much tastier than anything you can get from the grocery store. And I've yet to ever find a pre-packaged granola that has the BIG pieces that I crave. I like something I can really sink my teeth into. Or break up with my spoon as I'm stirring my yogurt/milk. Or even just to be able to grab a hunk and eat it over the sink.
This Super Chunky Maple Pecan Quinoa Granola has all that.
The trick to getting big pieces is to not stir the granola during baking. I know, I know. You're going want to stir it. But resist the urge. Keep your hands to yourself and I promise it won't burn. And you'll be rewarded for your efforts!
Cheers,
Liz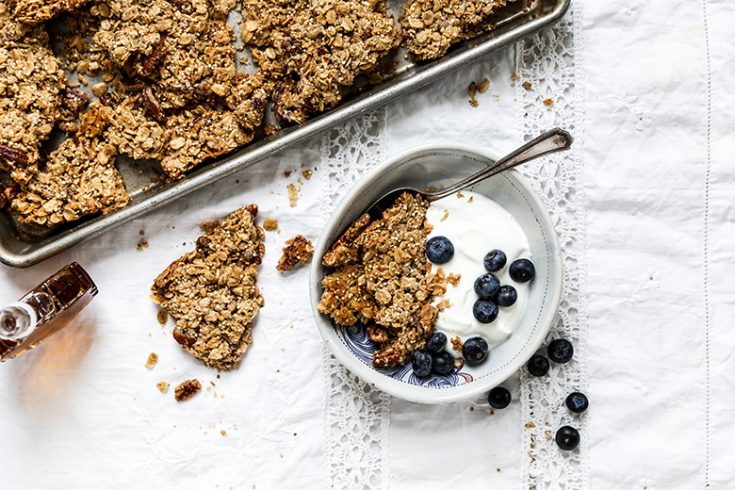 Super Chunky Maple Pecan Quinoa Granola
Yield: Makes about 6 cups
Prep Time: 10 minutes
Cook Time: 40 minutes
Total Time: 50 minutes
Ingredients
3 cups old fashion oats, divided
1 cup unsweetened shredded coconut
1 cup pecans, roughly chopped
1/2 cup uncooked quinoa
2 tablespoons chia seeds
1 tsp. ground cinnamon
1/2 tsp. salt
1/2 cup melted coconut oil
1/2 cup maple syrup
1 tablespoon vanilla extract
Instructions
Pre-heat your oven to 300 degrees. Spray a large rimmed baking sheet with non-stick cooking spray and set aside.
Add 1 cup of the oats to the bowl of your food processor fitted with the blade attachment. Process until the oats are finely ground into a flour-like consistency. Then transfer the oat flour into a large bowl. Add the remaining 2 cups of unprocessed oats and the rest of the dry ingredients. Stir to combine and set aside.
Stir together the coconut oil, maple syrup and vanilla extra. Pour this mixture over the dry ingredients, stirring until all the dry ingredients are well moistened. Dump the granola into your prepared baking sheet. Then press it down firmly into an even layer.
Transfer the baking sheet to your pre-heated oven and bake the granola for 40 minutes. Remove from the oven and set aside to cool completely.
Once the granola is completely cooled, use a metal spatula or spoon to lift the granola away from one corner of the baking sheet. It should begin to lift off large pieces/sheets. Use your hands to break down those pieces even further, if desired.
Granola can be stored in an airtight container at room temperature for several weeks.