This post was originally published here July 27, 2015. I've since adjusted the recipe slightly and updated the text and photographs to reflect those changes.
I admit it's cliché to post a smoothie recipe the first week in January. But here I am. Being the basic badass bitch that I am.
New year. Same me.
This Chocolate Almond Coffee Smoothie isn't about restricting calories. Or eating "healthy". It's just a delicious smoothie made with some of my favorite ingredients.
It tastes like chocolate.
It has some good fats.
It has some good nutrients.
And it's a great option if you're short on time.
That's it.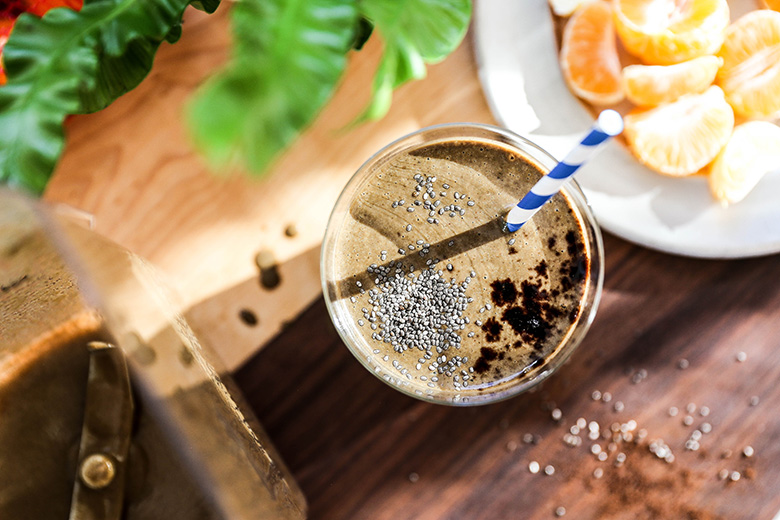 If you've made smoothies before then you know the drill. Add everything to your blender and push the button. Easy. The only thing slightly different with this recipe is I do allow 5-10 minutes for the chia seeds and espresso powder to soak in some of the chocolate almond milk before adding the rest of the ingredients and blending on high. This gives the chia seeds and espresso powder a little bit of a head start (for the chia seeds absorb some of the liquid/soften and for the espresso powder to begin to dissolve). It's a nice step, if you have the extra 5-10 minutes of time. But if you don't, that's not a deal breaker. You can just go for it all at once!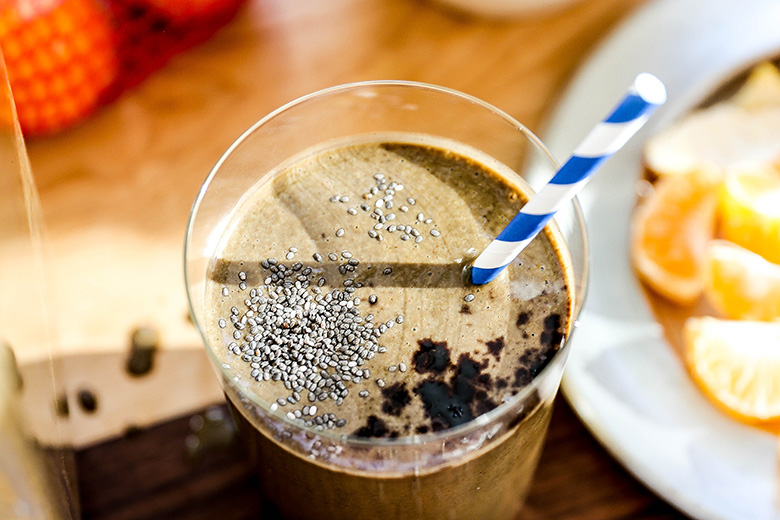 Need to make some substitutions? Not a problem. This recipe is totally adaptable. You can use any chocolate milk you like (soy, coconut, etc.). And any nut or seed butter will work, too. Have some kale you need to use up? Go right ahead and throw in a handful instead of the spinach. It's all good.
What are some of your favorite smoothie combinations? Any good ones I need to know about? Let me know!
Cheers,
Liz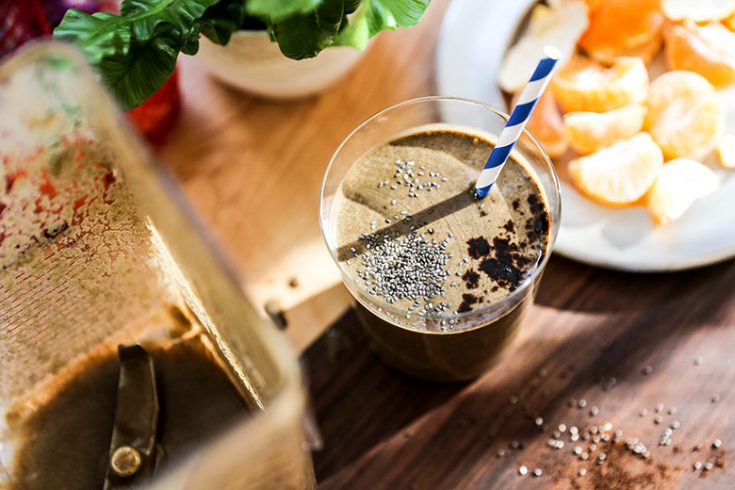 Chocolate Almond Coffee Smoothie
Yield: Serves 1
Prep Time: 10 minutes
Total Time: 10 minutes
Ingredients
1 tsp. chia seeds
1 tsp. instant espresso powder
1 cup chocolate almond milk, cold
1/2 cup fresh spinach leaves
1 medium peeled and chopped banana, frozen
1 tablespoon almond butter
Instructions
Add the chia seeds and instant espresso powder to your blender. Pour in about 1/4 cup of the chocolate almond milk. Let this mixture sit for 5-10 minutes.
Add the spinach leaves, frozen banana, almond butter and the remaining chocolate almond milk to your blender. Blend on high until smooth. Pour into a glass and serve immediately.