Breakfast. The "most important meal of the day". Yet I continue to ignore it. Fight it even.
Because honestly, I'm not really that interested in eating before 10am…sometimes even 11am. I only eat breakfast because I know I'm suppose to have food in my stomach. So I'll grab something that's quick, easy and generally un-exciting. And to be completely truthful, usually lacking in substance.
But this week, things are different. Because I'm chowing down on these Papaya Quinoa Breakfast Bowls. And I couldn't be more excited. I actually WANT to get up and eat one of these babies before 10am. Mornings are starting to look way better.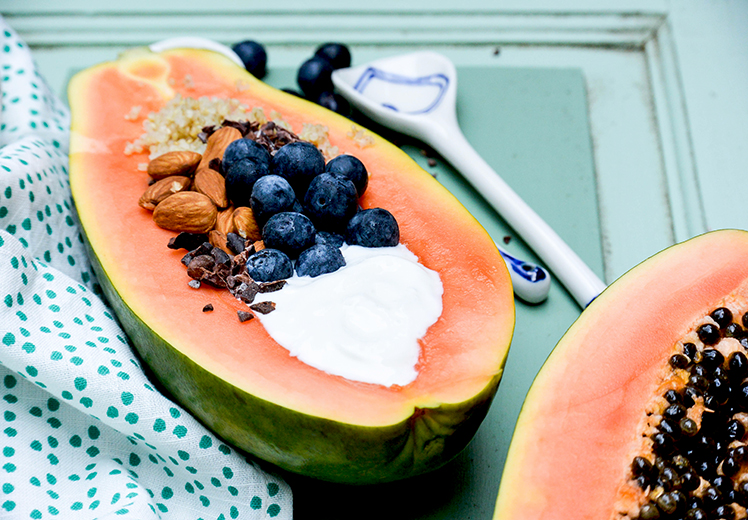 I first had a version of these breakfast bowls almost 20 years ago on a family trip to Hawaii. I can't remember all the ingredients exactly. Or even the scenario around their consumption. I just remember being completely floored by all the unique and tropical flavors. It was unlike anything I had ever tasted before.
When we first returned from our trip, we re-created these breakfast bowls at home a few times. But then, like with so many good recipes, we kind of forgot about them. Which is a shame. So I decided to resurrect them here today.
One of the best things about these Papaya Quinoa Breakfast Bowls is that you can totally make them your own. Sometimes I change up the flavor of the yogurt. Sometimes I sprinkle granola in lieu of the nuts or quinoa. And I usually use whatever fresh fruit I happen to have on hand. Don't be afraid to get creative and have a little fun!
The amounts listed in the recipe below are just a loose guide. Because everything is going to depend on the size of your papaya. Sometimes they can be the size of footballs and sometimes they are only half that size. So just do what looks (and tastes!) right to you.
Cheers,
Liz
Ingredients
1 papaya
2/3 cups cooked quinoa
1 tablespoon maple syrup
12 ounces yogurt (I used vanilla non-fat yogurt)
1/2 cup fresh blueberries
1/4 cup almonds (I used roasted and unsalted)
1 tablespoon cocoa nibs
Instructions
Slice the papaya in half lengthwise. Scoop out and discard the seeds.
Stir the maple syrup into the cooked quinoa.
Layer all of the the ingredients into the center of the papaya, using the papaya as your bowl, dividing them evenly between the two halves. Enjoy!
https://www.floatingkitchen.net/papaya-quinoa-breakfast-bowl/