Disclosure: This post is sponsored by Stonewall Kitchen. All opinions are my own. Thank you for supporting brands and companies that help to keep my kitchen afloat!
It's Fall, y'all! And damn, I am very excited about that.
What? Does that surprise you? I know I go on a *little* bit of a rampage every year during the months of August and September about savoring Summer (and all the abundant Summer produce!). So you might think that I'm not particularly into Fall. But I am! I love Fall. In fact, it might just be my favorite time of year. But I will love Fall when it's ACTUALLY FALL. Just like how I will love Summer when it's ACTUALLY SUMMER. And so on. You get the idea. I'm not into this whole "season jumping" business that seems to be the norm these days. Sorry/not sorry.
BUT. Now I'm ready. So bring it on. And I'll be bringing it right back to you. With all sorts of Fall-fabulous recipes coming down the pipeline. Starting with this Warm Radicchio, Brussels Sprout and Fennel Salad with Tahini Granola, featuring Stonewall Kitchen's "orchard in a bottle" Apple Cider Vinaigrette. Let's do this.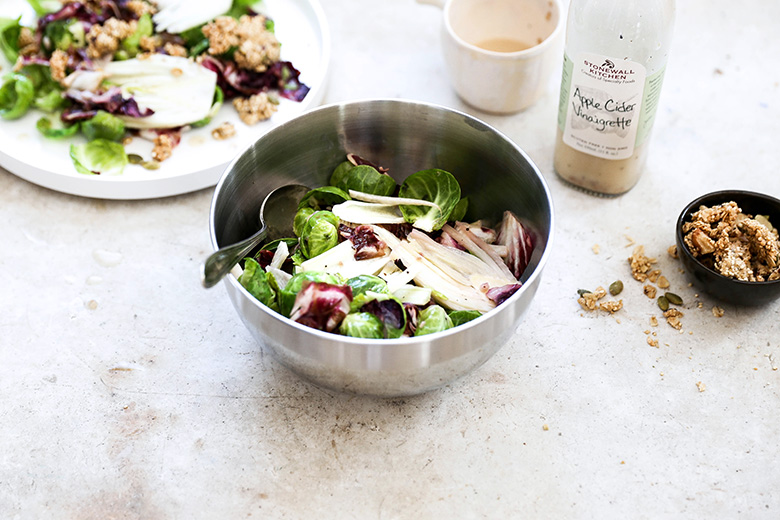 If the concept of a warm salad is unappealing to you, I'm right there with you. I used to turn my noise up at such nonsense as well. Salads are supposed to be cold and crisp and crunchy, right?
Well…most of the time I'd say that's true. But not here. Because in this particular case, a quick sauté does wonders for these ingredients. It reduces the bitterness of the radicchio (a vegetable that I used to avoid because I found it too bitter for my taste buds). And it softens the brussels sprout leaves making them much more palatable.
But don't worry, this salad is far from mushy. The fennel remains crisp-tender. And for extra crunch insurance, we've got homemade tahini granola in lieu of croutons. I'm no stranger to using granola on soups and salads, but this might be my favorite version yet. The nuttiness and subtle hints of maple syrup make it particularly well suited for pairing with Fall produce. And the quinoa kind of makes it "pop" when you eat it, so it feels even more crunchy than some of my other variations. It's a must try. The recipe makes more than you'll use for this salad, but it will last a while. You'll surely find ways to use it.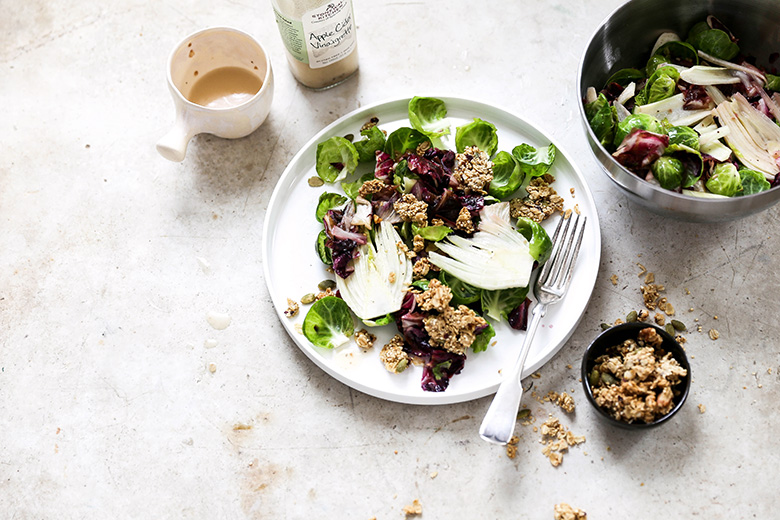 And the final piece that ties this whole recipe together is Stonewall Kitchen's Apple Cider Vinaigrette. It's tangy, creamy and so perfectly seasoned with shallots, garlic and black pepper, that all I had to do was add a tiny pinch of salt and black pepper at the end for finishing. Their Apple Cider Vinaigrette is the best way to make this salad absolutely shine. And it quickly and easily brings all the flavors of Fall to the table!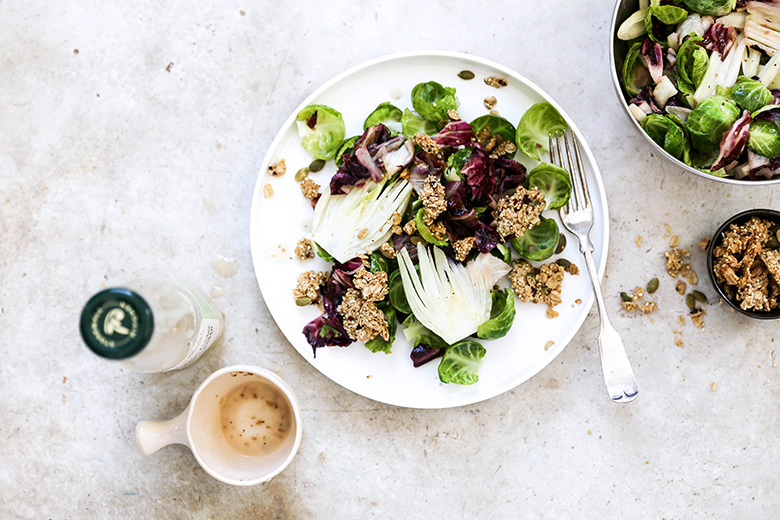 If I had to quantify things, I would say that I make my own homemade dressings and vinaigrettes about 75% of the time. But when I don't, I reach for a bottle from Stonewall Kitchen and I'm never disappointed. Check out all their dressings and vinaigrettes on their website. I know you'll find a new go-to that you absolutely love!
I am NOT season jumping. But I would be amiss if I didn't encourage you to think about this Warm Radicchio, Brussels Sprout and Fennel Salad with Tahini Granola for Thanksgiving or Christmas. So bookmark it both for now AND for later in the season.
Cheers,
Liz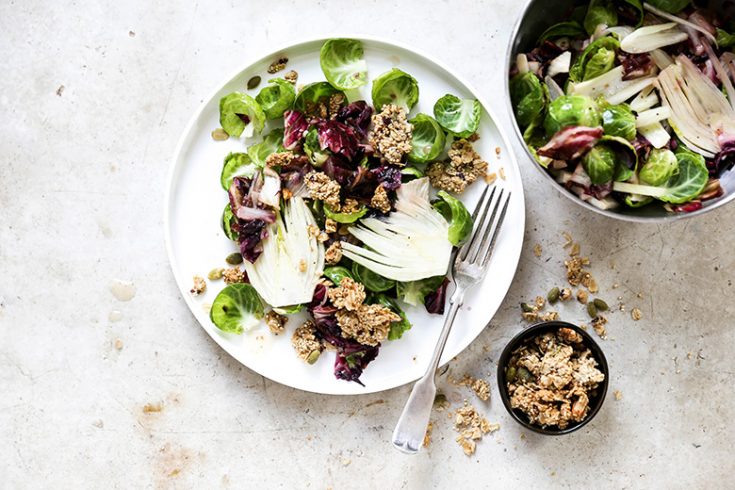 Warm Radicchio, Brussels Sprout and Fennel Salad with Tahini Granola
Yield: 4-6 servings
Prep Time: 20 minutes
Cook Time: 50 minutes
Total Time: 1 hour 10 minutes
Ingredients
For the Granola:
3 cups old fashioned oats, divided
1/2 cup uncooked quinoa
1/2 cup pepitas
1/2 cup chopped hazelnuts
1/2 cup chopped walnuts
1 tablespoon sesame seeds
1 tsp. salt
1/4 cup tahini
1/4 cup maple syrup
1/4 cup extra-virgin olive oil
For the Salad:
2 tablespoons extra-virgin olive oil
2 garlic cloves, peeled and minced
1 head of radicchio, chopped
4 cups loosely packed brussels sprout leaves
1 fennel bulb, trimmed and thinly sliced
2/3 – 1 cup Stonewall Kitchen Apple Cider Vinaigrette
1/2 tsp. salt
1/2 tsp. black pepper
Instructions
To make the granola, pre-heat your oven to 300 degrees. Line a rimmed baking sheet with parchment paper and set it aside.
In the bowl of your food processor with the blade attachment, process 1 cup of the oats until they are finely ground into a powder that resembles flour. Transfer this oat flour to a large bowl. Add the remaining oats and the rest of the dry ingredients, stirring to combine. Set aside.
In a medium bowl, stir together the tahini, maple syrup and olive oil. Pour this liquid mixture over the dry ingredients, stirring until the dry ingredients are well moistened and evenly coated. Transfer the granola mixture to your prepared pan and press it down firmly into an even layer. Then bake the granola in your pre-heated oven for 40 minutes, rotating the pan once halfway through. Do not stir the granola!
Remove the pan from your oven and allow the granola to cool completely. Once cooled, break the granola up into clusters and transfer it to an airtight container for storage. The granola can be stored at room temperature for 1-2 weeks.
To make the salad, warm the olive oil in a large skillet over medium-high heat. Add the garlic and cook until fragrant, about 1 minute. Add the chopped radicchio and cook, tossing constantly, until the radicchio begins to wilt, about 1-2 minutes. Add the brussels sprout leaves and sliced fennel and cook, tossing constantly, about 2 minutes more. Pour in the vinaigrette and sprinkle with the salt and black pepper, tossing to make sure the vegetables are well coated. Remove the skillet from the heat.
Divide the salad between serving plates and top with some of the tahini granola. Serve immediately.