This post was originally published here on September 17, 2014. I've since updated the texts and photographs. It's the easiest Fall cocktail that I know how to make. And I want you to try it too! Cheers!
A cocktail seems appropriate. I think we all could use one.
These past two years, I've found our political system to be rather uninspiring. The hate. The intolerance. The fear. It's all very hard to process. I am constantly asking myself "how has this become our reality?".
But the events of this past week have been particularly gut wrenching to bear witness too. The epidemic of disbelieving women has crested. And the deep flaws in our system have been exposed.
Yes, I realize that this is a website about food. But it's also website written by me. A human. A women. And a victim.
I believe her. I believe women. I believe survivors.
I could write more. But I don't have too. Those three sentences say it all. And I needed to say them.
Because writing has never been my strong suit, I don't have an eloquent segue to smoothly transition us from discussing current events to cocktails. So here we (abruptly) go.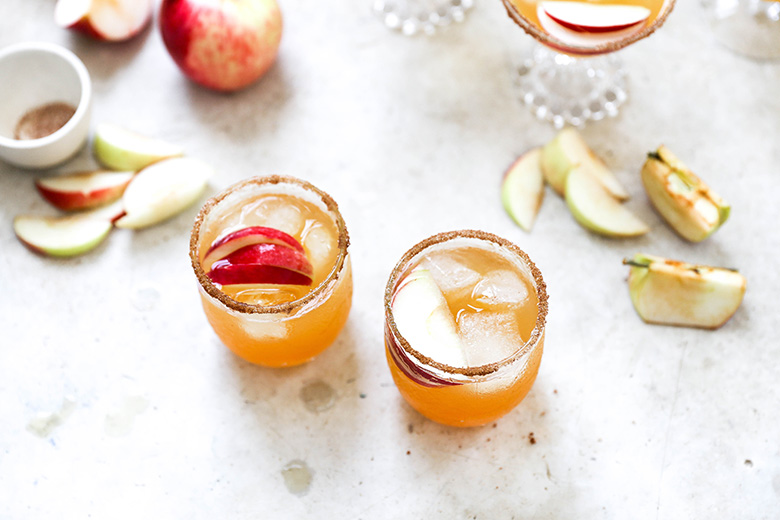 These Apple Cider and Ginger Beer Bourbon Cocktails were one of the first cocktails that I learned how to make. In fact, the original post in which this recipe appears goes way back to the first year that this little blog existed. When I look at the recipe now, it almost seems "too basic". I didn't know much about crafting cocktails back then, so "basic" was all I could manage.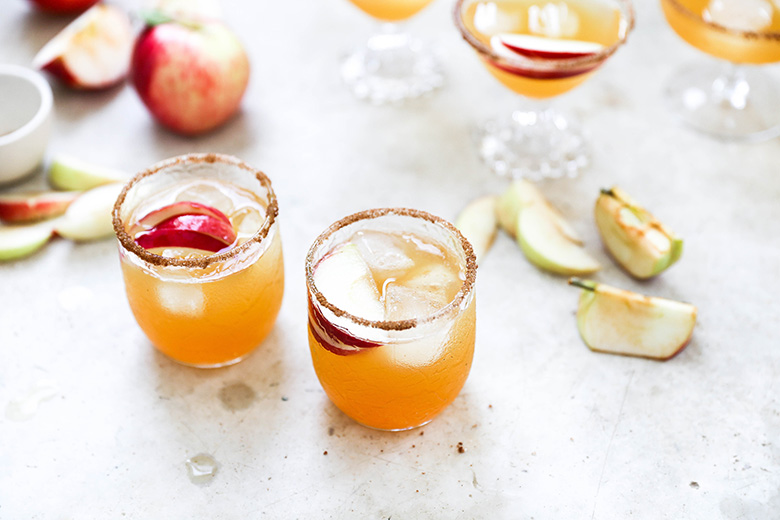 These days, I might add a dash of aromatic bitters. Or use a more interesting spirit. Or maybe even dress them up with a flashier garnish. And trust me when I tell you, I was absolutely tempted to do all of those things. But in the end, I decided to stick with the way I had originally written the recipe. And you know what, I'm so glad that I did. Because it just works. It's an easy, clean-tasting cocktail that showcases each ingredient beautifully. What else could you ask for?!?!
More is not always better. And this was the gentle reminder that I needed.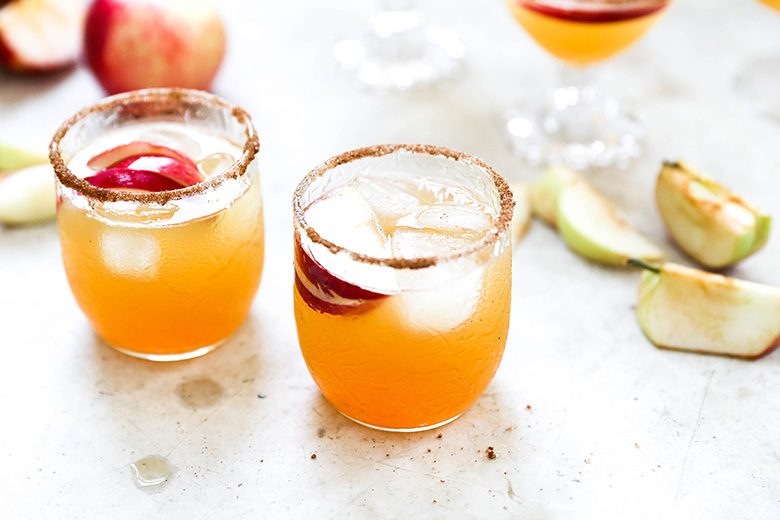 Every ingredient you'll need for these Apple Cider and Ginger Beer Bourbon Cocktails is easy to find (and I bet you already have most of them on hand!). And you don't even need a shaker. It's a cocktail that's equally well suited for a cozy Friday night on the couch, or a bustling Holiday party. You won't tire of drinking this refreshing sipper this season. Heck, I'm still drinking it after 4 years!!!
Cheers,
Liz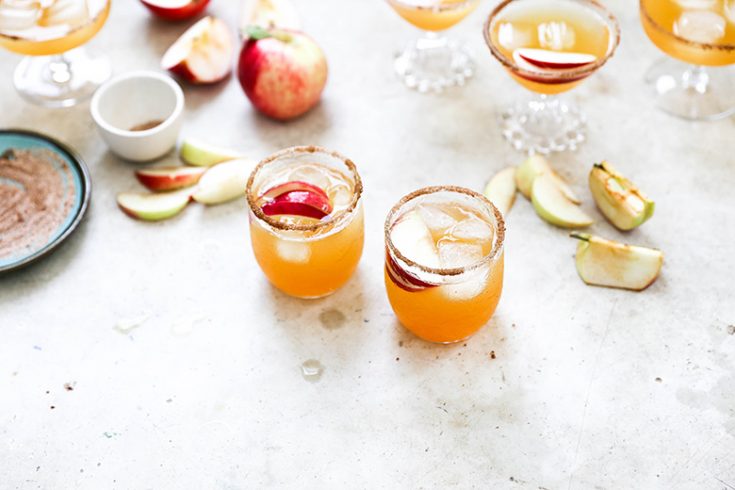 Apple Cider and Ginger Beer Bourbon Cocktails
Yield: Makes 2 cocktails
Prep Time: 5 minutes
Total Time: 5 minutes
Ingredients
For the Cocktails:
1 cup fresh apple cider
1 cup ginger beer
3 ounces bourbon
For Garnish:
2 tsp. sugar
1/2 tsp. ground cinnamon
Maple syrup
Ice
Sliced apples
Instructions
Stir together the apple cider, ginger beer and bourbon.
Combine the sugar and cinnamon together, then spread the mixture out onto a small plate. Moisten the rim of your serving glasses by rubbing them with a small amount of maple syrup. Then invert the glasses over the sugar-cinnamon mixture, pressing down gently to coat.
Add fresh ice to your prepared glasses. Then divide the cocktail between the two glasses. Garnish with apple slices and serve immediately.