This post was originally published here December 16, 2013. I've updated the text and photographs. This cocoa mix make a great gift idea for the Holidays. Or make up a big batch to have on hand for when guests arrive!
If you're still buying those instant packets of hot cocoa mix, I want you to make this the year that you stop doing that.
Are you skeptical? I get it. I know those packets are super convenient. And even I can admit that they don't taste horrible. They're not great. But they're not the worst thing I've ever put in my mouth either. And when you're craving a warm chocolate fix immediately, you can count on them to be at the ready in your pantry.
BUT. We deserve so much more. And I'm here to help.
My Homemade Hot Cocoa Mix is light-years better than those instant packets. It has the power to turn any ordinary milk (dairy, soy, almond, etc.) into the most decadent, rich tasting hot cocoa you've ever experienced. Once you have your first mug, I know you'll be converted.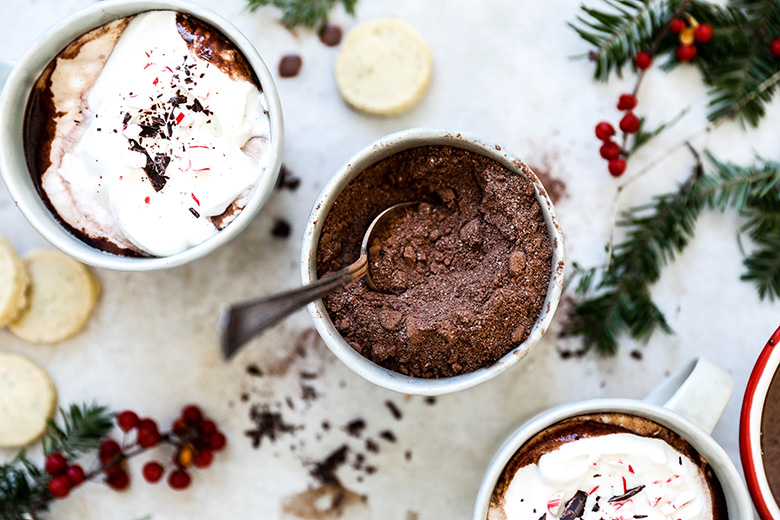 My recipe uses a combination of bittersweet chocolate, white chocolate and unsweetened cocoa powder for layers and layers of chocolate flavor. And I add just enough ground cinnamon to make you say "hmmm…is that cinnamon I detect?". Yes. Yes, it is. So don't skip it. It really makes a difference.
The best part about this Homemade Hot Cocoa Mix is that the recipe is kind of a two for one. Because once you make up a batch, not only will you be able to happily enjoy delicious hot cocoa at a moment's notice. But you can make your friends happy, too! I love packaging up this mix into small mason jars and giving it out as gifts (add some homemade marshmallows for extra bang!). It's the perfect small token of appreciation for lots of people in your life (teachers, hair stylists, co-workers, etc.).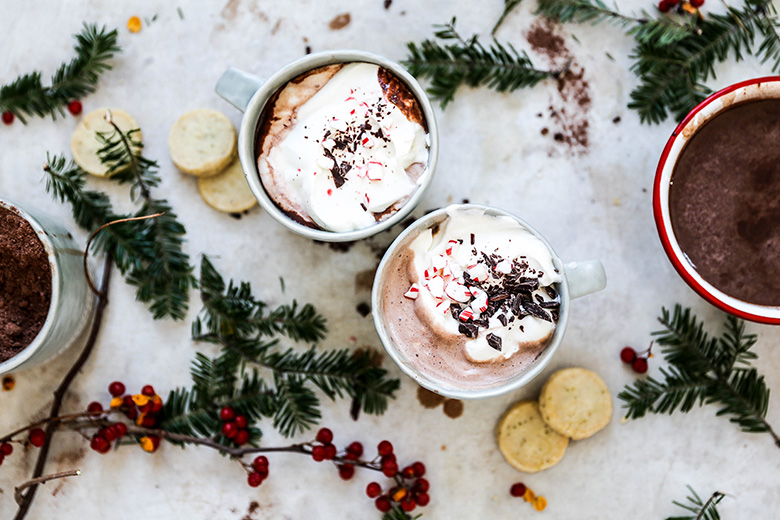 Scaling up? No problem! Just be sure to work in batches or you'll end up with a very messy kitchen. I have a standard sized food processor and the bowl is F-U-L-L when I make just a single batch of this mix as it's written below. You've been warned.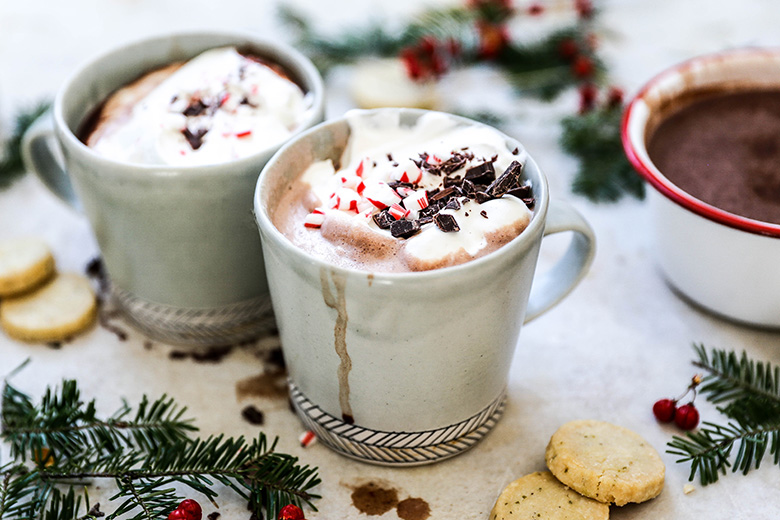 So how do I like my hot cocoa? I combine about 3 tablespoons of the hot cocoa mix with 1 cup of warmed low-fat milk. Then I top it with fresh whipped cream and some chopped peppermint candies. It's fun and festive!
Cheers,
Liz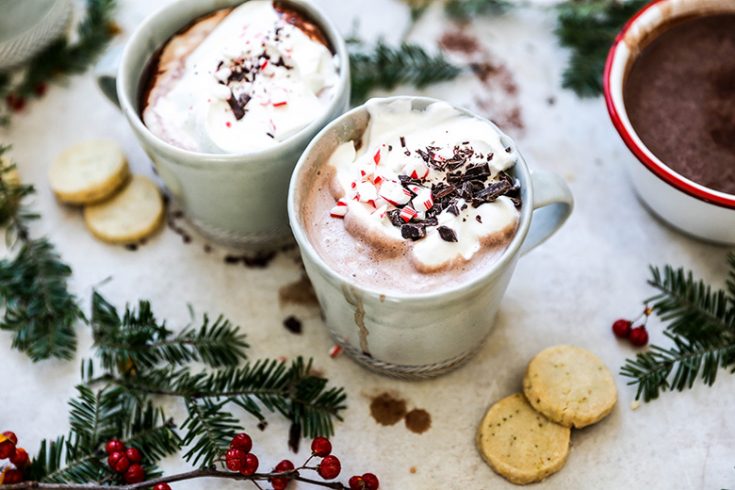 Homemade Hot Cocoa Mix
Yield: Makes about 5 cups of mix
Prep Time: 10 minutes
Total Time: 10 minutes
Ingredients
For the Cocoa Mix:
1 vanilla bean
2 cups granulated sugar
1 cup unsweetened cocoa powder
12 ounces bittersweet chocolate, chopped
4 ounces white chocolate, chopped
1 tsp. cinnamon
1/2 tsp. salt
For Hot Cocoa:
8 ounces milk (dairy, almond, soy, etc.)
About 3 tablespoons hot cocoa mix
Instructions
Using a small paring knife, slice the vanilla bean in half lengthwise and scrape out the seeds. Reserve the spent pod.
Add the scraped vanilla bean seeds and the rest of the ingredients to the bowl of your food processor fitted with the blade attachment. Pulse together until the chocolate is finely ground and everything is well combined, about 10-12 times. Be careful not to run your food processor too long, as it may create heat and start to melt the chocolate.
Transfer the hot cocoa mix to a large re-sealable container (I like a large wide-mouth mason jar) and slip the spent vanilla bean pod into the mix. Seal the container and store it at room temperature. The hot cocoa mix can be used right away, but if you let it sit for several days you'll get more flavor from the spent vanilla bean pod.
Transfer the hot cocoa mix to smaller re-sealable containers for gifting.
Or to make hot cocoa, warm the milk of your choice in a small saucepan over medium heat. Give the hot cocoa mix a stir. Then add it to your warmed milk and whisk until fully dissolved. Pour the hot cocoa into a mug and top as desired. Enjoy immediately.