I'm keeping it short and sweet today folks. Why? Because it's almost the 4th of July. And that means we are in the thick of summer. So let's not be chained to our computers any longer than we have to be. Let's get out there and enjoy these long, hot days while we still have them. I'll drink to that!
I concocted this cocktail while I was vacationing in New England last week. They were the perfect drink to enjoy while I was lounging poolside with my girly fashion magazine (hey, we can't all read non-fiction all the time, right?). Oh what I wouldn't give to be back at that pool right now. I guess I'll have to settle for a tasty and refreshing adult beverage to cool me down instead.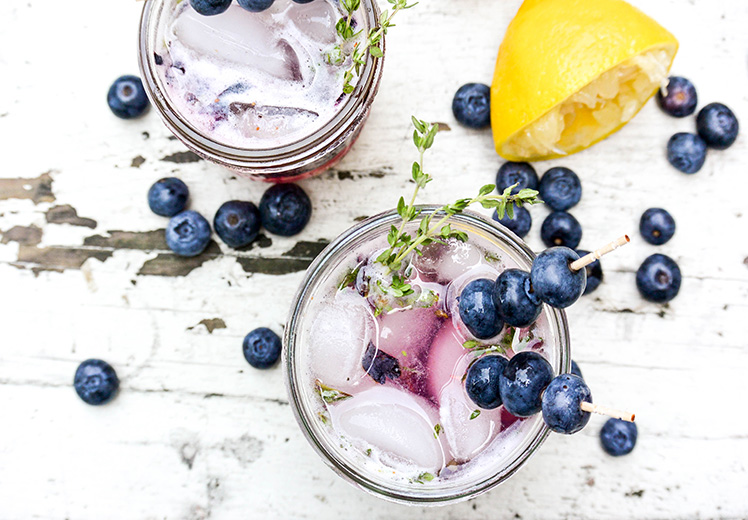 Now, I'm a tonic and vodka kind of gal. But if you fancy club soda, then by all means go right ahead. It works with both. It just all depends on your individual taste preferences. So do whatever you like. It's your summer. Live it up!
Cheers,
Liz
Ingredients
1/4 cup blueberries, plus more for garnish
3 tablespoons fresh squeezed lemon juice
3 tsp. sugar
1 tsp. fresh thyme leaves, plus more for garnish
Ice cubes or crushed ice
3 tablespoons (1 1/2 ounces) vodka
1/4 cup tonic water
Instructions
Place the blueberries, lemon juice, sugar and thyme leaves in an 8 ounce glass. Muddle until the blueberries are mostly broken down and the thyme leaves become fragrant. If you don't have a muddler, a wooden spoon works great for this.
Add some ice to the glass. Then pour in the vodka and tonic water. Stir gently. Garnish with a few sprigs of fresh thyme leaves and some blueberries, if desired. Serve immediately.
https://www.floatingkitchen.net/lemon-thyme-and-blueberry-vodka-fizz/