Produce anxiety. This is a real thing that I'm currently experiencing.
Each trip to the market leaves me feeling exhilarated from all the choices. Tomatoes! Eggplant! Zucchini! Melon! It's all there for the taking. And believe me, I'm taking (well, purchasing).
But it also has me feeling kind of panicky. Because it seems like the clock is ticking. And there won't be enough time to enjoy it all.
A girl can only eat so many salads per day, you know?
My produce anxiety has only been further fueled by my inability to stay away from the local blueberry farm. Each week, I'm hauling home a load of fresh blueberries (all picked by yours truly, of course) that weighs about as much as a small child. It's a problem.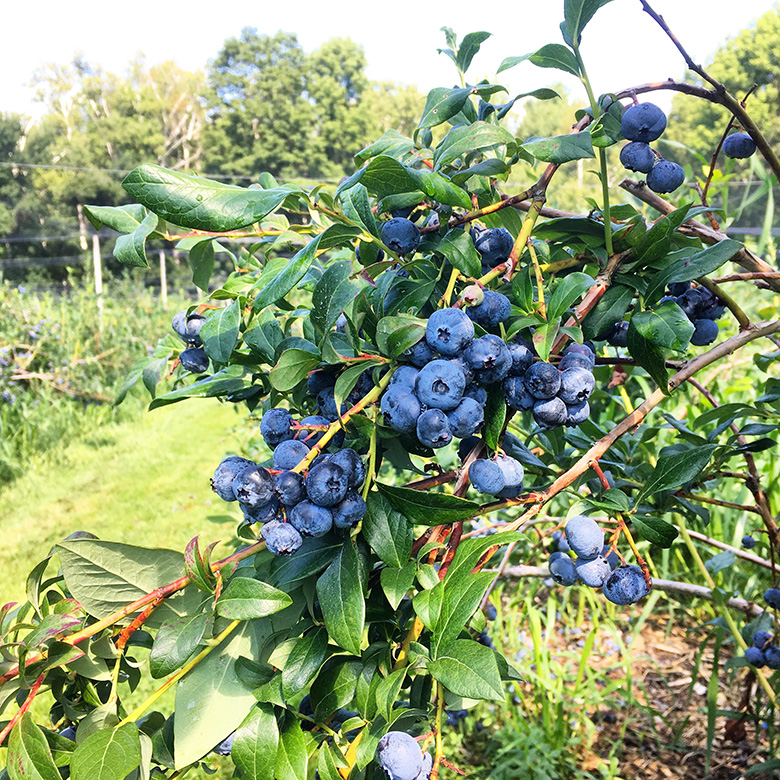 But what can you do? Just grin and bear it, I suppose. And make yourself another damn salad. Like this beauty that I'm sharing with you today.
I'm not sure what to say about this Corn and Blueberry Salad with Savory Granola and Herb Vinaigrette other than to exclaim in all capital letters GO AND MAKE IT IMMEDIATELY. It's epically good. And trust me when I tell you that you must not skip any of the parts. Yes, you've got to make your own dressing. And yes, I want you to turn your oven on briefly to make a batch of savory granola. But it's all worth it in the end. The layers of flavors and textures come together so perfectly. It's the best of late Summer. All served to you on a plate.
Because I wanted the flavors of the produce to really shine, I held back on the cheese. But a sprinkle of goat cheese would be very nice. Or a little crumble bacon. I don't eat a lot of pork products, but bacon and corn are two ingredients that I really love together in a salad. Mmm…I'm getting excited just thinking about that combo!
If you try my Corn and Blueberry Salad with Savory Granola and Herb Vinaigrette, give me a shout out and let me know. I'd love to hear about it!
What late Summer produce are you getting excited/panicky about these days?
Cheers,
Liz
Corn and Blueberry Salad with Savory Granola and Herb Vinaigrette
Yield: 4-6 servings

Prep Time: 20 minutes

Cook Time: 25 minutes

Total Time: 45 minutes
Ingredients
For the Granola:
1 cup old-fashioned oats
1/2 cup shelled pistachios
1/2 cup shelled sunflower seeds
1/2 cup sliced almonds
1 tablespoon sesame seeds
1 tablespoon fennel seeds
1 tsp. salt
1/4 tsp. cayenne pepper
1/4 cup extra-virgin olive oil
1 tablespoon agave nectar
1 egg white
For the Vinaigrette:
1/4 cup extra-virgin olive oil
2 tablespoons minced shallot
2 tablespoons minced fresh basil
1 tablespoon minced fresh parsley
1 tablespoon sherry vinegar
1 tablespoon lemon juice
1 tsp. whole grain mustard
1 tsp. minced jalapeño pepper
1 tsp. minced fresh oregano
1/2 tsp. salt
For the Salad:
4 ears cooked corn on the cob, kernels removed
2 cups fresh blueberries
1 medium cucumber, sliced
6-8 cups mixed salad greens
Instructions
To make the savory granola, start by pre-heating your oven to 350 degrees. In a medium bowl, toss together the oats, nuts, seeds, salt and cayenne pepper. In a separate small bowl, whisk together the olive oil, agave nectar and the egg white. Then pour this liquid mixture over the dry ingredients, stirring until well coated. Spread the granola out onto a rimmed baking sheet and bake in your pre-heated oven for about 25 minutes, or until golden brown, stirring once halfway through cooking time. Remove and set aside to cool completely. The granola can be stored in an airtight container at room temperature for several days.
To make the vinaigrette, add all the ingredients to a small bowl and whisk vigorously to combine. Set aside.
Add the corn kernels, blueberries and sliced cucumber to a medium bowl. Pour in the vinaigrette and toss until everything is well coated.
To serve, divide the salad greens between plates. Spoon some of the corn mixture over the greens. Then top with a sprinkle of savory granola. Enjoy immediately.
SaveSave
SaveSave
SaveSave