Pi Day is almost here!
So what is Pi Day exactly? Well, it's the annual observation of the mathematical constant π (pi). Which we celebrate on March 14th because the first three digits of π are 3.14. And of course, we celebrate Pi Day with copious amounts of pie!
I never let Pi Day pass me by without some form of acknowledgement. As a scientist-baker, Pi Day is like the Holy Grail of food Holidays for me. In the past, I've made traditional dessert pies, less traditional dessert pies, savory pies and pizza pies! I basically go by the rule that if a recipe has got the word "pie" in the name, then it's fair game for Pi Day!
This year, I'm keeping things classic, simple and super cute with these Mini Blueberry Hand Pie with All-Butter Pie Crust.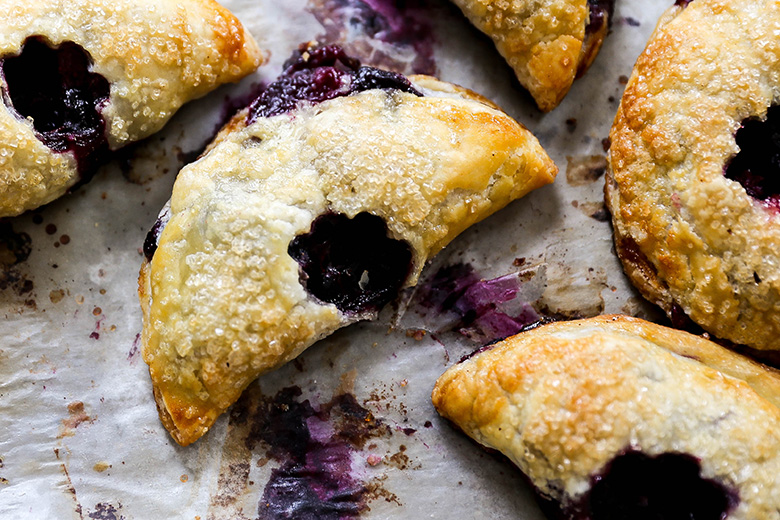 I try not to be too demanding with my recipes or instructions, but this is one instance where I'm going to be. Please please please don't skip out on making your own pie crust here. It makes all the difference in the world. And it's extra important for these hand pies, because the ratio of pie crust to pie filling is higher than it would be for a traditional full-sized pie that's baked in a pie dish. So we want the pie crust to be top notch!
When I think of top notch pies, I think of Erin McDowell. The pie crust recipe I used for these Mini Blueberry Hand Pie with All-Butter Pie Crust is from her. It's simple, straightforward and absolutely worth the 10 minutes of your time to prepare it. And just in case you are stressing about the time commitment, go ahead and prepare the pie crust up to 2 days in advance and stash it in your refrigerator until you're ready.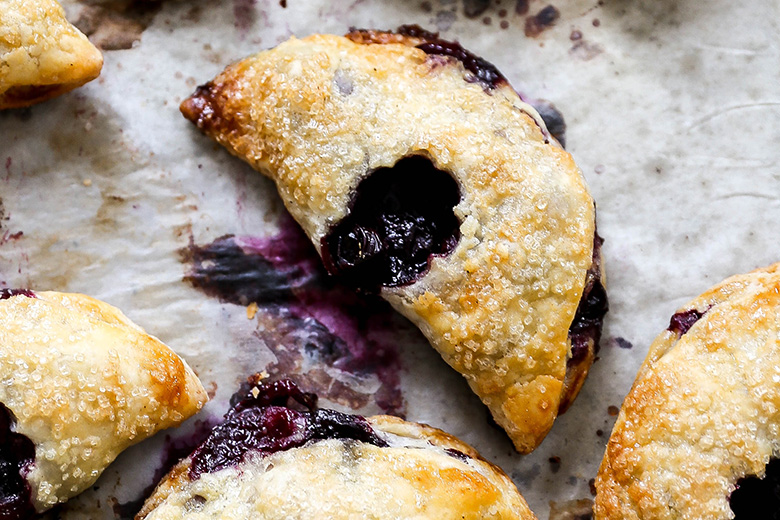 When it comes to making hand pies, there is a bit more fussing around since you do need to assemble each one individually, versus just dumping all the pie filling into a single pie plate as you would for a traditional full-sized pie. But that time is more than made up for in the short baking time. These hand pies bake up in less than 20 minutes! And their adorable size (each one is about 3-4 bites worth) makes them perfect for sharing with friends and family. Because everyone should get to enjoy some pie on Pi Day!
Cheers,
Liz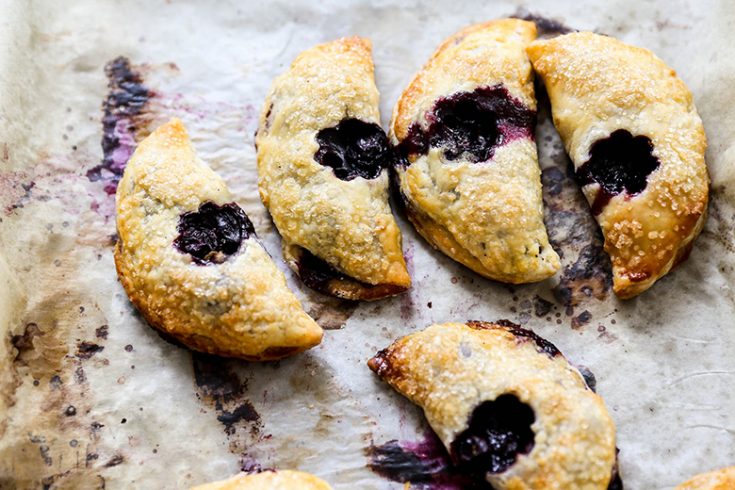 Mini Blueberry Hand Pies with All-Butter Pie Crust
Yield: Makes about 1 dozen pies
Prep Time: 1 hour
Cook Time: 20 minutes
Additional Time: 2 hours
Total Time: 3 hours 20 minutes
Ingredients
For the Pie Dough:
1 1/4 cups all-purpose flour
1/4 tsp. salt
1/2 cup (8 tablespoons) unsalted butter, cubed and chilled
1/4 cup cold water, plus 1-2 tablespoons as needed
For the Blueberry Filling:
1 1/2 cups fresh blueberries
1/4 cup brown sugar, packed
1 tablespoon all-purpose flour
1 tablespoon fresh squeezed lemon juice
1/4 tsp. ground cinnamon
1/8 tsp. salt
For Finishing:
1 egg, beaten
1 tablespoon water
About 1/4 cup large-grain sugar (I used turbinado)
Instructions
To make the dough, combine the flour and salt in a large bowl. Add the cubed butter and toss to coat the butter in the flour. Then, using your hands, work the butter into the flour by squeezing it between your fingers. Try to work quickly so that the butter doesn't get too warm. Once the butter pieces are about kidney-bean sized, make a well in the center of the mixture. Add 1/4 cup of the cold water and toss the mixture with a fork to moisten the flour. Add another 1-2 tablespoons of cold water as needed for the dough to start to come together. The dough will be shaggy, but should hold together when pressed.
Using your hands, bring the dough together and form it into a disk. Wrap the dough disk tightly in plastic wrap and place it in your refrigerator to chill for at least 1 hour or up to 2 days.
After the dough has chilled, remove it from your refrigerator and unwrap it. Place the dough disk on a piece of parchment paper that has been dusted with flour. Sprinkle some more flour on the top surface of the dough disk. Use a rolling pin to roll out the dough until it's about 1/8-inch thick, rotating it occasionally to ensure it's not sticking.
Using a 3 1/2 or 4-inch round biscuit cutter, cut out circles of dough. Place the circles on a rimmed baking sheet lined with parchment paper, stacking them as necessary. Re-shape and re-roll the dough scraps, continuing to cut out as many circles as possible and adding them to the baking sheet. Once all the circles have been cut, place the baking sheet in your refrigerator for 10 minutes to chill the dough circles.
Meanwhile, in a medium bowl toss together all the ingredients for the filling. Use a spoon to lightly crush a few of the blueberries so they release some of their juices. Set aside.
Line a second rimmed baking sheet with parchment paper. Remove the chilled dough circles from your refrigerator and spread them out between the two baking sheets. If you want to use a small cookie cutter to create a vent hole, do that now on one side of each of the dough circles.
Spoon a generous tablespoon of the filling slightly off-center into each of the dough circles. Working with dough circle at a time, wet your finger with water and run it around the edge of the dough circle to moisten it. Then pick up the dough circle and fold the dough over the filling to form a half-moon shape, pressing the edges together to seal them. Place the sealed pie back on its parchment paper-lined baking sheet. Continue working until all the pies have been formed, spacing them at least 1-inch apart from each other on their baking sheets. If you didn't create a vent hole above, do it now by cutting a couple slits on the top of each pie with a small paring knife.
Transfer the baking sheets to your refrigerator to chill the pies for 30 minutes.
Meanwhile, position your oven rack in the lower third of your oven. Pre-heat your oven to 450 degrees.
In a small bowl, beat together the egg and water.
Remove the baking sheets from your refrigerator. Brush the tops of the pies with the egg wash and sprinkle with the sugar. Transfer the baking sheets to your pre-heated oven and lower the temperature to 400 degrees. Bake for 16-18 minutes, or until the pie crust is golden brown and the filling is bubbling. Remove and let the pies cool slightly on their baking sheets before serving.
Leftover pies can be stored in an airtight container at room temperature for 1 day.