Like the good little food blogger that I am, I'm here with my yearly pumpkin recipe!
And it's a good one, too. Because I figure if I'm only going to committee to one pumpkin recipe a year, I better go big or go home. And these Pumpkin Millionaire's Shortbread are certainly BIG!
My guess is you're probably familiar with Millionaire's Shortbread. This classic dessert is rich and decadent, with three distinct layers: a buttery shortbread layer, a smooth caramel layer and a salty-sweet chocolate layer. These treats are hard to resist. And they are a popular recipe for parties, potlucks and Holidays.
These Pumpkin Millionaire's Shortbread are a Fall-themed version of the more traditional recipe. I added pumpkin pie spice to the shortbread layer and the caramel layer. And I also added pumpkin purée to the caramel layer. I was actually somewhat surprised at how well the pumpkin flavor comes through in the end. These Pumpkin Millionaire's Shortbread have pumpkin flavor in every single bite! They would be awesome for a Halloween party. Or even for Thanksgiving (but let's not get too far ahead of ourselves!).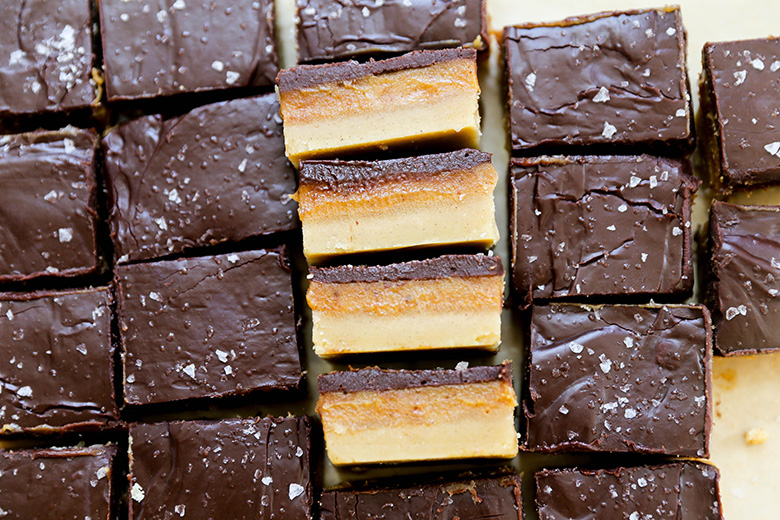 These Pumpkin Millionaire's Shortbread are not hard to make. But as with any dessert that has multiple layers, they do take a bit more time to prepare. There are obviously the three separate layers that you need to make. And in addition, it's important to allow time for the layers to cool properly before continuing to the next step. So there are a couple hours of inactive prep time to be aware of.
Oh and you definitely want these Pumpkin Millionaire's Shortbread to be completely chilled before slicing. I slice them straight from the refrigerator or freezer with a sharp knife that I clean in between each cut.
If you try my Pumpkin Millionaire's Shortbread this season, let me know!
Cheers,
Liz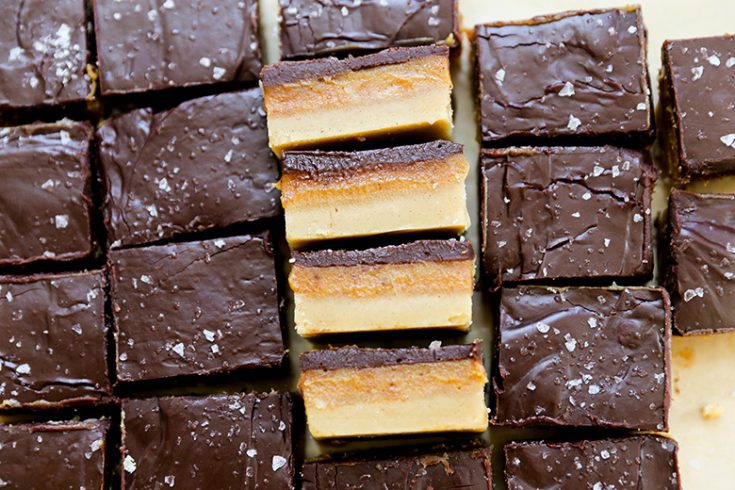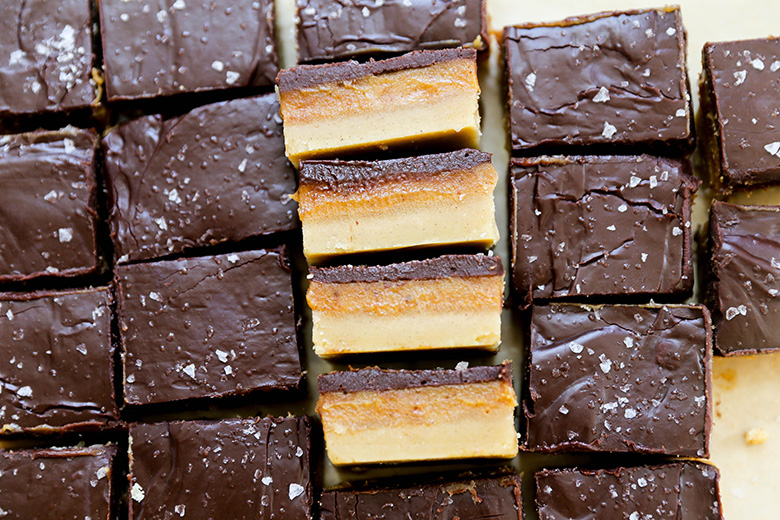 Pumpkin Millionaire's Shortbread
Yield: Makes one 9 X 9-inch pan
Prep Time: 1 hour
Cook Time: 30 minutes
Additional Time: 3 hours
Total Time: 4 hours 30 minutes
Ingredients
For the Shortbread Layer:
1 cup unsalted butter, softened at room temperature
1/4 cup granulated sugar
1/4 cup packed brown sugar
1 egg yolk
1 tsp. vanilla extract
2 cups all-purpose flour
1/2 tsp. pumpkin pie spice
1/2 tsp. salt
For the Pumpkin Caramel Layer:
1/4-cup, plus 1 tablespoon, pumpkin purée
1 (14-ounce) can sweetened condensed milk
1 cup packed brown sugar
1/2 cup unsalted butter, cut into cubes
1/4 cup light corn syrup
1 tsp. vanilla extract
1/2 tsp. pumpkin pie spice
1/2 tsp. salt
For the Chocolate Ganache Layer:
1 1/2 cups semi-sweet chocolate chips
1/3 cup heavy cream
Flaky sea salt
Instructions
Pre-heat your oven to 350 degrees.
Line a 9 X 9-inch baking pan with parchment paper, leaving about an inch hanging over on all four sides. Set aside.
Make the shortbread layer. Add the butter, granulated sugar and brown sugar to the bowl of your stand mixer fitted with the paddle attachment. Beat on medium-high speed until light and fluffy, about 1-2 minutes, stopping to scrape down the sides and bottom of the bowl as necessary. Add the egg yolk and vanilla extract and beat until just combined. Then gradually add in the flour, pumpkin pie spice and salt, beating just until no more white streaks remain. Scrape down the sides and bottom of the bowl to make sure all the ingredients are combined.
Transfer the dough to your prepared baking pan and press it evenly and firmly into the bottom of the pan. The dough will be thick. I like to coat my hand with a little non-stick spray and use the palm of my hand to help me distribute the dough. You can also place a piece of waxed paper between the dough and your hand.
Transfer the baking pan to your pre-heated oven and bake for 20-22 minutes. The edges should be golden brown and the shortbread should have puffed up slightly. Remove the baking pan from your oven and set it on a wire rack to cool slightly while you prepare the pumpkin caramel layer.
Fold up a couple paper towels and spread the pumpkin purée out over the paper towels. Then lay a few more paper towels on top of the pumpkin purée and press down lightly. Let sit for 5 minutes. This step helps to remove excess moisture from the pumpkin purée.
Meanwhile, add all the remaining ingredients for the pumpkin caramel to a heavy-bottom saucepan. Peel the top layer of paper towels off the pumpkin purée and scrape the pumpkin purée into the saucepan with the other ingredients. Discard the paper towels.
Place the saucepan over medium-high heat and whisk continuously until the butter is melted and the ingredients are well combined. Continue whisking as the mixture starts to boil. Cook for 5-6 minutes, turning down the heat if the bubbling becomes to vigorous. The mixture will start to thicken and darken. When it starts to pull away from the sides of the pan and reaches 225 degrees Fahrenheit on a candy thermometer, it's done.
Immediately remove the saucepan from the heat and carefully pour the pumpkin caramel over the shortbread, using a spatula to spread it out evenly over the surface. Allow to cool for 1-2 hours at room temperature.
Once the pumpkin caramel has cooled, make the chocolate ganache layer. Add the chocolate chips and heavy cream to a microwave-safe bowl. Microwave in 30 second intervals, stirring well in between, until the chocolate chips are completely melted and the mixture is smooth. Pour the ganache over the cooled pumpkin caramel, using a spatula to spread it out evenly over the surface. Let the chocolate ganache cool for about 5-10 minutes. Then top with a few pinches of flaky sea salt.
Place the baking pan in your refrigerator to completely set the chocolate ganache and chill all the layers, about 1-2 hours. You can also place the baking pan in your freezer for about 30 minutes. Then lift the shortbread from the baking pan using the overhanging sides of the parchment paper. Place on a cutting board and slice into squares. I find running my knife under hot water and wiping it dry in between cuts gives the neatest slices.
The shortbread can be stored in an airtight container at room temperature for up to 5 days.