Here I am with brand new pumpkin recipe to kick off the month of October.
It's like I'm a bona fide food blogger now, right???
While it's true that I do like to stomp my feet around like a petulant little child and complain about the overuse of pumpkin, I don't completely hate pumpkin. I just hate it in August. But it's October now. So I'm ready to dive in.
This Pumpkin-Molasses Bread with Cream Cheese Filling is an easy recipe that I know you'll want to bake up multiple times this season. It's based off an old pumpkin muffin recipe from my site, but I think I now prefer this version. It's perfectly spiced and not overly sweet. It's great in the morning with a cup of tea or coffee.
And who doesn't love a thick ribbon of cream cheese filling???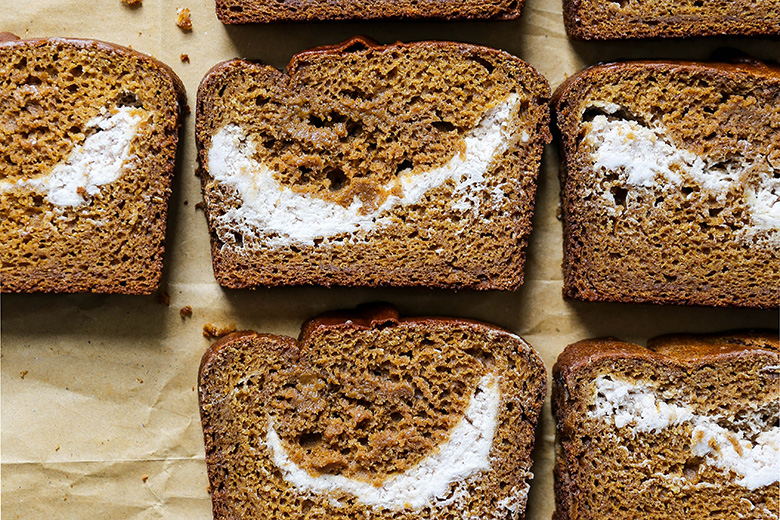 It's also not particularly pumpkin-forward. So even those wary (weary?) of pumpkin will still be pleased.
I used light molasses for this recipe, which is what I would recommend. But dark molasses could also be used, if you really like the flavor of molasses. I don't, however, recommend using blackstrap molasses, which is very bitter and not considered a good substitute for light or dark molasses in baking.
You won't need a full can of pumpkin purée for this recipe. But maybe you could use the leftovers to take this savory Everything Bagel Pumpkin Hummus for a spin? Just a thought!
Cheers,
Liz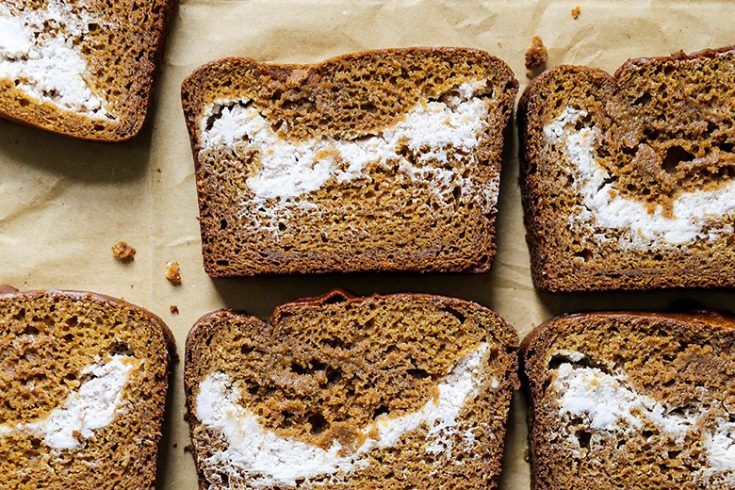 Pumpkin-Molasses Bread with Cream Cheese Filling
Yield: Makes 1 loaf
Prep Time: 10 minutes
Cook Time: 50 minutes
Additional Time: 30 minutes
Total Time: 1 hour 30 minutes
Ingredients
For the Cream Cheese Filling:
6 ounces full-fat cream cheese, softened at room temperature
2 tablespoons granulated sugar
1/2 tsp. pumpkin pie spice
For the Bread Batter:
1 1/2 cups all-purpose flour
1 1/2 tsp. pumpkin pie spice
1 tsp. baking powder
1/2 tsp. baking soda
1/2 tsp. salt
2 eggs, at room temperature
1 cup pumpkin purée
1/2 cup packed brown sugar
1/3 cup whole or 2% milk, at room temperature
1/4 cup molasses
3 tablespoons vegetable or canola oil
Instructions
Pre-heat your oven to 350 degrees. Line an 8 X 4-inch loaf pan with parchment paper, leaving about an inch hanging over the sides. Set aside.
In a medium bowl, whisk together all the ingredients for the cream cheese filling until smooth. Set aside.
In a medium bowl, stir together the flour, pumpkin pie spice, baking powder, baking soda and salt. Set aside.
In the bowl of your stand mixer fitted with the paddle attachment, beat together the eggs, pumpkin purée, brown sugar, milk, molasses and oil until everything is well combined, stopping to scrape down the sides and bottom of the bowl as necessary. Add the dry ingredients in two batches, beating after each addition until just combined and no more white streaks remain.
Transfer half the batter to your prepared loaf pan. Then drop spoonfuls of the cream cheese filling all over the surface and use a small spatula to help spread it out. The cream cheese filling will be slightly thicker than the batter. Don't worry if you can't get a completely even layer. Top with the remaining batter.
Transfer the loaf pan to your pre-heated oven and bake for 40-50 minutes, or until a toothpick inserted into the center comes out mostly clean. Remove and set the loaf pan on a wire rack to cool. After about 20-30 minutes, lift the bread from the loaf pan using the overhanging parchment paper and place it on a wire rack to continue cooling. Let the bread cool completely before slicing.
Leftover bread can be stored tightly wrapped, or in an airtight container, for up to one day at room temperature. For longer periods, I recommend storing it in your refrigerator.