Disclosure: This post is sponsored by 4Earth Farms. All opinions are my own. Thank you for supporting brands and companies that help to keep Floating Kitchen afloat!
I think I'm finally ready to tackle some Fall comfort foods. I've been having a hard time letting go of Summer. But the nice folks at 4Earth Farms are holding my hand and giving me the courage to take the next step.
And what better way to fall in love with Fall all over again than with my ultimate Cheesy Pasta with Roasted Broccoli and Brussels Sprouts. This decadent vegetarian pasta has the creamiest, most luscious two-cheese sauce EVER. And it's filled with two of my favorite cooler-weather green vegetables: broccoli and brussels sprouts. It's my new go-to dinner for weeknights. And I know you and your whole family will love it!
The first step in creating this Cheesy Pasta with Roasted Broccoli and Brussels Sprouts is roasting the vegetables. The brussels sprouts take a bit longer than the broccoli, so I give them a head start in the oven for 10 minutes. Then I add the broccoli and continue roasting both together for an additional 10 minutes. This ensures both vegetables are cooked perfectly and are done at the same time. And that they have that little bit of browning that makes them extra delicious and irresistible!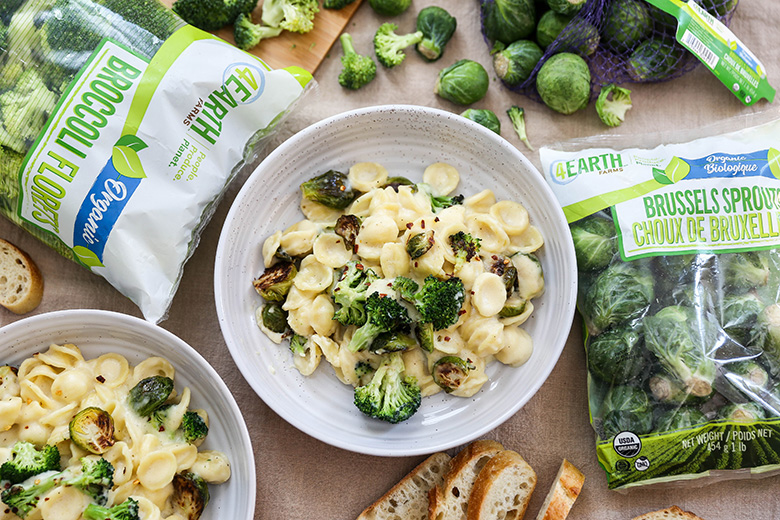 4Earth Farms is one of the largest suppliers of organic produce in the nation. And I know I can count on them to have the freshest, tastiest options right at my fingertips. To prepare their brussels sprouts, I simply trim off the very bottom part of the stem and slice them in half lengthwise. Their broccoli florets are already trimmed, washed and ready to go. 4Earth Farms makes incorporating more vegetables into your favorite meals easy and convenient!
And did you know that 97% of the packaging that 4Earth Farms uses can be recycled?!?! That's pretty cool! From sustainable farming techniques to the use of green technologies in their facilities, 4Earth Farms is committed to supporting the environment, their growing partners and their consumers at every step in the process.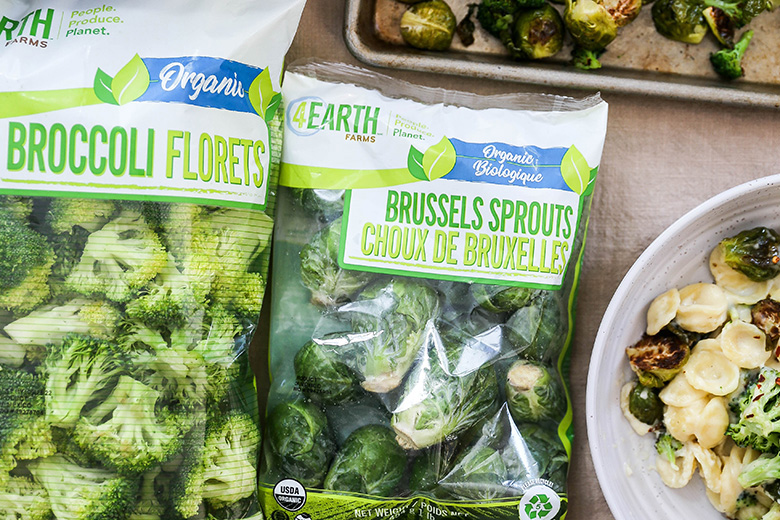 Baked pasta dishes are great. But for speed and creaminess, I prefer making my cheesy pasta on the stovetop (I find baked pasta dishes tend to be dry). You only need one pot. And it takes a similar amount of time to cook the pasta and make the cheese sauce as it does to roast the vegetables. So if you start making the pasta when the brussels sprouts go into the oven, your timing should be spot on.
I love orecchiette here, but you can use any similarly sized pasta shape of your choice (shells or elbows would work well). A combination of Havarti cheese and sharp cheddar cheese provides the best of both worlds: great flavor and supreme melt-ability. I don't recommend using only sharp cheddar cheese, as the texture tends to be grainier.
To learn more about 4Earth Farms, and to find where to buy their products (they're in over 20 different stores!), be sure to check out their website. And if you try my Cheesy Pasta with Roasted Broccoli and Brussels Sprouts, let us know!
Cheers,
Liz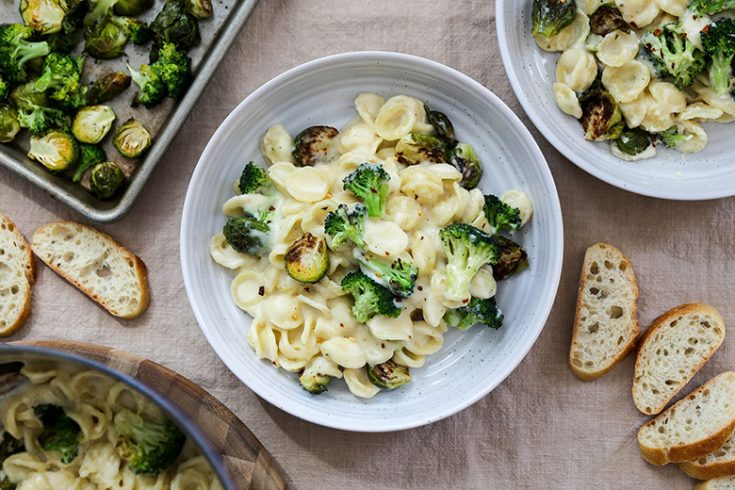 Cheesy Pasta with Roasted Broccoli and Brussels Sprouts
Yield: Serves 4
Prep Time: 10 minutes
Cook Time: 40 minutes
Total Time: 50 minutes
Ingredients
For the Roasted Vegetables:
2 cups 4Earth Farms Broccoli Florets
2 cups trimmed and halved 4Earth Farms Brussels Sprouts
2 tablespoons extra virgin olive oil, divided
1/2 tsp. salt, divided
1/2 tsp. black pepper, divided
For the Pasta:
10 ounces orecchiette pasta (or similarly sized small pasta, like elbows or shells)
4 tablespoons unsalted butter, cubed
1/4 cup all-purpose flour
1 tsp. Dijon mustard
1/2 tsp. salt
1/2 tsp. black pepper
1/4 tsp. garlic powder
2 cups whole or 2% milk, at room temperature
1 1/2 cups shredded Havarti cheese
1/2 cup shredded sharp cheddar cheese
Instructions
Pre-heat your oven to 400 degrees.
In a medium bowl, toss the brussels sprouts with 1 tablespoon of the olive oil and 1/4 tsp. each of the salt and pepper. Spread onto a large rimmed baking pan and transfer to your pre-heated oven to roast for 10 minutes.
Add the broccoli florets to the same bowl and toss with the remaining olive oil, salt and pepper. Add the broccoli florets to the baking pan with the brussels sprouts and give everything a stir. Transfer the baking pan back to your pre-heated oven and roast for an additional 10 minutes. Remove and set aside.
Meanwhile, bring a large pot of water to a boil over high heat. Add the pasta and cook according to the package instructions until al dente, about 8-10 minutes. Drain and set aside.
Place the same pot back over medium heat. Add the butter and let it melt. Then add the flour, mustard, salt, pepper and garlic powder and whisk constantly until the mixture is paste-like, about 1-2 minutes. Add the milk and whisk until a smooth, thick sauce starts to form, about 3-5 minutes. Then add the cheeses and stir until they are completed melted. Remove the pot from the heat.
Add the drained pasta to the cheese sauce and stir to coat. Then stir in the roasted vegetables. Serve immediately.