Disclosure: I'm so grateful to have received an advanced copy of Maria Lichty's cookbook, Two Peas & Their Pod Cookbook. I hope you all enjoy this little sneak peek!
I spent last week in Barcelona, Spain. I was there with two of my best girlfriends. And we ate ALL THE THINGS.
We also drank all the things, but that's a different blog post entirely…
The food was fantastic. And we loved exploring the city and surrounding neighborhoods through the lens of food. Iberian ham, paella, patatas bravas, freshly baked breads and gelato were all par for the course. I was in my element.
But as delicious as every meal was, it also feels good to be home and getting back into a routine of cooking and eating more "everyday foods". Which is why for the past few days, I've been inseparable from my copy of Maria Litchy's latest creation, Two Peas & Their Pod Cookbook. With 115 approachable, unfussy recipes, the Two Peas & Their Pod Cookbook is getting me over my eating out hangover. It's got the types of healthy, practical recipes that I'm currently craving. From colorful salads to quick breakfast ideas, I'm hooked on every single page of this cookbook!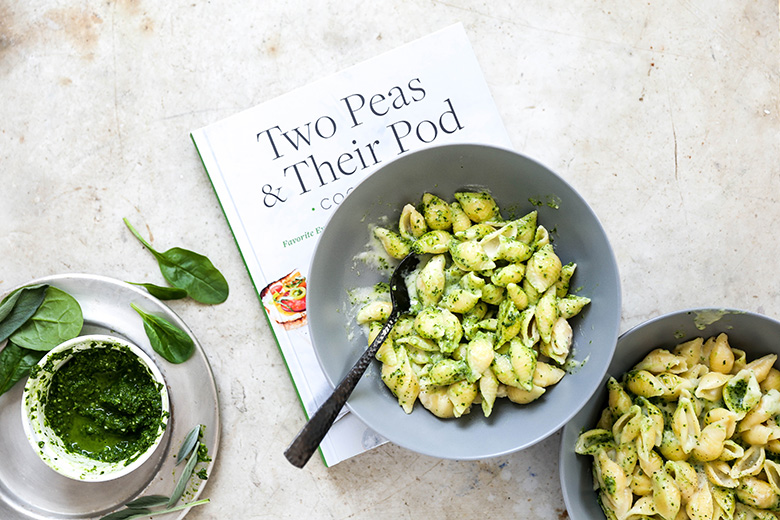 Today I'm excited to share Maria's recipe for Pesto-Havarti Mac and Cheese. Creamy, dreamy and no weird ingredients, this classic dish (with a twist!) is sure to become a family favorite. Speaking of families, if you're cooking and eating with kids, the Two Peas & Their Pod Cookbook is a great resource for you. With simple kid-friendly meals that everyone will love, along with tips and tricks for getting your kids excited to try new things, you can say goodbye to tears and tantrums around the dinner table. Now doesn't that sound nice!?!?
Making macaroni and cheese from scratch doesn't have to be intimidating. It takes only a few minutes longer than making a boxed mix. And it's SO much tastier! Maria's version uses Havarti, a mild and super melty cheese, which gives it a slightly more "gourmet" feel. She finishes it off with a few swirls of homemade spinach-basil pesto. But because it's well past fresh basil season here in New England, I decided to make a spinach-sage pesto instead. And let me tell you, I was fully feeling those Fall vibes. Sage is one of my favorite herbs to use during the months of October and November. And it did not disappoint in this macaroni and cheese recipe.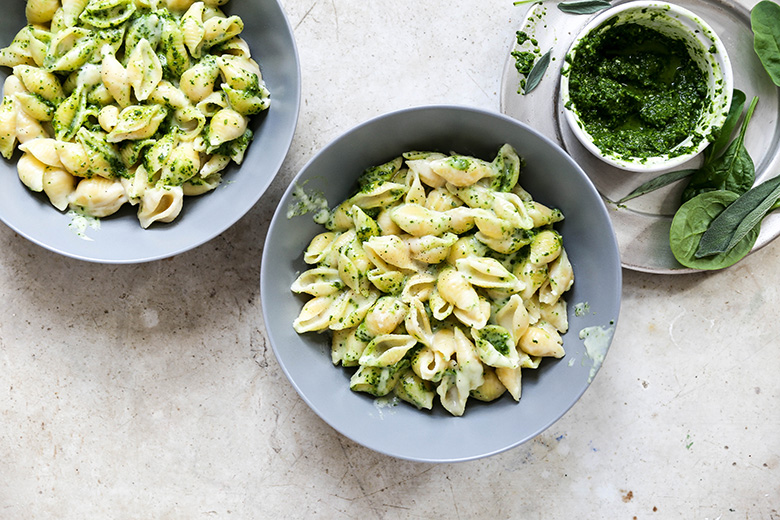 Full disclosure. My friend and I ate this entire pot of this Pesto-Havarti Mac and Cheese in just a single sitting. It was that good. No judgment, please.
The Two Peas & Their Pod Cookbook is available now. So make sure you order yourself a copy today! I know you'll find lots of new favorite everyday recipes!
Cheers,
Liz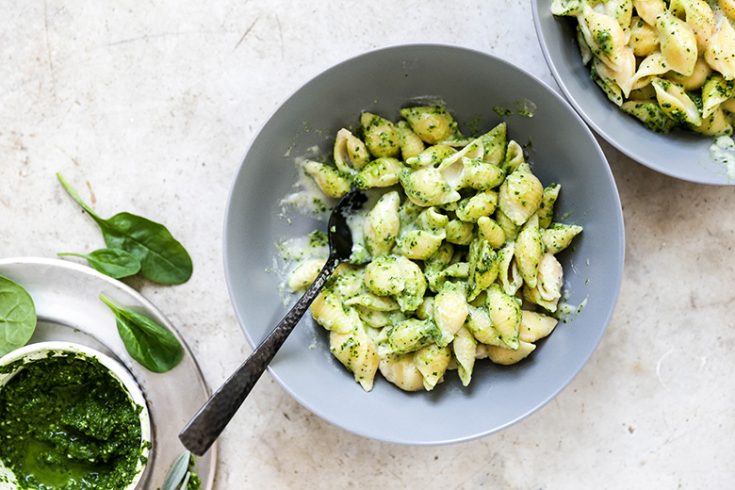 Pesto-Havarti Mac and Cheese
Yield: Serves 4-6
Prep Time: 10 minutes
Cook Time: 15 minutes
Total Time: 25 minutes
Ingredients
For the Spinach-Sage Pesto:
2 cups packed spinach leaves
1 cup packed sage leaves
1 garlic clove, peeled
1/4 cup extra-virgin olive oil
2 tablespoons grated Parmesan cheese
1 tablespoon fresh squeezed lemon juice
1/4 tsp. salt
1/8 tsp. black pepper
For the Mac and Cheese:
12 ounces pasta shells (or any other small pasta shape, like elbows)
4 tablespoons unsalted butter
1/4 cup all-purpose flour
1/2 tsp. salt
1/4 tsp. black pepper
2 cups whole milk, at room temperature
2 cups shredded Havarti cheese
1/4 – 1/3 cup Spinach-Sage Pesto
Instructions
Add all the ingredients for the pesto to the bowl of your food processor fitted with the blade attachment. Process for 30-60 seconds. Then stop to scrape down the sides of the bowl and blend again until smooth, adding more olive oil if you prefer a thinner pesto.
Transfer the pesto to a clean container. Cover and refrigerate it until you're ready to use it. This recipe makes more pesto than you'll need for the mac and cheese. You can store any leftover in an airtight container in your refrigerator for 4-5 days.
Meanwhile, bring a large pot of salted water to a boil over high heat. Add the pasta and cook according to the package instructions until al dente, about 8 minutes. Drain and set aside.
Place the same pot back over low-medium heat and melt the butter. Add the flour, salt and pepper and whisk constantly until the mixture is paste-like, about 1-2 minutes. Increase the heat to medium and add in the milk, whisking until a smooth, thick sauce starts to form, about 2 minutes. Then add the cheese and stir until it's completely melted. Remove the pot from the heat.
Add the drained pasta and stir until it's well coated in the cheese sauce. Then fold in the pesto. Serve immediately.
Notes
This recipe has been reprinted with minor adaptations from Two Peas & Their Pod Cookbook by arrangement with Grand Central Publishing. Copyright © 2019, Maria Lichty.