This post was originally published here November 12, 2014. I've adjusted the recipe slightly and updated the text and photographs to reflect those changes. Enjoy!
Phew! Halloween is behind us (it's no secret that I hate that Holiday) and I'm ready for all things Thanksgiving. So let's do this!
I'm kicking off this month of Thanksgiving-related foods with a dish that's somewhat controversial around my house: salad.
Every year goes a little something like this. My Dad and Aunt veto the idea of a Thanksgiving salad (claiming to not have enough stomach space to waste on a salad). While my Mom and I are pro-salad.
And every year turns out the same. We have a salad. Because my Mom and I are in charge of the menu and all the cooking. So we get the final votes.
What? You thought this was a democracy?!?!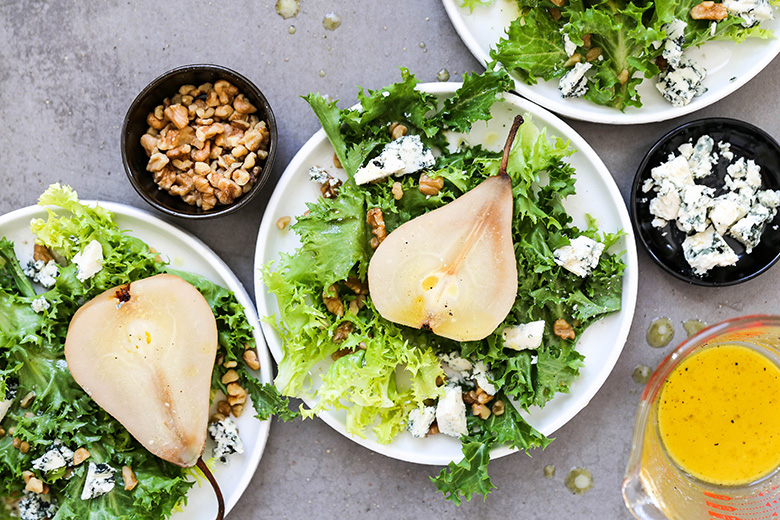 If you're also on Team Salad, then you might want to consider trying this Poached Pear Salad for Thanksgiving this year. And here's all the reasons why: (1) it's a total show stopper with a killer presentation, (2) the pears can be prepared a day in advance, (3) it's light and bitter, and (4) it looks fancy but it's secretly easy and low fuss.
Are you convinced yet? I hope so!
This Poached Pear Salad is definitely all about the pears (and less about the greens and other ingredients), so make sure you choose wisely. I like Bosc or Bartlett pears for this recipe. They maintain their structure/texture well (even when left in the poaching liquid overnight), so they slice up nice and neat. Be sure to start with pears that are ripe but still a little bit firm, so you don't end up with mushy pears. You want them to come out soft with just a little bit of bite.
And if you can, try and find pears that still have long stems attached. Not only does it look cute ( = very important!), but it also gives you something to hold on to when you're arranging the pears in the poaching liquid/slicing them.
So tell me: are you Team Salad or Team No-Salad at Thanksgiving?
Cheers,
Liz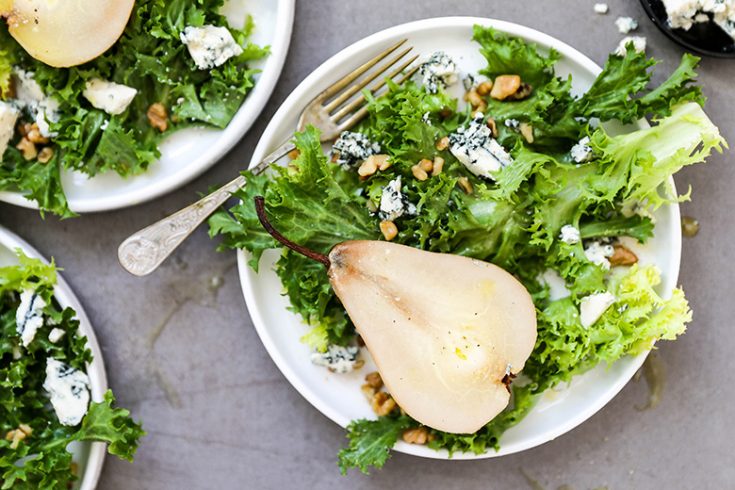 Poached Pear Salad
Yield: Serves 8
Prep Time: 10 minutes
Cook Time: 20 minutes
Additional Time: 2 hours
Total Time: 2 hours 30 minutes
Ingredients
For the Poached Pears:
4 cups water
1/3 cup maple syrup
1/4 cup brandy
6 cardamom pods, lightly crushed
1 cinnamon stick
4 Bosc or Bartlett Pears, peeled
For the Salad:
3 tablespoons extra-virgin olive oil
3 tablespoons champagne vinegar or white wine vinegar
1 tablespoon poaching liquid
1 tsp. Dijon mustard
1/4 tsp. salt
1/8 tsp. black pepper
1-2 heads escarole or frisée
1/2 cup blue cheese crumbles
1/2 cup walnuts
Instructions
Bring the water to a boil in a medium saucepan. Stir in the maple syrup, brandy, cardamom pods and cinnamon stick. Then add the pears, arranging them so they are submerged in the poaching liquid. Adjust the heat to maintain a simmer and cook the pears for 15-18 minutes. Remove the saucepan from the heat and let it come to room temperature. Then cover it and refrigerate the pears in their poaching liquid for 2 hours or up to overnight.
In a small bowl, whisk together the olive oil, vinegar, poaching liquid, mustard, salt and black pepper. Set aside.
Remove the pears from their poaching liquid and slice them in half. Use a small paring knife to remove any seeds.
Separate and wash the escarole/frisée leaves. Divide the leaves between small salad plates. Then place one pear half on each plate. Spoon some of the dressing over top. Then finish with the blue cheese crumbles and walnuts. Serve immediately.