This post was originally published here October 28, 2013. I've adjusted the recipe slightly and updated the text and photographs to reflect those changes. Enjoy!
Who's ready to talk about P-I-E!?!?
Woohoo! I'm so pumped for ALL the Thanksgiving pies. Traditional. Non-traditional. I don't care. Hand 'em all over! Me and my stretchy pants are ready!
Now, if you've been paying close attention, you might remember that pie isn't my favorite dessert. In fact, it doesn't even rank in my top three. I'm almost always going to choose ice cream, cakes and cookies over a slice of pie. BUT. Thanksgiving is a different beast all together. I don't know if it's the nostalgia, the social pressure or something else entirely. But I do genuinely get excited about pies on Thanksgiving.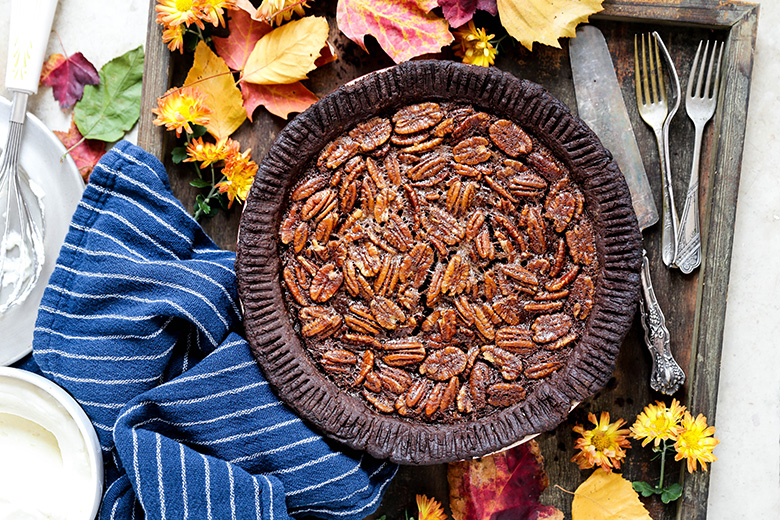 My family always goes overboard with the pies, making as many as we have guests at the table. My favorites have always been pecan and banana cream (yes, we make banana cream pie at Thanksgiving!). So I decided it would be fun to put a slight twist on our pecan pie recipe by loading it up with lots and lots of chocolate!
I'm game to revamp our banana cream pie recipe next year if there's any interest. Just let me know!
This Chocolate Lovers Pecan Pie starts off with a deeply chocolatey and bittersweet crust that I adapted from a Bon Appétit recipe. The texture of this crust is more like that of a shortbread cookie. It's crisp and toothsome (whereas I would describe a traditional pie crust as soft and flaky). And it's not overly sweet. It can, however, tend to get a little dark around the edges. So make sure you check on its progress periodically during baking, and cover it loosely with aluminum foil as is necessary.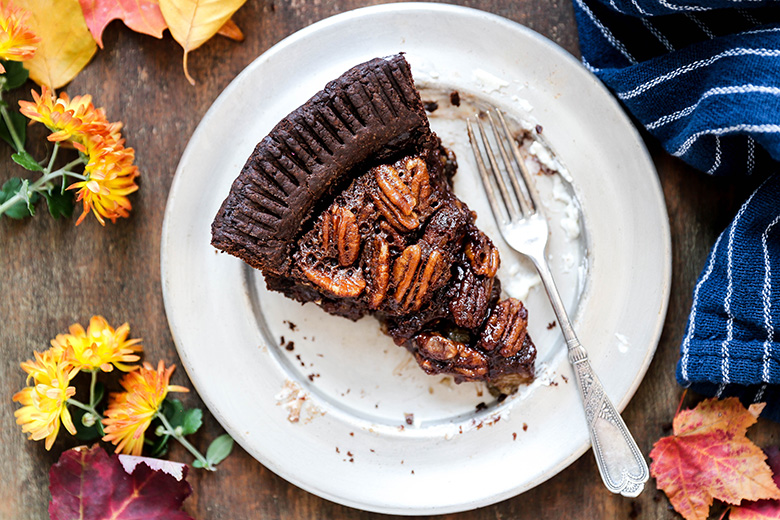 And let's not forget about the filling! Because I also added chocolate there, too. Duh. Make sure you use bittersweet or dark chocolate in this recipe. Anything else will be cloying sweet. And while we're splurging on the filling, go ahead and purchase the whole pecan halves. It's worth the extra little bit of money for the presentation points!
I've hosted Thanksgiving many times. And I know the day of can be stressful. Heck. I usually make a spreadsheet to time out all the dishes/oven space! So do yourself a favor and make this Chocolate Lovers Pecan Pie the night before. Nothing bad will happen. I promise you!
Cheers,
Liz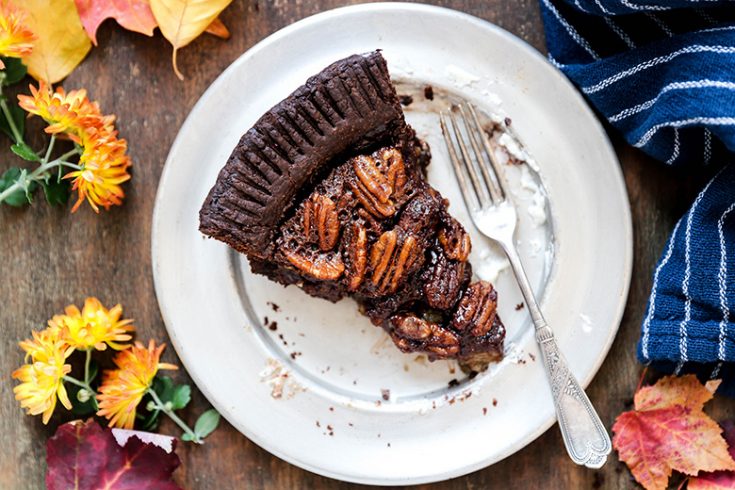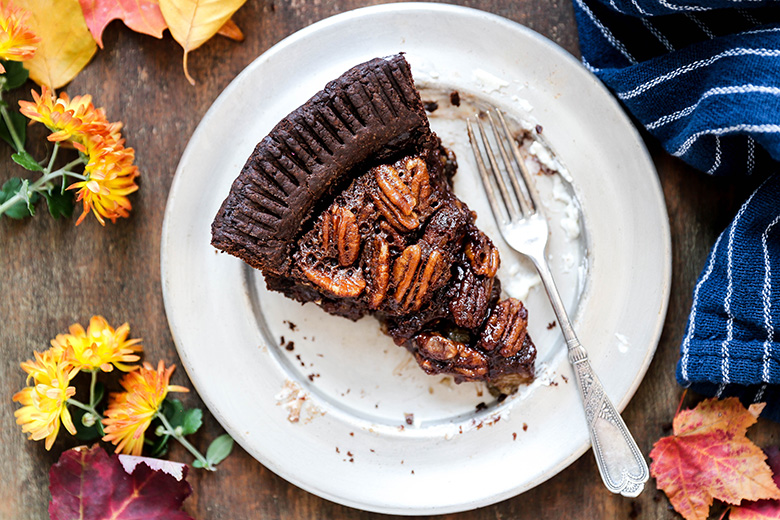 Chocolate Lovers Pecan Pie
Yield: Makes one 9-inch pie
Prep Time: 1 hour
Cook Time: 1 hour
Additional Time: 2 hours
Total Time: 4 hours
Ingredients
For the Pie Crust:
1 1/4 cups plus 1 tablespoon all-purpose flour
1/4 cup plus 1 tablespoon unsweetened cocoa powder
3 tablespoons granulated sugar
1/2 tsp. salt
8 tablespoons (1/2 cup) unsalted butter, cubed and chilled
1/4 cup cold water
1 egg yolk
1/2 tsp. apple cider vinegar
For the Pie Filling:
3 tablespoons unsalted butter
3 ounces dark chocolate, chopped
3 eggs, room temperature
3/4 cups light corn syrup
1/2 cup packed brown sugar
2 tsp. vanilla extract
1 1/2 tsp. fresh squeezed lemon juice
1/4 tsp. lemon zest
1/2 tsp. salt
1 3/4 cups whole pecan halves
Instructions
In your food processor fitted with the blade attachment, pulse together the flour, cocoa powder, sugar and salt. Add the butter and pulse until pea-sized crumbs are formed, about 5-7 pulses.
In a small bowl, whisk together the water, egg yolk and apple cider vinegar. Add this mixture to your food processor and pulse until the dough starts to come together into a loose ball. Then dump the dough out onto a well-floured work surface (it will still be very crumbly at this point) and use your hands to bring it together/shape it into a 1-inch thick disk. Wrap the dough disk in plastic wrap and chill it in your refrigerator for at least 2 hours or up to 2 days.
After the dough has chilled, roll it out between two pieces of wax paper sprinkled with flour until it's approximately 12- to 13-inches in diameter. Transfer the dough to a 9-inch pie plate. Then press it down firmly and evenly into the bottom and sides of the pie plate. Trim the excess around the edges, folding/crimping as you go. Transfer the pie plate to your freezer for 15 minutes to chill the crust.
Pre-heat your oven to 350 degrees.
Remove the pie plate from your freezer. Line the crust with a piece of aluminum foil, pressing it down so it directly contacts the bottoms and sides of the crust, while also leaving enough aluminum foil overhanging to cover the edges. Fill the pie plate with pie weights or dried beans. Then transfer it to your pre-heated oven and bake the crust for 20 minutes. After 20 minutes, remove the pie plate from your oven and carefully remove the aluminum foil with the weights/beans from the surface of the crust. Place the pie plate back in your oven to bake the crust for an additional 5 minutes. Then remove and set it aside on a cooling rack while you prepare the filling.
Increase your oven temperature to 375 degrees.
In a small saucepan over low-medium heat, melt together the butter and dark chocolate, stirring until the mixture is smooth and well combined. Remove the saucepan from the heat and set it aside to cool slightly.
In a large bowl, whisk together the eggs, corn syrup, brown sugar, vanilla extract, lemon juice, lemon zest and salt until well combined. Slowly whisk in the butter/chocolate mixture. Then fold in the pecans.
Pour the pie filling into your partially baked pie crust. Transfer the pie to the bottom rack of your pre-heated oven and bake it for 25 minutes. Then cover the pie loosely with a piece of aluminum foil and bake it for an additional 5-7 minutes. The filling should be mostly set. A little "jiggle" is OK. It will firm up more as it cools.
Place the pie on a cooling rack and allow it to cool completely before slicing and serving. Serve with whipped cream or vanilla ice cream, as desired.