I'm finally starting to pull myself out of my post-election stupor. My head is a bit less foggy. I've wiped the salt away from my eyes. And I'm working like a mad women in the kitchen. Preparations for Thanksgiving are under way, which, by the way, is LESS THAN TWO WEEKS AWAY.
Holy crap. How did that happen?
I have to admit that I'm not really feeling ready for the big day. But I'm sure I'll get everything done in time. I always do.
Brainstorming new Thanksgiving recipes is something that I always find particularly challenging. Part of me wants to stay super conservative and traditional. While the other part of me wants to push the boundaries and experiment with new flavor combinations.
I guess I usually end up settling for someplace in the middle. Last year I jazzed up my mashed potatoes with mascarpone cheese and sage browned butter. And I opted for this Chocolate-Swirled Pumpkin Tart instead of baking up a standard pumpkin pie. So nothing too crazy or different. But enough tweaks to keep me happy.
This year, I decided to tackle sweet potatoes.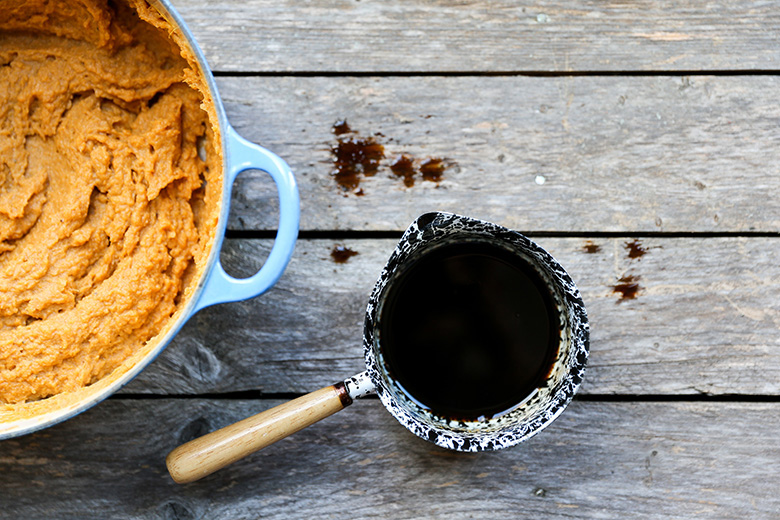 I wanted to make a vegan mashed sweet potato side dish. I knew I could easily use non-dairy milk and forgo the butter entirely (shocking, right?). But it took me a while to figure out what else to incorporate to make them worthy of such an important Holiday. I eventually settled on adding tahini and a few warming spices. And then I swirled in a rich coffee glaze. It totally takes this recipe over the top. If there is such a thing as grown up mashed sweet potatoes, these Vegan Mashed Sweet Potatoes with Tahini and Coffee would totally be it.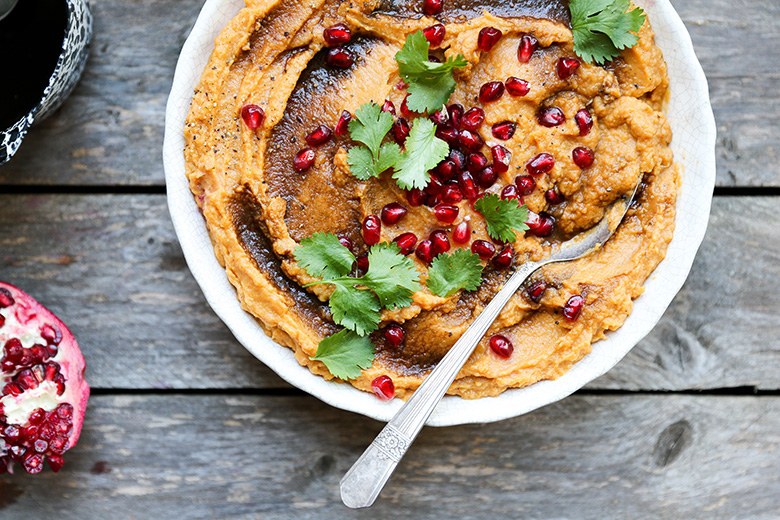 The garnishes are totally optional. But also kind of not optional, because they are just so gosh darn pretty. But that's just my humble opinion.
Cheers,
Liz
Ingredients
For the Sweet Potatoes
3 lbs sweet potatoes, peeled and cut into cubes
1/2 cup almond milk (or other non-dairy milk)
1/4 cup tahini paste
3 tablespoons maple syrup
2 tsp. salt
1 tsp. black pepper
1/2 tsp. ground cinnamon
1/4 tsp. ground coriander

For the Coffee Glaze
1/2 cup brewed coffee
1 tablespoon maple syrup
1 tablespoon balsamic vinegar

For Garnish
Fresh cilantro
Pomegranate arils
Instructions
Place the cubed sweet potatoes in a large pot and add enough cold water to submerge them by about 1-2 inches. Cover and place the pot over high heat. Bring to a boil. Then remove the cover and turn down the heat to maintain a simmer. Cook the sweet potatoes, uncovered, until they are soft and can be easily pierced with a small pairing knife, about 20-25 minutes. Drain the sweet potatoes and then immediately add them back to the still hot pot, which will help to evaporate off any excess water.
Add the tahini paste, maple syrup, salt, pepper, cinnamon and coriander to the sweet potatoes. Then use your hand mixer to mash the sweet potatoes and incorporate the other ingredients. Cover to keep warm and set aside.
In a small saucepan over medium-high heat, bring the coffee, maple syrup and balsamic vinegar to a boil. Cook until the liquid is reduced by approximately half, about 8-10 minutes. Then add about half of the coffee glaze to the mashed sweet potatoes, stirring to combine.
Transfer the mashed sweet potatoes to a serving dish. Drizzle some of the remaining coffee glaze over top. Sprinkle with fresh cilantro and pomegranate arils, if desired. Serve immediately.
https://www.floatingkitchen.net/vegan-mashed-sweet-potatoes-with-tahini-and-coffee/