This post was originally published here April 13, 2014. I've since updated the text and photographs. I hope you try out this easy noodle salad. It's the perfect dish to make on those nights when it's way too hot to cook!
I always feel kind of lame when I come here and talk about to weather. It just seems so trivial and silly. And you guys are coming to read this humble little blog (THANK YOU!) from all over the world. So more often than not, my weather isn't your weather.
BUT the weather this weekend was particularly mentionable. So I'm going to mention it. It was HOT. Like really hot. Unusually hot for this area of the country. It was all the news reporters and weather forecasters could talk about for days. There were warnings about the dangers of heat-related illness, potential brownouts, etc.
So needless to say, I didn't dare cook a damn thing. For once, the risks far outweighed the rewards. Which made this Crunchy Cold Noodle Salad my new best friend. And I think it could be one of yours, too. If you happen to find yourself experiencing some extreme temperatures, or you just want a tasty, slurp-able meal, I highly suggest giving this recipe a try.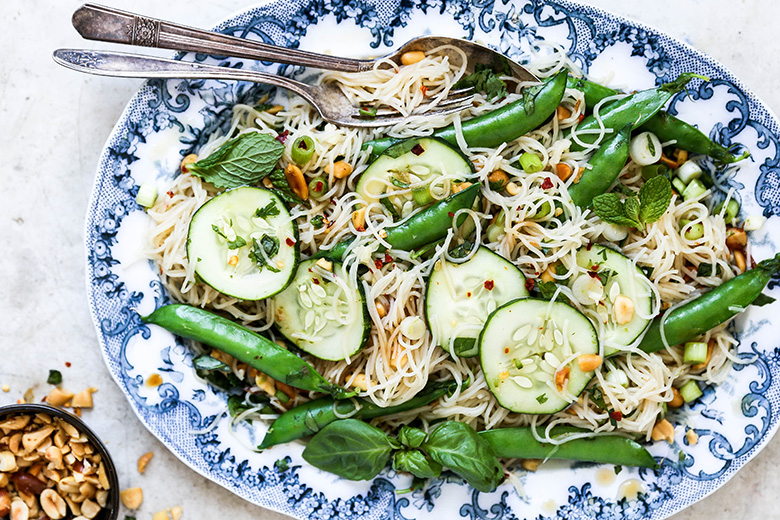 This Crunchy Cold Noodle Salad is SO FRESH. Other than a quick blanch of the peas, all the other vegetables and herbs remain uncooked. So they keep all their natural flavors, textures and colors. And it feels like you're eating them straight out of your garden. I love that.
Oh and if you do have a Summer garden growing, feel free to toss in some of those extra vegetables. I think a thinly shaved zucchini/yellow squash would be lovely in here. Or perhaps some shredded red cabbage.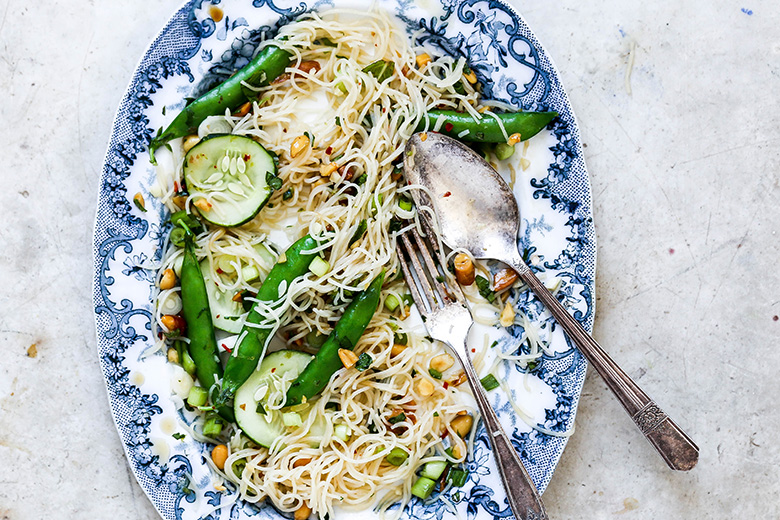 You can enjoy this dish immediately after it's made. Or chill it in your refrigerator for a couple hours before serving it, so it's extra cold. Or just eat the leftovers straight out of the container at midnight. Which I fully admit to doing. There is just something irresistable about a tangle of leftover cold noodles at midnight. Am I right?!?!
If you make my Crunchy Cold Noodle Salad, I would love to hear about it! And what are some of your other tried and true recipes for staying cool in the Summer heat? Drop me a line and let me know!
Cheers,
Liz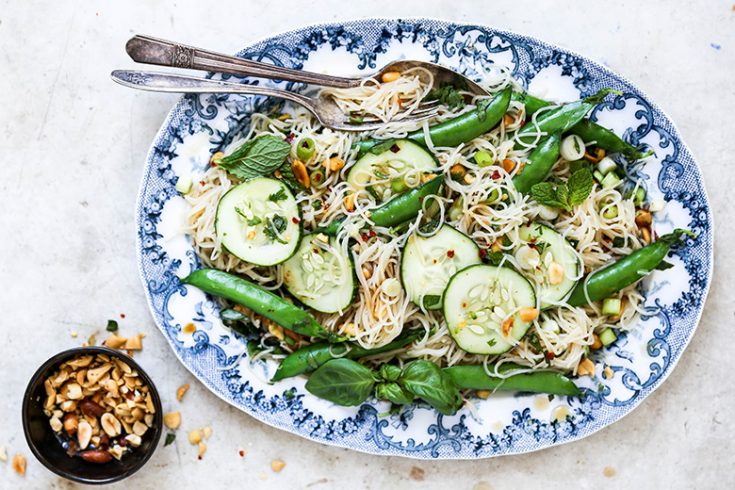 Crunchy Cold Noodle Salad
Yield: Serves about 4
Prep Time: 10 minutes
Cook Time: 10 minutes
Total Time: 20 minutes
Ingredients
For the Dressing:
1/4 cup rice vinegar
2 tablespoons tamari (or soy sauce if you're not gluten-free)
1 tablespoon sesame oil
3 tsp. brown sugar
2 garlic cloves, peeled and minced
Zest and juice from 1 lime
1/2 jalapeño pepper, minced
1/2 tsp. red pepper flakes
For the Salad:
1 package (7- to 8-ounces) thin rice noodles
2 cups snap peas or snow peas
1 cucumber, sliced
6 scallions, white and light green parts thinly sliced
1/2 cup salted peanuts, roughly chopped
2 tablespoons fresh basil leaves, roughly chopped
2 tablespoons fresh mint leaves, roughly chopped
2 tablespoons fresh cilantro leaves, roughly chopped
Instructions
To make the dressing, whisk together all the ingredients in a small bowl. Set aside.
Cook the noodles according to the package instructions. Drain and rinse them under cold water. Then add the drained/cooled noodles to a large bowl and toss them with the dressing until they are well coated. Set aside.
Bring a small pot of water to a boil. Add the peas and cook them for 2 minutes. Then drain and rinse them until cold water. Add the drained/cooled peas to the bowl with the noodles, along with all the remaining ingredients. Toss to combine. Serve and enjoy.
Leftovers can be stored in an airtight container in your refrigerator for 1-2 days.