This post was originally published here July 14, 2016. This savory-sweet take on a caprese salad is one of my all-time favorite Summer salads. Try it for Memorial Day or 4th of July!
In my humble opinion, there is no better Summer salad than a caprese salad. In fact, I think we should all agree to eat caprese salads every single day for the next three months? Yes? OK, good. I'm glad that's settled.
It's hard to improve upon something that's already so great. But I like to take a stab at it every once in a while. And this Blueberry Caprese Salad is one such attempt. And I have to admit, it's pretty freaking good. So if you're looking for a bit of a different take on a caprese salad, or if you've got blueberries stashed in every corner of your refrigerator (this is always my problem come late July!), give my Blueberry Caprese Salad a try!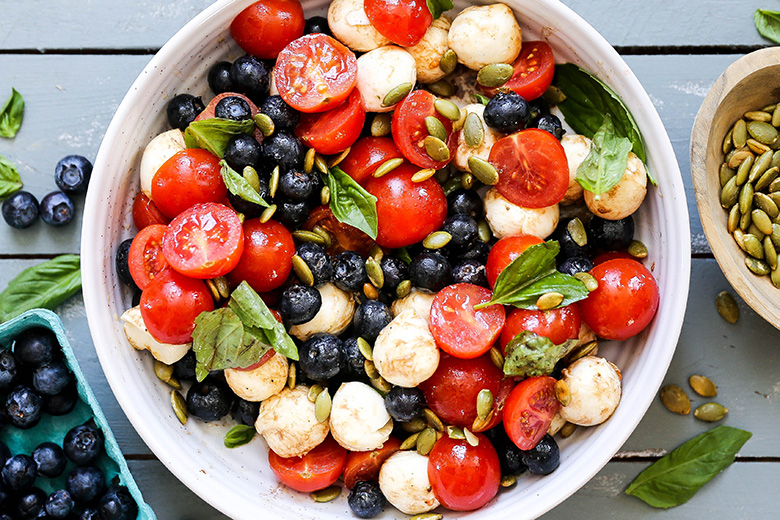 This Blueberry Caprese Salad definitely belongs in the "non-recipe recipe" category. But we all love those types of recipes, right? Especially in the Summer when it's too hot to make much of a fuss over anything. Everything goes into one bowl and toss it gently to combine. That's it. Bravo. You did it!
I think this salad is best enjoyed shortly after it's made, because the basil will start to get limp fairly quickly. But I also realize that this salad is just begging to be toted to a 4th of July party. So if that's the case, I recommend combining all the ingredients except for the basil. Then just add the basil in right before serving.
Cheers,
Liz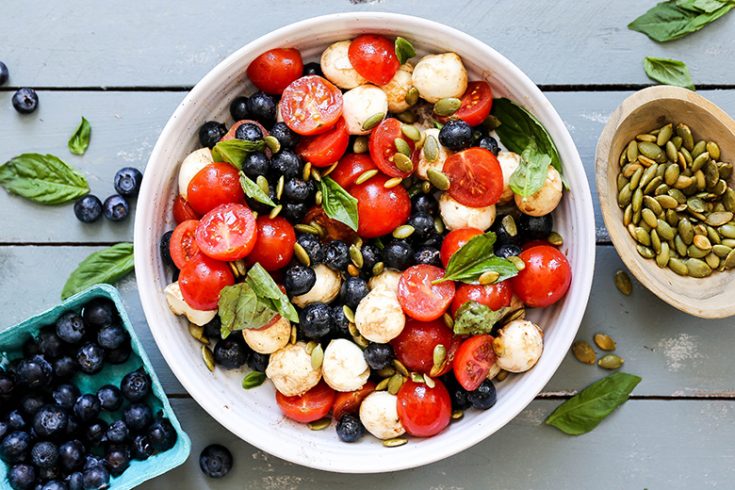 Blueberry Caprese Salad
Yield: Serves about 4
Prep Time: 5 minutes
Total Time: 5 minutes
Ingredients
1 pint cherry tomatoes, halved or quartered
8 ounces fresh ciliegine mozzarella balls, drained
1 cup fresh blueberries
1/2 cup fresh basil leaves, torn
1/4 cup roasted and salted pepitas
1 1/2 tablespoons extra-virgin olive oil
1 1/2 tablespoons balsamic vinegar
1/2 tsp. salt
1/4 tsp. black pepper
Instructions
Add the tomatoes, mozzarella, blueberries, basil and pepitas to a large bowl. Toss gently to combine. Then add the olive oil, balsamic vinegar, salt and black pepper. Toss until everything is well coated.
This salad is best when it's enjoyed shortly after being made.