Disclosure: This "Flavor Your Adventure" post is sponsored by Blue Diamond Almonds. For more snack ideas to "Flavor Your Adventure" this summer, visit Blue Diamond Almonds on Facebook, Twitter and Instagram.
I've been fairly determined the past couple of weekends to squeeze in as much summer-awesomeness as possible. I'm already noticing back to school advertisements and even Holiday decorations (yes, really) in the stores, which is making me anxious that summer is on its way out the door. And I don't even want to think about that right now. It gives me the stresses.
Luckily for me, living on an island means there is always an outdoor summer adventure to be had. Kayaking, biking, swimming and fishing opportunities are all within easy reach. There are plenty of ways to "cease the day" and soak up what remains of these long, hot summer days.
But all this activity requires food. Both for energy and for my overall mental stability. Because I really don't like to be hungry. I turn into the Hulk when I'm hungry. And it's not pretty.
So to keep myself in check, I always carry around something to eat. Blue Diamond Almonds are one of my favorite grab-and-go snacks for short jaunts. Their containers are the perfect size for stashing in your bag (not too bulky!) and they have a tight fitting lid to avoid spillage. And not to mention they have a ton of amazing flavors to choose from. But for longer adventures, I like to go the extra mile and bring something along with me that's a bit more substantial. Like these Wheat Berry and Blistered Tomato Mason Jar Salads with Basil-Almond Pesto.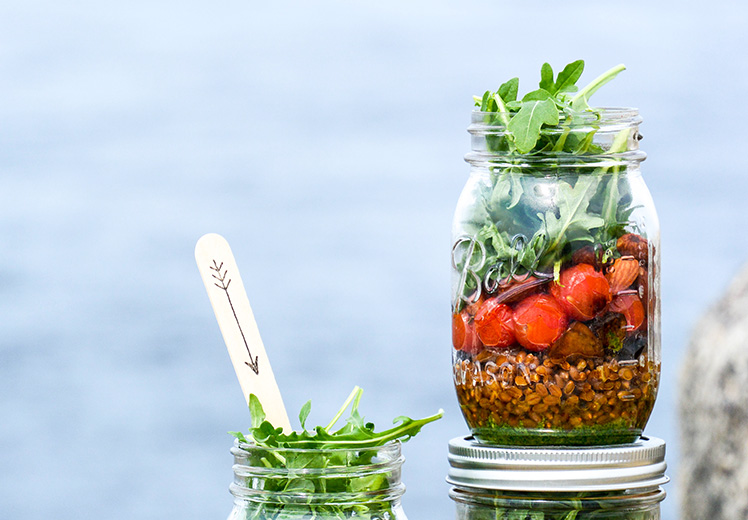 To make a good Mason jar salad, there are just a few little tricks to remember. Like always put your dressing and sturdier ingredients (grains and beans) at the bottom. Keep lighter, more fragile items (salad greens) near the top. And try to avoid ingredients that will spoil quickly. Also, don't over pack the jars, because a little wiggle room is necessary to help distribute the ingredients once you're ready to eat.
I chose wheat berries as my base for this salad, because they have a great chewy texture that I find super satisfying when I'm absolutely starving. But you could certainly use farro or quinoa, if you prefer. I topped the wheat berries with some summertime favorites: cherry tomatoes, eggplant and arugula. And I made up a dairy free basil pesto with Lightly Salted Blue Diamond Almonds. Big flavor, small container. That's how you get things done when you're on the go!
While I certainly recommend storing all perishable food items at the proper temperature, I did enjoy my salad after it had been kicking around in my backpack for about 3 to 4 hours. And I lived to tell about it. Just putting that out there.
Cheers,
Liz
Ingredients
For the Salad
1 cup wheat berries
3 cups water
1 pint cherry tomatoes
1 tsp. fresh thyme leaves
2 cups cubed eggplant
2 tsp. balsamic vinegar
1 1/2 tsp. salt, divided
2-3 tablespoons extra-virgin olive oil, divided
1/4 cup Lightly Salted Blue Diamond Almonds
2 cups arugula

For the Pesto
1/4 cup Lightly Salted Blue Diamond Almonds
1 garlic clove, peeled
2 cups packed basil leaves
1 tablespoon fresh lemon juice
1/2 cup extra-virgin olive oil
Salt
Instructions
Cook the wheat berries. In a medium saucepan over medium-high heat, combine the wheat berries, water and 1/2 tsp. salt. Bring to a boil and then reduce the heat maintain a simmer. Simmer, covered, for about 50-60 minutes. The wheat berries are done when they have plumped slightly and some have started to split open. They should be chewy and al-dente. Drain the wheat berries and set aside to cool.
Meanwhile, heat a large cast iron skillet over medium-high heat. Warm 1 tablespoon of the olive oil. Once the olive oil is hot, add the cherry tomatoes. Sprinkle the tops of the tomatoes with the thyme leaves and 1/2 tsp. salt. Let the tomatoes cook undisturbed for about 2 minutes. You will hear them starting to pop. Give the tomatoes a stir and cook for 1 minute more. Then remove and transfer the tomatoes to a small bowl and set aside to cool.
Heat another tablespoon of olive oil in your cast iron skillet. Add the cubed eggplant and 1/2 tsp. salt. Cook the eggplant, stirring occasionally, for about 4-5 minutes. If the skillet starts to get dry, add another tablespoon of olive oil. Add the balsamic vinegar and cook for about 1 minute more. Remove the eggplant to a small bowl and set aside to cool.
Make the pesto. In the bowl of your food processor with the blade attachment, pulse together the almonds and garlic until the almonds are partially broken down. Add the basil leaves and lemon juice and process, scraping down the sides of the bowl as necessary, until the basil is finely chopped. With the food processor running, gradually stream in the olive oil, blending until well combined. Taste and add a pinch of salt if necessary. Transfer the pesto to a small bowl. Cover and refrigerate until you're ready to use it.
Assemble the salads by layering the ingredients into mason jars. You'll need jars that are at least 16-ounces in size. Start by adding about 2 tablespoons of pesto to the bottom of each jar. Then divide the wheat berries, sautéed eggplant, blistered tomatoes (spooning any released juices from the tomatoes into the jars), almonds and arugula evenly between the jars. Seal and refrigerate the jars until you're ready for your adventure!
To serve, shake or stir to mix the ingredients together and distribute the pesto. Enjoy!
https://www.floatingkitchen.net/wheat-berry-and-blistered-tomato-mason-jar-salads-with-basil-almond-pesto/