I'm going to complain about the weather for a micro-second. I'm sorry. But it's just been sooooo hot and humid here lately. I can't stand it anymore. I'm tired of feeling like a sweaty mess.
My friend and I went to an outdoor party at Smuttynose Brewing Company on Sunday and I kept asking her the whole time "do I look sweaty". She assured me that I appeared as cool as a cucumber. But I have my doubts.
Please note, in January you totally have my permission to throw this little whiney conversation back in my face. Seriously. I know I deserve it.
So needless to say, I've used my oven a total of negative one hundred times during the past couple of weeks. Grilling, stovetop meals and cold salads are where it's at.
These stuffed Avocados with Bacon, Corn and Blueberry Salsa are totally oven free, which basically makes them the only thing that I want to eat right now. I start by cooking the bacon in a skillet on the stovetop and then – and this is totally the best part – I quickly sauté the corn in the rendered bacon fat until it's just starting to brown in a few places. Because you know that we can't waste bacon fat. I think that's actually illegal in twenty-three states.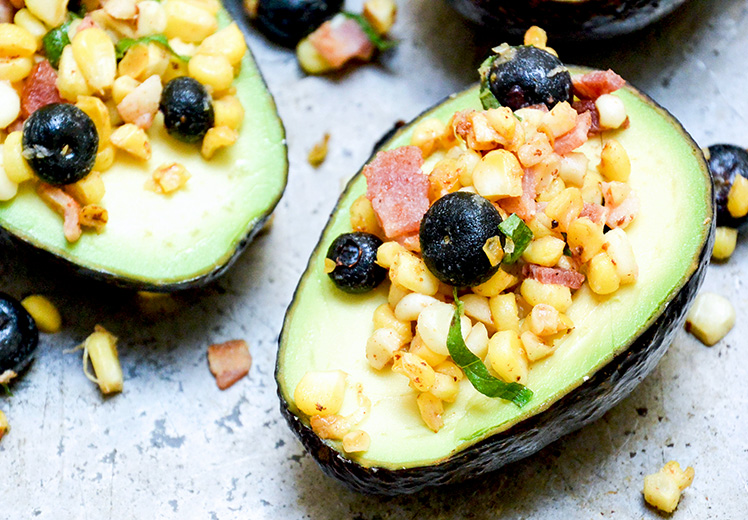 And blueberries. My mom and I went berry picking the other day (also a very hot and sweaty experience), and now I'm up to my ear-balls in blueberries. So I tossed a few of those in with the corn and bacon for an easy savory-sweet salsa, which I then stuffed into some perfectly ripe avocados. It's hard to make avocados even better then they already are, but this salsa does a pretty good job.
These work great as a party appetizer or side dish. But for me, they are also perfectly acceptable for dinner. With a side of ice cream, that is.
Cheers,
Liz
Ingredients
2 slices thick cut bacon
2 ears of corn, husk and silks removed, kernels sliced off
1 1/2 cups blueberries
1 tablespoon fresh basil leaves, thinly sliced
Juice from 1/2 lime
5-6 avocados
Salt
Instructions
Heat a non-stick skillet over medium-high heat. Add the bacon slices and cook about 3-4 minutes per side, or until the bacon is fully cooked and at your desired level of crispness. Remove the bacon from the skillet and set it aside on a paper-towel lined plate.
Add the corn kernels to the skillet with the bacon fat and sauté, stirring frequently, until the kernels start to brown in a few places, about 1-2 minutes. Remove the skillet from the heat and transfer the corn to a bowl to cool slightly.
Once the bacon is cool enough to handle, chop it into small pieces. Stir the chopped bacon into the sautéed corn along with the blueberries, basil and lime juice.
Cut the avocados in half. Remove and discard the seeds. Place the avocado halves flesh side up on a plate or serving tray. If the avocados won't sit upright, create a flat surface for them to rest on by slicing a small area (about the size of a penny) off the back of each half, being careful not to slice too deeply into the avocado. Sprinkle a little salt on the avocado flesh. Then fill each avocado with a few scoops of the salsa. Serve and enjoy.
https://www.floatingkitchen.net/avocados-with-bacon-corn-and-blueberry-salsa/