This post was originally published here June 28, 2013. I've since adjusted the recipe slightly. And I've updated the photographs and text to reflect those changes.
I'm back from a little unintentional blog hiatus. No, I wasn't off on any sort of fancy vacation. Or having lots of cool adventures. Nothing like that. I just couldn't seem to get my sh*t together. I've had more recipe/photography fails in the past three weeks than I care to recount. For whatever reason, things just weren't vibing for me.
But you know what is vibing? These Thai Chicken Cabbage Wraps with Peanut Sauce! This is a OLD recipe that I absolutely adore. I look forward to making it every year as the temperatures start to rise. It's an ideal light dinner for warmer evenings. It's such a fun one to enjoy out on the patio!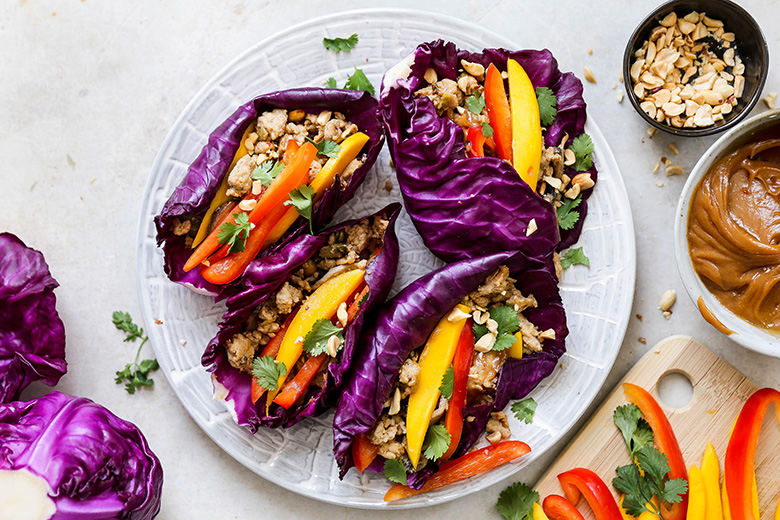 These Thai Chicken Cabbage Wraps with Peanut Sauce have three components. The chicken filling, which is a combination of ground chicken, sliced mushrooms, scallions, ginger, garlic and other seasonings. The salty-sweet peanut sauce, which I use to flavor the chicken filling and dollop over the finished wraps. And all the accoutrements for assembly and topping, including sliced peppers, mango, cilantro and chopped peanuts.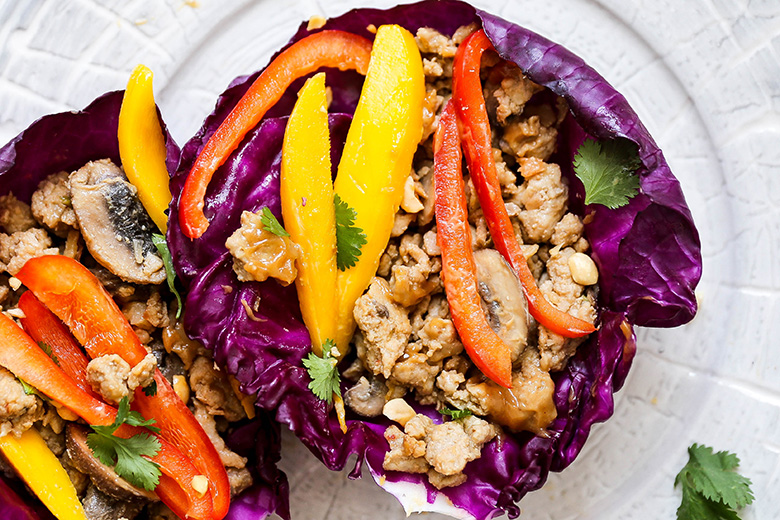 This recipe is also perfect for meal prepping. I admit that most of the time I'm not all that good at meal prepping. But opening my refrigerator and finding all the components for these wraps neatly tucked away into containers is truly a moment of joy and happiness. So I try to remember that feeling and do it more often. If you want to make these in advance, I recommend prepping the chicken filling and peanut sauce and storing them separately in your refrigerator. Then when you're ready to eat, you can quickly slice up the toppings for assembly.
Red or green cabbage works equally well here (I'm a sucker for the vibrant color of red cabbage!). I try to select ones that are on the smaller size, because that leads to more manageable sized wraps. A head of either romaine or butter lettuce would be great options as well.
Cheers,
Liz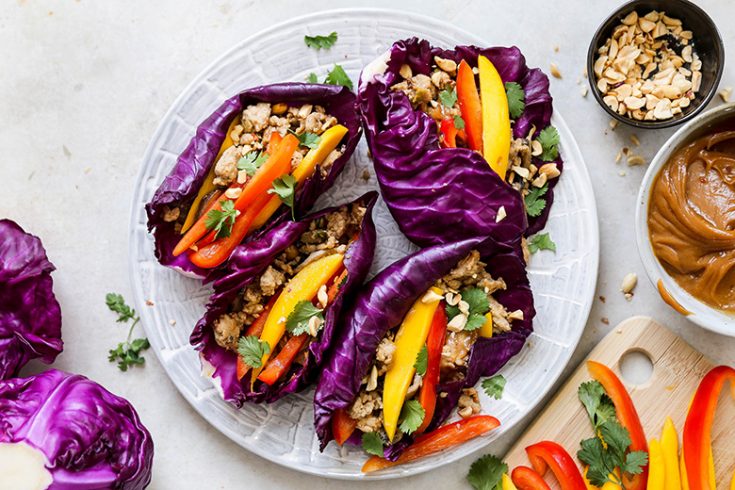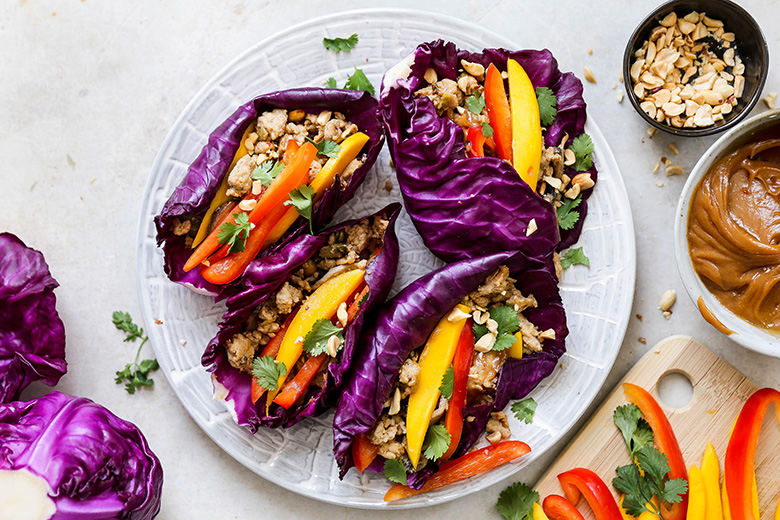 Thai Chicken Cabbage Wraps with Peanut Sauce
Yield: Serves 4
Prep Time: 15 minutes
Cook Time: 15 minutes
Total Time: 30 minutes
Ingredients
For the Chicken Filling:
1 lb ground chicken
4 tsp. soy sauce, divided
1 tsp. corn starch
1 tablespoon vegetable oil
1 1/2 cups sliced mushrooms
4 scallions, white and light green portions thinly sliced
1 garlic clove, peeled and minced
1 tablespoon peeled and minced fresh ginger
2 tsp. rice vinegar
1 tsp. sesame oil
For the Peanut Sauce:
1/2 cup smooth peanut butter
3 tablespoons soy sauce
3 tablespoons honey
1 tablespoon rice vinegar
1 tsp. red pepper flakes
Juice from 1/2 lime
2-3 tablespoons water
For the Wraps:
1 small head cabbage, leaves separated
1 red pepper, thinly sliced
1 honey mango, peeled and thinly sliced
Peanuts, roughly chopped
Fresh cilantro
Instructions
In a medium bowl, combine the ground chicken with 2 tsp. of the soy sauce and the cornstarch. Set aside.
Warm the vegetable oil in a large non-stick skillet. Add the mushrooms and scallions and cook, stirring frequently, until the mushrooms are just starting to brown, about 3 minutes. Add the garlic and ginger and cook for an additional 1-2 minutes.
Push the mushroom mixture over to one side of the skillet and add the chicken to the cleared side. Cook the chicken, breaking it up into smaller pieces with a wooden spoon, for about 2-3 minutes. Once it begins to firm up, start stirring it into the mushroom mixture. Add the remaining 2 tsp. of soy sauce, the rice vinegar and the sesame oil. Continue cooking until the chicken is no longer pink, about 5 minutes. Remove the skillet from the heat and set aside.
To make the peanut sauce, add all the ingredients except for the water to a small bowl and stir until mostly combined and smooth. This sauce will be thick and it will seem like it won't ever come together, but keep stirring. Add the water a tablespoon at a time, stirring until fully combined.
Add about 2 tablespoons of the peanut sauce to the chicken filling and stir to combine.
To assemble the wraps, fill the cabbage leaves about halfway with the chicken filling. Dollop on additional peanut sauce. Top with sliced red pepper, mango, chopped peanuts and fresh cilantro. Enjoy immediately.
Leftovers can be stored in an airtight container in your refrigerator for 2-3 days.