Hi Friends!
Things are looking a little bit different around here today. New logo, new color scheme, new layout and well, new just about everything. Floating Kitchen got a complete makeover! And I couldn't be more thrilled about how it all turned out. I hope you love it, too!
I'm especially excited about the visual recipe index. It makes it SO MUCH easier to find exactly what you're looking for. No more searching a long laundry list of recipe titles. Now you can just see a photo and click! Bingo!
Over the next couple weeks, I'll be tweaking little things here and there to make sure everything is looking fabulous. But if you notice that something doesn't seem quite right (like if a link isn't working or you can't find a recipe that you want), just send me an email and I'll work to get it taken care of. Thanks!
To honor this momentous occasion, I could have made a celebratory cocktail. Or a decadent dessert. But instead, I made a salad of sorts. Because you know me. I'm that weirdo that thinks salads should be for special occasions.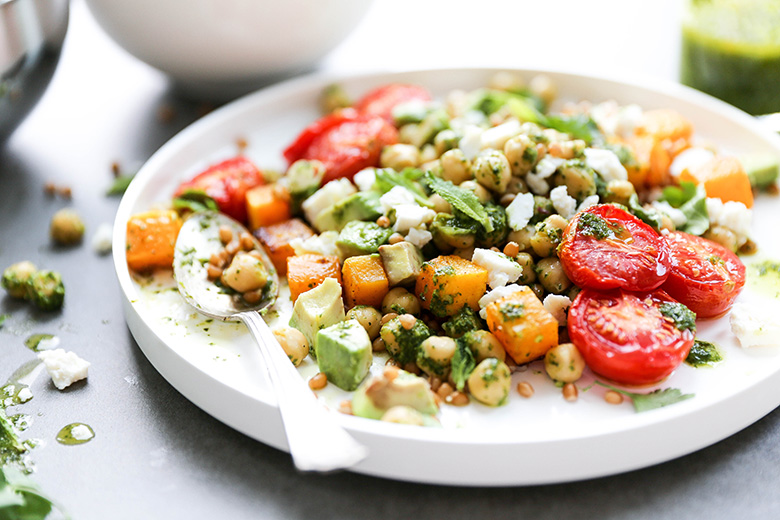 The recipe for these Tomato and Butternut Squash Grain Bowls with Chickpeas and Herb Lime Dressing is a little bit of a mishmash. Fueled partly by cravings. And partly by what I had lingering in my refrigerator and pantry. But truth be told, more often than not these tend to turn out to be my favorite kind of meals. Sometimes less planning can be a good thing.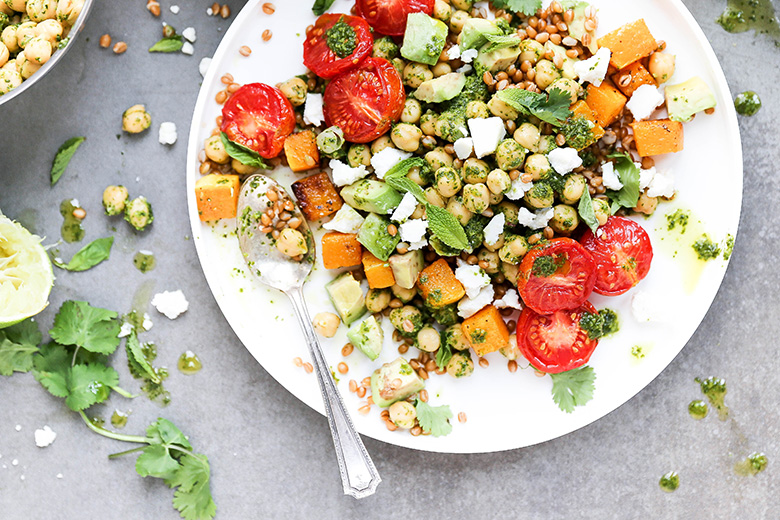 I was inspired by my friend Amanda to combine tomatoes and butternut squash in one dish. It's a pairing that I would have consider a bit odd before, but now I really dig it. It's a great way to bridge the gap in my need for some warm weather flavors with more seasonally appropriate ingredients (although butternut squash is getting near the end of its season, so you could use sweet potatoes instead if you're having trouble finding it).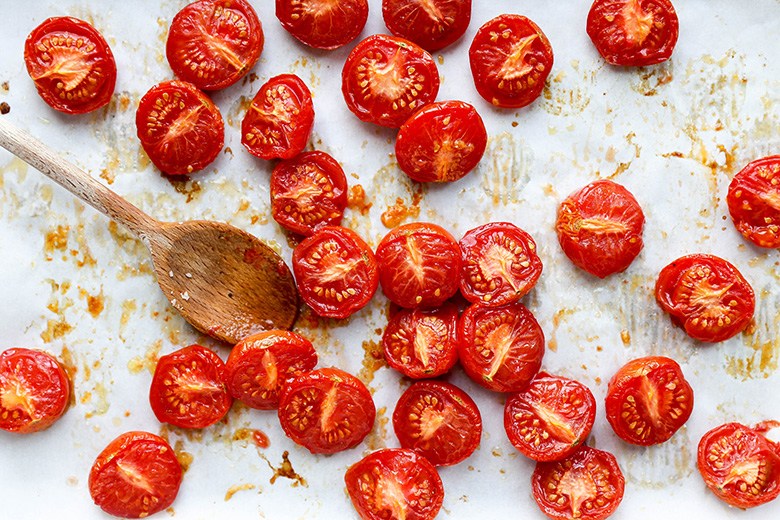 It's best to treat the tomatoes gently here, roasting them at a lower temperature for a longer period of time. Which might make this recipe seem long or "fussy". But I just use that time to prepare all the other ingredients. And it's why I chose wheat berries for the grain here, because they take significantly longer to cook up than their quicker cooking counterparts like quinoa or couscous. Wheat berries also have that hearty "chew" that I think is necessary for Winter dishes. If you haven't tried them yet, give them a whirl.
Cheers,
Liz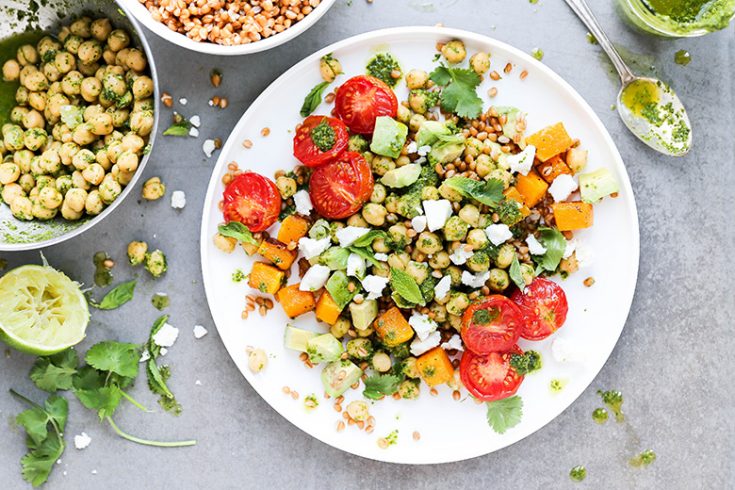 Tomato and Butternut Squash Grain Bowls with Chickpeas and Herb-Lime Dressing
Yield: 4 servings

Prep Time: 10 minutes

Cook Time: 1 hour 15 minutes

Total Time: 1 hour 25 minutes
Ingredients
For the Grain Bowls:
1 lb cocktail tomatoes, halved
2 tablespoons extra-virgin olive oil, divided
1 tsp. salt, divided
2 cups peeled and cubed butternut squash
1/2 tsp. black pepper
1/4 tsp. ground cumin
1 (16-ounce) can chickpeas, rinsed and drained
2 cups cooked wheat berries
2 avocados, pitted, peeled and diced
1/2 cup crumbled ricotta salata
For the Herb-Lime Dressing:
1/2 cup fresh mint leaves
1/2 cup fresh cilantro leaves
1/2 cup fresh basil leaves
1/2 cup vegetable oil
1/4 cup fresh squeezed lime juice
1 tsp. lime zest
1 tsp. honey
1 tsp. minced fresh ginger
1 garlic clove, peeled
Salt and black pepper
Instructions
Pre-heat your oven to 300 degrees. In a medium bowl, toss the tomatoes with 1 tablespoon of the olive oil and 1/2 tsp. of the salt. Spread the tomatoes out onto a parchment paper-lined rimmed baking sheet and roast in your pre-heated oven for 45 minutes. The tomatoes will be soft and partially shriveled, but still juicy. Remove and set aside.
Increase your oven temperature to 425 degrees. In a medium bowl, toss the butternut squash cubes with the remaining tablespoon of olive oil, the remaining 1/2 tsp. of salt, and the black pepper and cumin. Spread the butternut squash out onto a rimmed baking sheet and roast in your pre-heated oven for 20-25 minutes, or until soft and starting to brown in a few places. Remove and set aside.
To make the dressing, add all the ingredients to your food processor fitted with the blade attachment. Process until smooth and bright green. Taste and add a pinch of salt and black pepper, if necessary. Scrape the dressing into a clean container and set aside.
In a medium bowl, toss the chickpeas with about 2 tablespoons of the dressing. Set aside.
To serve, divide the wheat berries between plates/bowls. Top with the chickpeas, roasted tomatoes, butternut squash, diced avocado and ricotta salata. Drizzle with additional dressing. Top with a few fresh herbs, if desired. Enjoy immediately.
SaveSaveSaveSave
SaveSave
SaveSave