It's been an exceptionally soggy Spring here in New England. Which wouldn't be so bad, except for the fact that all this rain has seriously cut into my grilling time. And that makes me grumpy.
I had anticipated being fully reacquainted with my grill by this point in the month of May. But instead, it feels like we're only on our second date. There is still some awkwardness and uncertainty when we interact. All of which can probably be attributed to me. Admittedly, I'm rusty and out of practice after the long Winter.
But I'm slowing working out the kinks (i.e. cleaning off the grates). And I've even managed to have a few successful grilling sessions on the days when the weather was tolerable. Out of one of which was born this recipe for Beer-Marinated Grilled Chicken Skewers with Spring Quinoa Salad.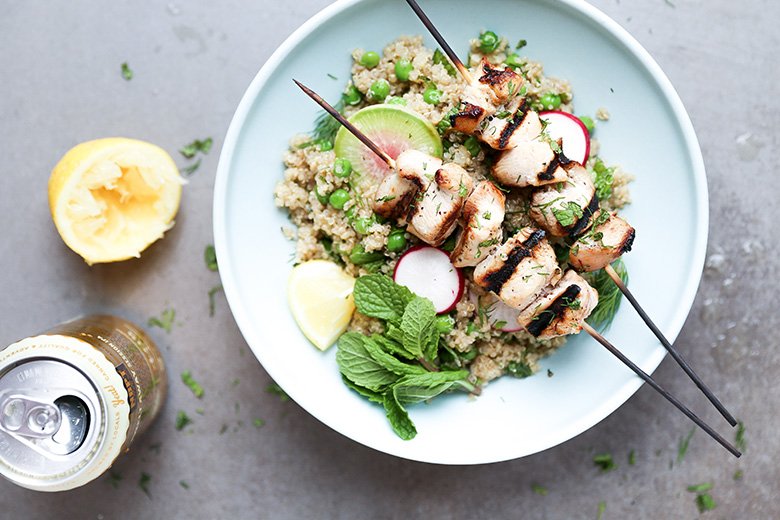 Drinking beer is something I do often. Cooking with beer, however, is something I only seem to remember to do occasionally (maybe if I drank less beer, my memory would be better!). It's been quite a while since I've shared a savory beer-infused recipe here on Floating Kitchen. And for that oversight, I apologize. Craft beer has so many wonderful uses in the kitchen – from tendering meats to giving rise to baked goods to imparting unique and complex flavors to any dish it's added too – and I want to spend more time exploring all those things.
These Beer-Marinated Grilled Chicken Skewers with Spring Quinoa Salad would be perfect for a casual weekend dinner. The recipe is super simple to prepare (just be aware there is a 1-2 hour marinating time for the chicken). And you could easily customize the quinoa salad to add in whatever seasonal vegetables you happen to have on hand. I'm taking advantage of all the wonderful radishes and fresh herbs that are so abundant right now. But I also think some shaved asparagus or spicy arugula would be very welcome in this dish.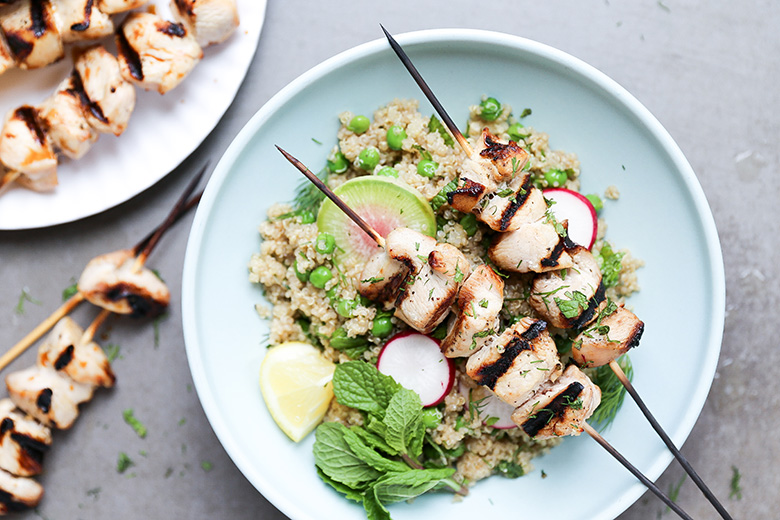 If you follow my Instagram stories, then you know I can be regularly found hanging with my crew at the Newburyport Brewing Company. So naturally, I used one of their IPA's in my recipe. But any IPA that you love will work great. I'm all in favor of encouraging everyone to support their local breweries!
I'm sharing this recipe for Beer-Marinated Grilled Chicken Skewers with Spring Quinoa Salad as part of our monthly seasonal produce round-up organized by Becky from Vintage Mixer. Check out Becky's May Produce Guide, as well as the recipe links below from some of my other blogging friends, to find lots of inspiration for Spring cooking and eating. And keep your fingers crossed for better weather!
Cheers,
Liz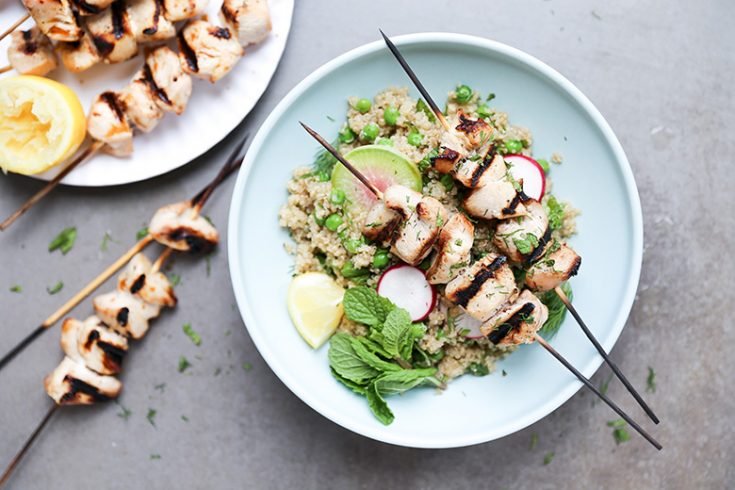 Beer-Marinated Grilled Chicken Skewers with Spring Quinoa Salad
Yield: 4 servings
Prep Time: 2 hours
Cook Time: 30 minutes
Total Time: 2 hours 30 minutes
Ingredients
For the Chicken:
1.5 to 1.75 lbs boneless, skinless chicken breasts
6 ounces beer (I used an IPA)
1/4 cup honey
1 tablespoon Dijon mustard
1 tablespoon extra-virgin olive oil
1/2 tsp. salt
1/2 tsp. black pepper
For the Quinoa:
1 cup quinoa
2 cups peas
2 cups sliced radishes
1/2 cup fresh mint, roughly chopped
1/4 cup fresh dill, roughly chopped
1/4 cup extra-virgin olive oil
3 tablespoons fresh squeezed lemon juice
2 tablespoons balsamic vinegar
1 tablespoon honey
1/4 tsp. salt
1/4 tsp. black pepper
Instructions
Cut the chicken breast into cubes and place them in a large zip-closure bag. Add the remaining ingredients to the bag. Seal the bag, then shake it around to make sure the marinade is mixed and the chicken is well coated. Place the bag in your refrigerator for 1-2 hours.
Meanwhile, cook the quinoa according to the package instructions. Once the quinoa has finished cooking, transfer it to a large bowl to cool to room temperature. Then add the peas, radishes, mint and dill. In a small bowl, whisk together the remaining ingredients. Then pour this dressing over the quinoa salad, tossing gently to mix everything together. Cover and refrigerate until you're ready to serve.
If you're going to be using wooden skewers, soak them in water for at least 30 minutes before threading and grilling the chicken.
Pre-heat your grill to medium-high. Thread the marinated chicken onto skewers (about 5 cubes per skewer) and discard any leftover marinade. Spray your grill grates with non-stick cooking spray. Then place the chicken skewers on the grill and cook for about 10 minutes, or until the chicken is cooked and no longer pink in the middle, flipping them once during this time. Remove the chicken skewers from the grill and place them on a clean plate. Cover to keep warm.
To serve, divide the quinoa salad between plates. Top with the grilled chicken skewers. Garnish with extra herbs and a squeeze of fresh lemon juice, if desired.
May Eat Seasonal Recipes
Roasted Rhubarb Crazy Berry Meringues by Letty's Kitchen
Polenta with Asparagus, Pancetta and a Poached Egg by Vintage Mixer
Baked Cauliflower Casserole with Goat Cheese by Cookin' Canuck
Date-Sweetened Chocolate Peanut Butter Oatmeal Smoothie by JoyFoodSunshine
Sea Salt Focaccia with Radish Ramp Butter by Simple Bites
Turmeric Roasted Cauliflower and Tempeh Power Salad {vegan} by Healthy Seasonal Recipes
Halloumi Salad with Beets and Blackberries by Kitchen Confidante
Spring Farro Salad with Feta, Lemon, and Mint by Flavor the Moments
Spiralized Zucchini, Quinoa and Turkey Sausage Stuffed Peppers by Foodie Crush
Chocolate Rhubarb Pavlova by Suitcase Foodist
Mediterranean Farro Salad with Arugula and Chickpeas by Aggie's Kitchen
Radish and Asparagus Breakfast Bowls by Food for My Family
Hummus and Salad Flatbread Pizza by Completely Delicious
SaveSave