This post was originally published here on January 23, 2014. I've since updated the photos and text. Enjoy!
Great fitting jeans. A copy of The Catcher in the Rye. And a recipe for The Best Blueberry Muffins.
These are all classics that will never go out of style. And they are all things that everyone should have in their collection.
And while it would be awesome if we could all go clothes shopping together to find some booty-licious pants. Or have a book club meeting to discuss teenage rebellion. Neither of those things seems very practical right now (unless you all want to hop on an airplane!). So instead, I'm going to help you out in the blueberry muffin department.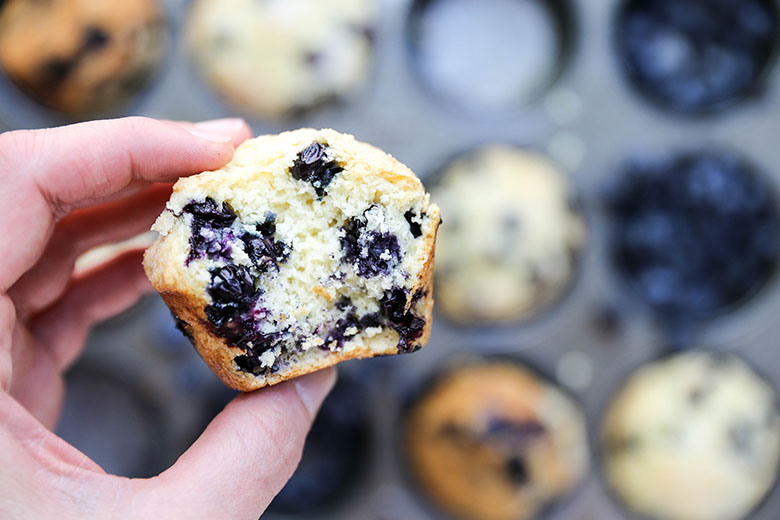 This blueberry muffin recipe is slightly adapted from Gwyneth Paltrow's cookbook, My Father's Daughter. It's a recipe that I've been making for years now (playing with many different mix-ins along the way), so I know it by heart. It's my go-to baked good that I'm constantly whipping up for any special breakfast or brunch gathering. Or just whenever my mood requires a little pick-me-up. Because you certainly don't need a special occasion to make and enjoy these babies. They are wonderful any day of the week. And any month out of the year, too. Classics like blueberry muffins are season-less, in my humble opinion (although being able to use local blueberries during the Summer months is a real treat!).
And you know what's even better? This recipe requires only one mixing bowl and 10 ingredients.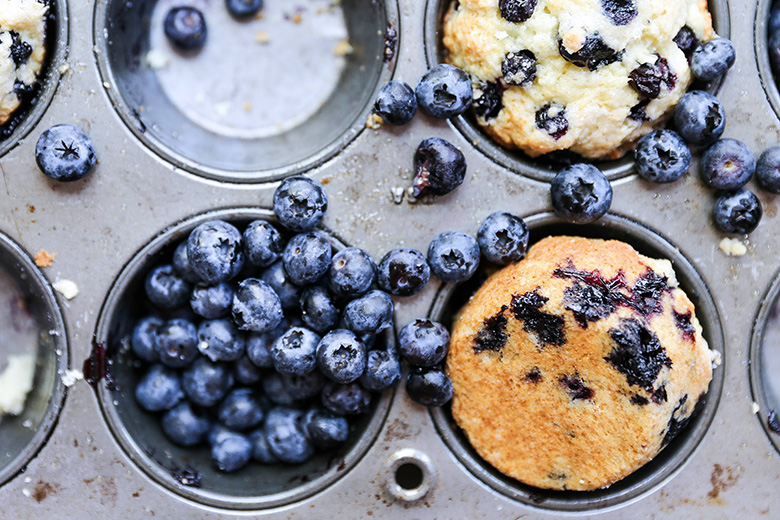 A few notes on the recipe that are worth mentioning up front. First, the batter is extremely thick. Like whoa. Probably way thicker than other muffin recipes you've made in the past. Second, the muffins cups get filled all the way to the brim. But don't worry. They won't spill over. And finally, 2 ½ cups of fresh blueberries will seem like way too many blueberries than will reasonably fit in a muffin without resulting in an exploding blue mess. But just trust me when I say it's all going to be fine. You got this! And I bet these blueberry muffins will soon become a favorite in your house, too!
Cheers,
Liz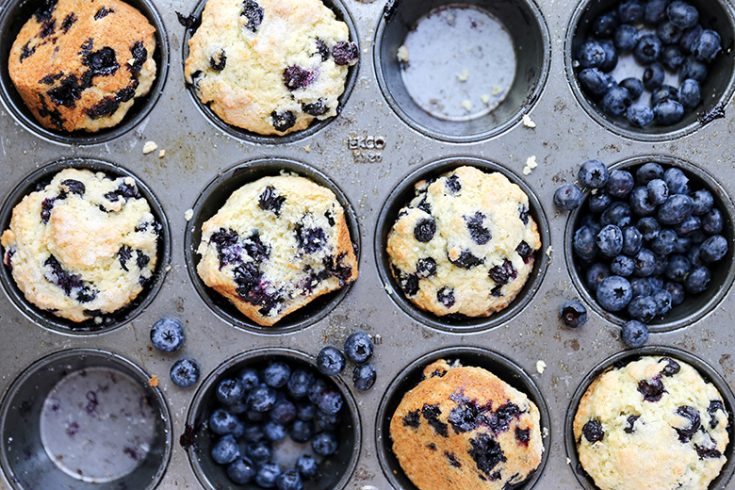 The Best Blueberry Muffins
Yield: 12 muffins

Prep Time: 10 minutes

Cook Time: 30 minutes

Total Time: 40 minutes
Ingredients
1/2 cup (8 tablespoons) unsalted butter, melted and cooled
2 eggs
1/2 cup whole milk
1 tsp. lemon zest
2 cups all-purpose flour
3/4 cups plus 1 tablespoon sugar
2 tsp. baking powder
1 tsp. salt
1/2 tsp. ground cinnamon
2 1/2 cups fresh blueberries
Instructions
Pre-heat your oven to 375 degrees. Line a standard 12-cup muffin tin with liners or coat with non-stick cooking spray. Set aside.
In your stand mixer with the paddle attachment, beat the butter, eggs, milk and lemon zest on medium speed until well combined, about 2-3 minutes. With the mixer on low speed, slowly add in the flour, 3/4 cups sugar, baking powder, salt and cinnamon, beating until the dry ingredients are just incorporated. Then gently fold in the blueberries using a spatula or wooden spoon.
Scoop the muffin batter into your prepared muffin tin, dividing the batter evenly between the 12 cups. Sprinkle the tops of the muffins with the remaining tablespoon of sugar. Transfer to your pre-heated oven and bake for 25-28 minutes, or until a toothpick inserted into the center comes out clean. Allow the muffins to cool in their tin for 5-10 minutes. Then remove and transfer them to a wire rack to continue cooling.
These blueberry muffins can be stored at room temperature in an airtight container for 2-3 days.
SaveSave
SaveSave