This post was originally published here on August 2, 2013. I've since updated the photographs and changed a few things in the ingredient list to make this bread a *tiny* bit more wholesome. I hope you try it out!
Whoa baby. It's HOT!
Like, scorching hot.
But it's also zucchini season. And I'm finding myself with more zucchini than I know what to do with (hence two zucchini recipes in a row!). So that means putting on my big girl pants, shutting up about the oppressive weather and turning on my oven to bake Zucchini Bread.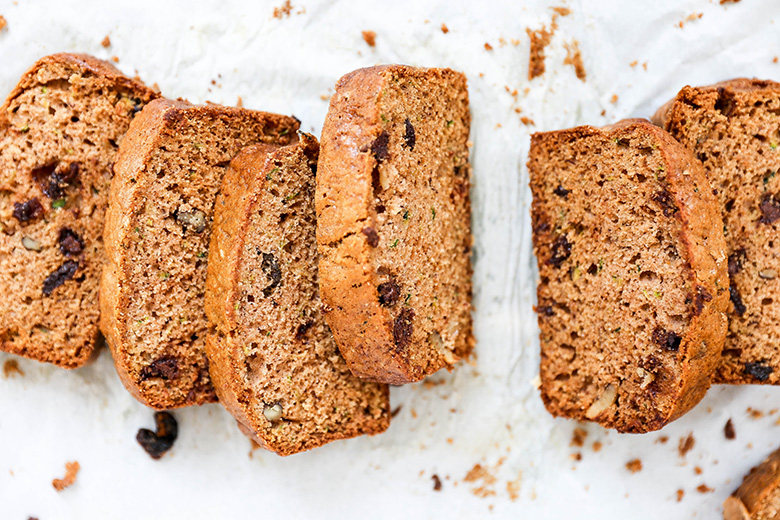 This Zucchini Bread is adapted from a version that my Mom and I used to bake together when I was a kid. I don't remember where the recipe originates from. But I do remember that the resulting bread wasn't particularly wholesome or exciting. So over the years, I've played with lightening it up, all while trying to make it a bit more interesting. To that end, I now include ripe mashed banana in the batter, which allows me to cut back on the vegetable oil. And I've reduced the amount of granulated sugar, preferring instead to add sweetness with dried fruit and chocolate. I also love playing with different mix-in's. This combination of walnuts, dried cherries and semi-sweet chocolate chips is a particular favorite. But pretty much anything goes here, so use what you love (or whatever is in your pantry!).
At the end of the day, this Zucchini Bread is still a solid, no fuss type of recipe. And it makes two fat loaves, which means it's perfect for sharing with a neighbor or freezing for later. You really can't go wrong here.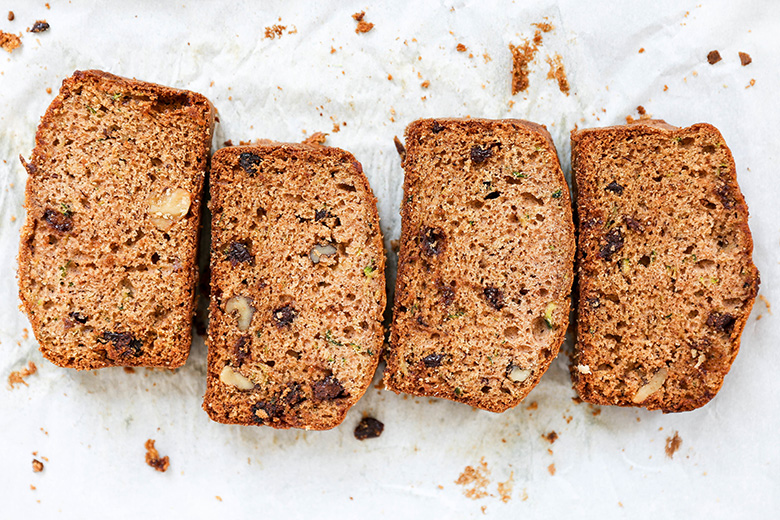 In completely unrelated news, I'm off to Greece this week! I'm meeting a girlfriend in Athens and then we'll be traveling around several of the islands. So this means that (1) I'm going to eat ALL the feta cheese and (2) the blog will be relatively quiet for a couple of weeks. Because I'm allowing myself to take a REAL vacation. Yahoo!
As the internet permits, I'll be sharing parts on my trip over on Instagram and Facebook. So be sure to check in there if you're interested. Love you all! And have a safe and fun 4th of July!
Cheers,
Liz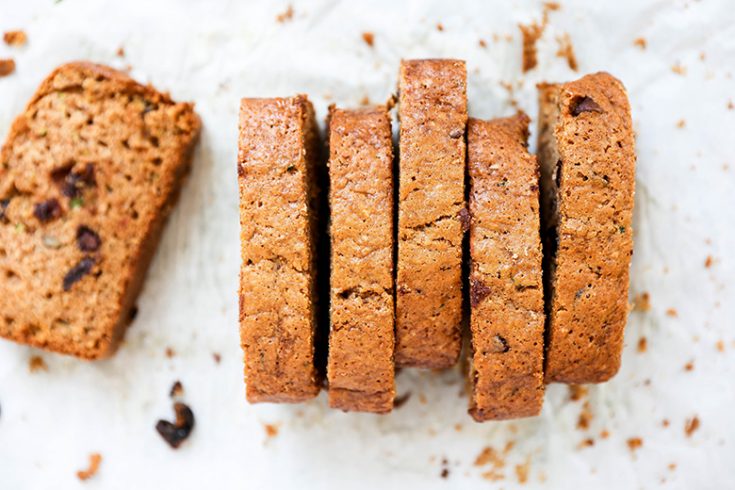 Zucchini Bread
Yield: Makes 2 loaves

Prep Time: 15 minutes

Cook Time: 1 hour

Total Time: 1 hour 15 minutes
Ingredients
3 eggs
1 3/4 cups sugar
1/2 cup vegetable oil
1/2 cup mashed ripe banana
2 cups grated zucchini
1 tsp. vanilla extract
3 cups all-purpose flour
3 tsp. cinnamon
1 tsp. salt
1 tsp. baking soda
1 tsp. baking powder
1/8 tsp. nutmeg
1/2 cup chopped walnuts
1/2 cup dried cherries
1/2 cup semi-sweet chocolate chips
Instructions
Pre-heat your oven to 325 degrees. Line two 8 X 4-inch loaf pans with parchment paper, leaving about an inch hanging over the sides, and spray lightly with non-stick cooking spray. Set aside.
In the bowl of your mixer with the paddle attachment, lightly beat the eggs. Then add in the sugar, oil, mashed banana, grated zucchini and vanilla extract, beating until well combined.
In a separate bowl, combine the flour, cinnamon, salt, baking soda, baking powder and nutmeg. Slowly add these dry ingredients to the bowl with the wet ingredients, beating on low until fully incorporated. Stir in the walnuts, dried cherries and chocolate chips.
Divide the batter between your two prepared loaf pans. Then transfer the loaf pans to your pre-heated oven and bake for 55-60 minutes, or until a toothpick inserted into the middle comes out mostly clean.
Remove the loaf pans from the oven and place on a wire rack to cool for 10-15 minutes. Then using the overhanging parchment paper, lift the zucchini bread loaves out from their pans and place them on a wire rack to continue cooling. Allow the zucchini bread to cool completely before slicing.
The zucchini bread can be wrapped in plastic wrap and stored at room temperature for several days.
SaveSave
SaveSave
SaveSave
SaveSave