These tender, buttery Stuffing Biscuits bring together all the flavors that I love about traditional Thanksgiving stuffing. They are herby, savory and downright delicious. And they're the perfect vehicle for mopping up any extra gravy.
But let me be clear. These biscuits are NOT a replacement for regular Thanksgiving stuffing. No way, no how. Because the stuffing is hands down the best part of the Holiday meal (other than the desserts). So instead, I suggest doubling down on your stuffing needs by making your usual stuffing recipe PLUS these Stuffing Biscuits. That's maximum stuffing enjoyment right there!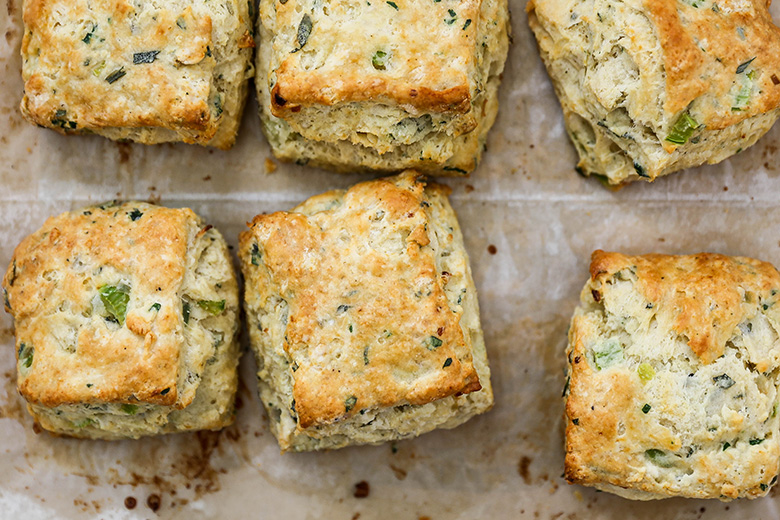 I wanted to have both celery and onions in these Stuffing Biscuits, since those are key ingredients to my Thanksgiving stuffing recipe. But I didn't want any tough, crunchy pieces of vegetables in my biscuits. So I sautéed them first in a tablespoon of butter until they were nice and soft. Make sure you dice the celery and onions small, so they incorporate easily and evenly into the biscuit dough. And don't let them get too browned, either. The goal is just to soften them and sweat out some of their moisture. And PLEASE make sure they are completely cooled before adding them to the biscuit dough (you could even pop them in your refrigerator if you're in a rush). Keeping all your biscuit ingredients cold is key factor in creating all those flaky layers!
I used a full tablespoon each of fresh parsley, sage and rosemary in these biscuits. Which may seem like a lot. But it really guarantees each bite is full of flavor. And tastes like stuffing! Don't skimp on the herbs!
This recipe calls for buttermilk, which I didn't have on hand (and almost never do). So I used the trick of creating my own "buttermilk" by stirring 1 tablespoon of fresh lemon juice into 1 cup of whole milk. It worked great here, so feel free to do that if you need.
Cheers,
Liz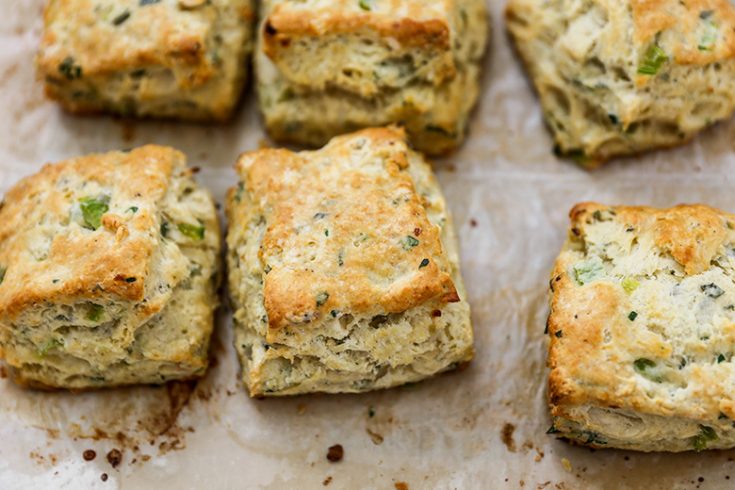 Stuffing Biscuits
Yield: Makes 6 biscuits
Prep Time: 10 minutes
Cook Time: 25 minutes
Additional Time: 15 minutes
Total Time: 50 minutes
Ingredients
9 tablespoons butter, divided
1/3 cup small diced celery
1/4 cup small diced onion
2 cups all-purpose flour
3 tsp. baking powder
1/2 tsp. baking soda
3/4 tsp. salt
1/4 tsp. black pepper
3/4 cups buttermilk, cold
1 tablespoon finely minced fresh parsley
1 tablespoon finely minced fresh sage
1 tablespoon finely minced fresh rosemary
Instructions
Cut 8 tablespoons of the butter into small pieces. Transfer to a clean plate and place in your refrigerator to chill.
Melt the remaining tablespoon of butter in a small skillet set over medium heat. Add the celery and onion and cook, stirring frequently, until softened, about 5 minutes. You don't want the vegetables to brown, so turn down the heat if they are cooking too quickly. Remove the skillet from the heat and set aside to cool completely.
Add the flour, baking powder, baking soda, salt and black pepper to a large bowl and stir to combine. Add the chilled butter and use your hands to work it into the dry ingredients by tossing and squeezing it between your fingers until you have pieces that are approximately pea-sized. Add the sautéed vegetables and all the fresh herbs, tossing to evenly distribute them throughout the dough.
While stirring with a fork, slowly pour in all but 1 tablespoon of the buttermilk. Continue stirring with the fork until most of the dough has been moistened. Then use your hands to bring the dough together into a shaggy ball and turn it out onto a lightly floured work surface.
Use your hands to shape the dough into a rough rectangle. Then using a lightly floured rolling pin, roll it out until it's approximately 1/2-inch thick. Fold the dough in half and repeat this process one more time. Then roll the dough out a final time until it's a 3/4-inch thick rectangle, straightening up the sides as much as possible.
Slice the dough into 6 equal-sized pieces and space them out on a rimmed baking sheet lined with parchment paper. Place the baking sheet in your refrigerator to chill the biscuits for 10-15 minutes.
While the biscuits chill, pre-heat your oven to 425 degrees.
Brush the tops of the biscuits with the remaining tablespoon of buttermilk. Then transfer the baking sheet to your pre-heated oven and bake the biscuits for 18-22 minutes, or until risen and golden brown on top.
Remove from the oven and let the biscuits cool on their baking sheet for 5-10 minutes. Enjoy warm.