This post was originally published here December 19, 2013. I've since updated the photographs and text. I hope you try out this easy, festive salad this Holiday season!
It's time for my annual Thanksgiving PSA: salad belongs at the Thanksgiving table.
Yes! I love a Thanksgiving salad. And I always include one in my menu planning. I know a lot of people disagree with me on this topic, including my own Dad who says, "why should we waste precious stomach space on a salad". But I'm a firm believer that a cold, crisp salad is a welcome change from the barrage of heavy/salty/sugary dishes normally present at Thanksgiving. Think of it as a palate cleanser!
This Cranberry Apple Salad is the ideal Thanksgiving salad for many reasons:
(1) It's crunchy, tart and light.
(2) It can (and should!) be made ahead of time.
(3) It looks super festive.
(4) It's vegan and gluten free, so it's great for a mixed crowd.
(5) It travels well, if you're not hosting and need to bring a dish somewhere else.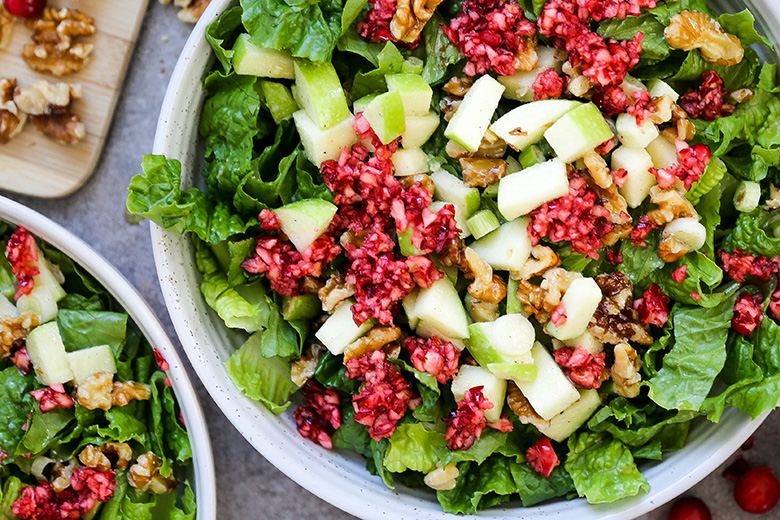 This Cranberry Apple Salad has three parts: the chopped cranberries, the apple-walnut mixture and the romaine lettuce. The chopped cranberries and the apple-walnut mixture can be made up to a day in advance and stored in separate containers in your refrigerator. Then on the day of serving, simply arrange your chopped romaine lettuce on your serving dish and spoon the two toppings over it, creating a pretty layered presentation. It's so easy and festive. And I promise it won't get soggy!
If I'm serving this salad with a "regular dinner", it serves about four people. But for Thanksgiving, when there are lots of options and people are generally taking smaller portions of each dish, this recipe will serve about eight people.
Are you convinced to try this Cranberry Apple Salad for Thanksgiving? I hope so! But if not, you can make it for Christmas. Because it's all dressed up in reds and greens, so it's great for the entire Holiday season!
Cheers,
Liz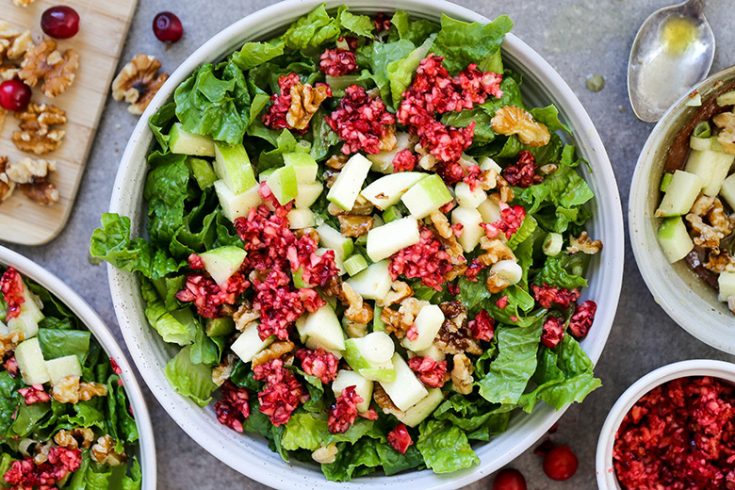 Cranberry Apple Salad
Yield: Serves 4-8
Prep Time: 10 minutes
Additional Time: 2 hours
Total Time: 2 hours 10 minutes
Ingredients
1 1/2 cup fresh cranberries, thawed if frozen
3 tablespoons granulated sugar
1/2 cup extra-virgin olive oil
2 tablespoons fresh lime juice
2 tsp. Dijon mustard
1/4 tsp. salt
1/4 tsp. black pepper
2 Granny Smith apples, cored and chopped
1 cup walnuts, chopped
1/4 cup sliced scallions
2-3 hearts of romaine lettuce, chopped
Instructions
In your food processor with the blade attachment, pulse the cranberries until they are coarsely chopped. Transfer them to a clean bowl and stir in the sugar. Cover and refrigerate for at least 2 hours, or up to overnight.
In a medium bowl, whisk together the olive oil, lime juice, mustard, salt and pepper. Add the apples, walnuts and scallions and stir to coat everything in the dressing. Cover and refrigerate for at least 2 hours, or up to overnight.
To serve, add the chopped romaine lettuce to a large bowl or serving plate. Give the apple-walnut mixture a stir, then spoon it over top of the romaine lettuce, making sure to include some of the dressing. Then spoon the chopped cranberries over top. Serve and enjoy.