I'm sneaking in one last recipe before Thanksgiving. And it's an easy one. So if you're making one final trip to the grocery store before the big day, plan on picking up the ingredients for this Cranberry Red Wine Punch. You'll be glad you did!
When it comes to cocktails at Thanksgiving, I want them not only to be super easy and festive, but also low alcohol. Because Thanksgiving is all about playing the long game. Getting tipsy while preparing the big dinner and then still having to power through the rest of the day/evening is rough. I've been there and it's not fun.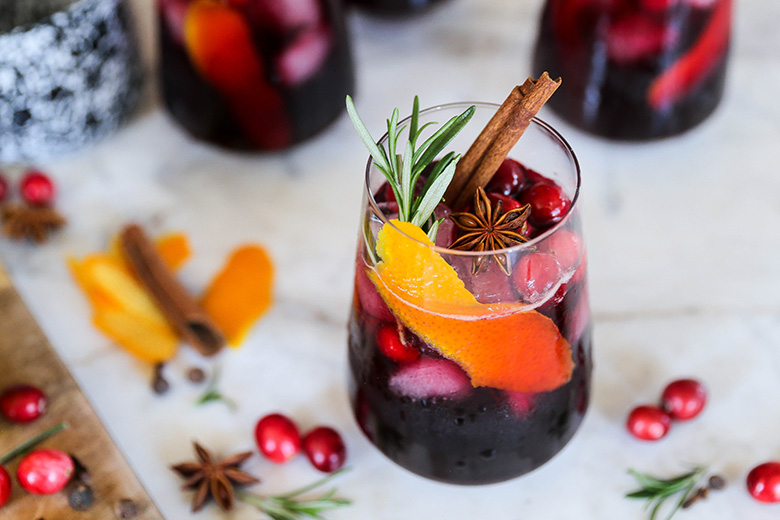 The only actual work involved in making this Cranberry Red Wine Punch is making the spiced simple syrup. And even that can't be considered much of a job! All you have to do is heat sugar, water, orange peel and whole spices on your stovetop until the sugar is dissolved and the mixture is syrupy and aromatic. You can even do this step a couple days in advance. So no excuses!
For the wine, I went with a fun and fruity Beaujolais. And for the seltzer water, I used a cranberry-lime flavored version.
I've included two sets of instructions below. One for making and serving this Cranberry Red Wine Punch immediately. And one if you want to make it in advance of when you plan on serving it. This cocktail is meant to be low stress. And I hope you try it! It's great for Thanksgiving, Christmas or even New Year's Eve (now we're really getting ahead of ourselves!).
Cheers,
Liz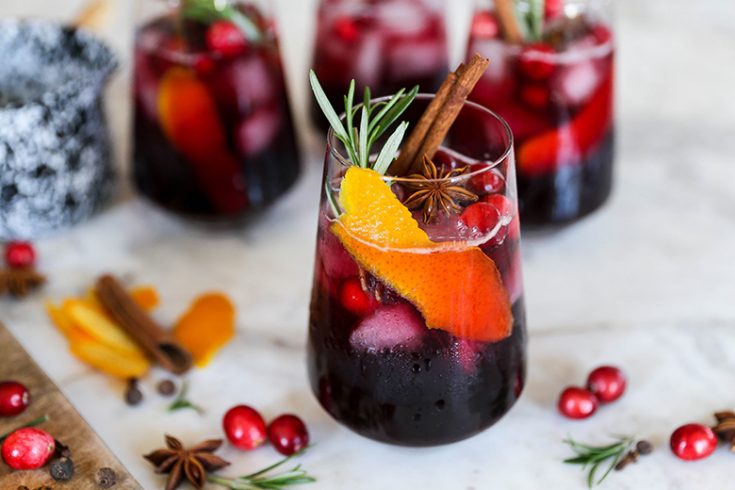 Cranberry Red Wine Punch
Yield: Makes about 8 cups
Prep Time: 5 minutes
Cook Time: 5 minutes
Additional Time: 1 hour
Total Time: 1 hour 10 minutes
Ingredients
For the Spiced Simple Syrup:
1 cup granulated sugar
1 cup water
2 strips (about 2-inches each) orange peel
1 cinnamon stick
1 star anise
3 whole cloves
3 whole allspice
For the Punch:
1 (750ml) bottle red wine, chilled
2 cups unsweetened cranberry juice
1 cup spiced simple syrup
12 ounces seltzer water
Instructions
In a small saucepan set over medium-high heat, bring all the ingredients for the simple syrup to a boil. Then reduce the heat to maintain a simmer and simmer for 5 minutes. Remove from the heat. Once cooled, cover the saucepan and let the flavors infuse at room temperature for at least 1 hour or up to 4 hours. Then strain the simple syrup into a clean container, collecting and discarding the solids, and refrigerate it until you're ready to use it. The simple syrup can be made up to 5 days in advance. You should have 1 cup of simple syrup.
If you plan to serve the punch immediately, add ice to a pitcher or a punch bowl. Pour in the red wine, cranberry juice and simple syrup and stir to combine. Then slowly pour in the seltzer water. Add a handful of fresh cranberries, orange peel or whole spices for garnish, if desired. Serve over ice.
If you want to make the punch in advance of when you plan to serve it, combine the red wine, cranberry juice and simple syrup in a container without ice. Cover and place in your refrigerator. When you're ready to serve it, pour the punch into a pitcher or a punch bowl with ice. Then slowly pour in the seltzer water and add any garnishes you like. Serve over ice.