In an effort to sell you on this milkshake, I was tempted to write something like "this milkshake would be a great way to use up leftover Halloween candy". But then I reconsidered that statement. Because who really has leftover Halloween candy. Not me. I just eat it right up. I don't need any tricky ways to try to consume it all. It somehow manages to disappear just fine all on it's own.
So instead, I want you to make this Chocolate Peanut Butter Cup Pumpkin Milkshake for one reason and one reason only: it's delicious.
I'm sure you know that peanut butter, chocolate and ice cream are already excellent friends. The pumpkin purée in here just kicks things up an extra notch. It makes you think "hey, what else is in this milkshake?", and then forces you to take another sip to try and figure it out. It's highly addicting. You've been warned.
In addition to slurping down a couple of these milkshakes (recipe testing = tough job!), I also indulged my sweet tooth this past weekend at the famous Chocolate Bar at The Langham in Boston. Abby and Sara came up to visit me, and we decided that an entire restaurant dedicated to chocolate was just the kind of place that three food-obsessed bloggers should dine at. It was a good decision. The photos of our table spread should be evidence enough.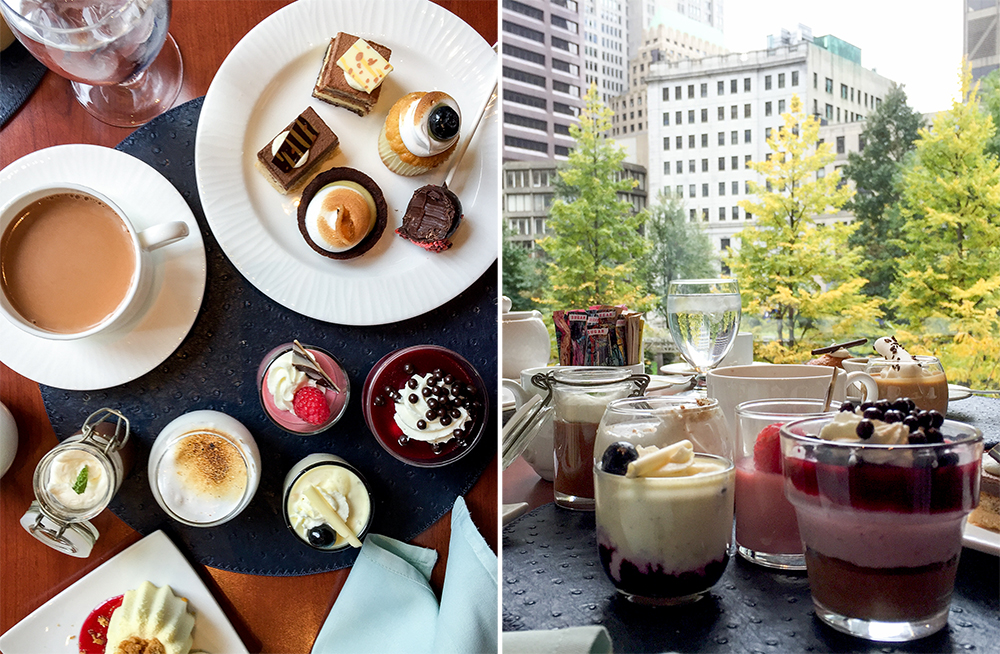 Definitely check it out if you're ever in the area. And in the meantime, DEFINITELY make yourself a Chocolate Peanut Butter Cup Pumpkin Milkshake. No leftovers required. In fact, you should probably go out and purchase extra peanut butter cups (hello day after Halloween candy sales!) just so that you are sure to have enough.
Cheers,
Liz
Ingredients
1 cup vanilla ice cream
1/2 cup milk (I used 2%)
2 tablespoons pumpkin purée
1 tablespoon peanut butter
1 tablespoon chocolate syrup
5 peanut butter cups (the full sized ones, not the mini ones), divided
Instructions
Add the ice cream, milk, pumpkin purée, peanut butter, chocolate syrup and 4 of the peanut butter cups to your blender. Blend on high until smooth. Pour into a glass. Chop the remaining peanut butter cup for garnish, if desired. Enjoy immediately.
https://www.floatingkitchen.net/chocolate-peanut-butter-cup-pumpkin-milkshake/