This post was originally published here October 29, 2015. I've changed the recipe slightly. And I've updated the text and photographs to reflect those changes.
I've never been a big fan of Halloween. Scary movies? Nope. Skimpy costumes? I'll pass. All the candy I can eat? Ok. That last one gets an enthusiastic "yes, please!" from me. And as far as I'm concerned, it's the only reason to tolerate the day.
My favorite Halloween candy has always been peanut butter cups. Nothing else even comes in as a close second. So when I decided to create a milkshake that would be perfect for a stay-at-home Halloween treat, I knew right away it needed to include a few peanut butter cups.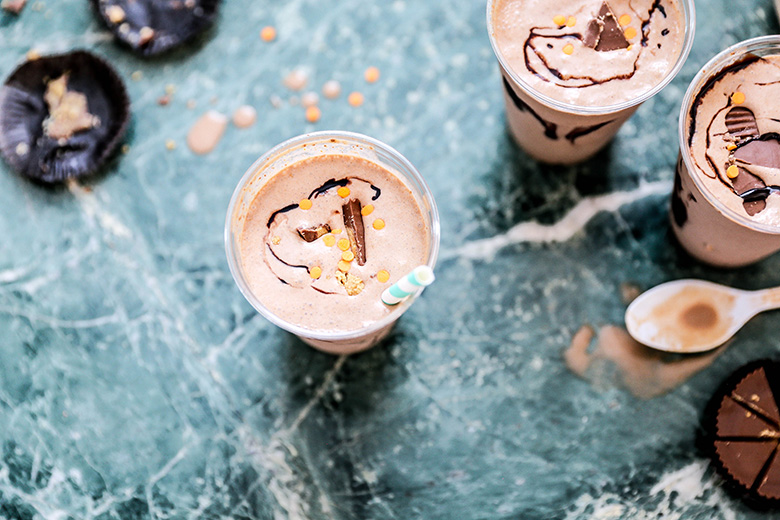 And let me tell you, when those peanut butter cups get whirled into oblivion with chocolate ice cream, milk, creamy peanut butter and a couple tablespoons of pumpkin purée, it's pure Halloween bliss. This milkshake has all the treats. And none of the tricks. Which is exactly how I expect all my milkshakes to be.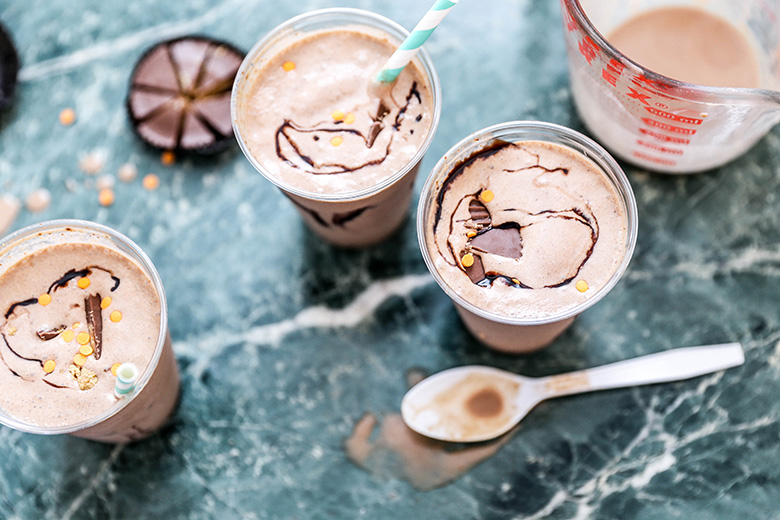 These Pumpkin Peanut Butter Cup Milkshakes can be your excuse to grab an extra bag of peanut butter cups at the store this week. Or you can raid your kids Halloween candy stash. I won't tell! You'll need three full-sized peanut butter cups for the milkshakes themselves. And then I like to chop up a fourth one to use for topping. Because you always need to have a topping!
I hope you get your fill of candy this weekend. If you try my Pumpkin Peanut Butter Cup Milkshakes, send me a message and let me know!
Cheers,
Liz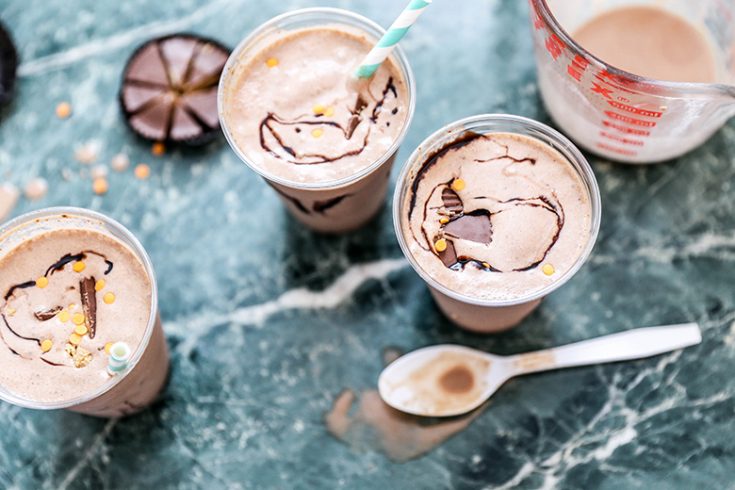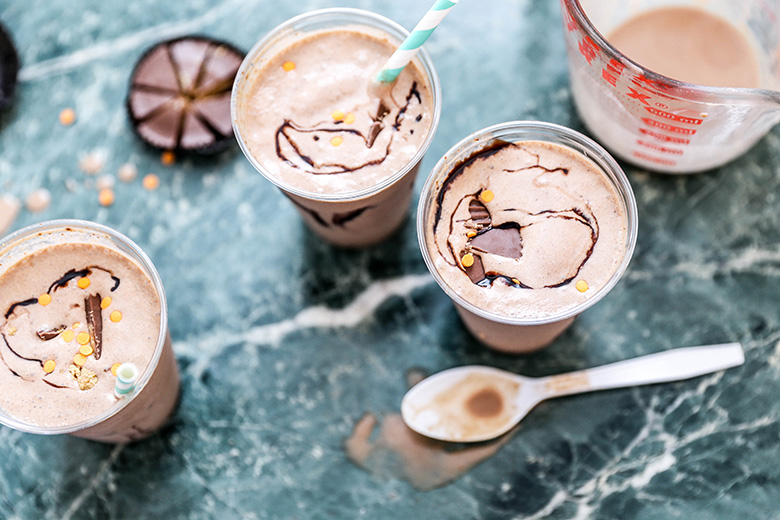 Pumpkin Peanut Butter Cup Milkshakes
Yield: Makes 1 large or 2 small milkshakes
Prep Time: 5 minutes
Total Time: 5 minutes
Ingredients
1 1/2 cups chocolate ice cream
1/2 cup milk
3-4 tablespoons pumpkin purée
2 tablespoons peanut butter
4 peanut butter cups, divided
Chocolate syrup, for garnish
Instructions
Add the ice cream, milk, pumpkin purée, peanut butter and three of the peanut butter cups to your blender. Blend on high until fully combined and smooth.
Pour the milkshake into a glass. Chop up the remaining peanut butter cup and use it to top the milkshake. Drizzle with chocolate syrup, if desired. Enjoy immediately.