This post was originally published here March 3, 2014. I've since updated the photographs and text. I hope you try out this festive adult milkshake for your St. Patrick's Day celebrations!
Well, I'm officially off my A game. I'm sure part of the reason is because of my arm. I'm in pain. I'm frustrated by the difficulty of daily tasks. And I'm distracted and unfocused.
Normally, I am a person who thrives on routine. I LOVE my routine. And well, I just don't have that going for me right now.
Case in point: I forgot that Pi Day (March 14 = 3.14) was this week.
Shit. I don't think I've missed a Pi Day celebration in years.
I'm going to try to pull something together in time for the big day. But I don't know if that's going to happen. So as a secondary offering, I bring you the recipe for these Boozy St. Patrick's Day Milkshakes. I hope you're not mad.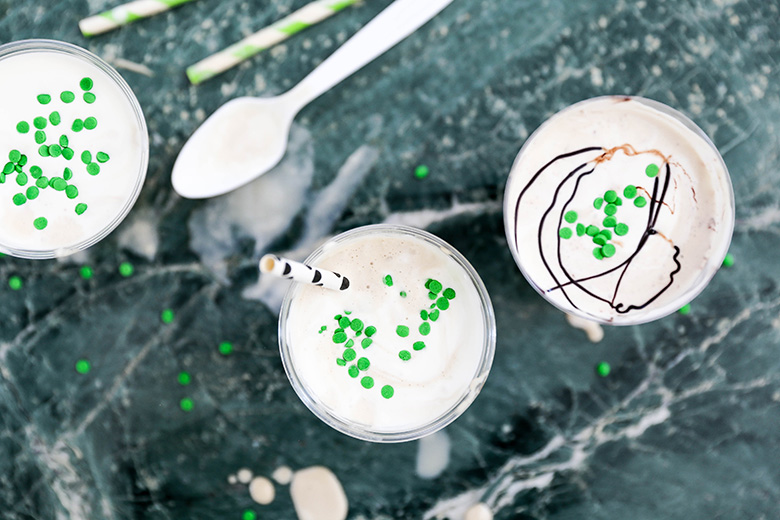 And yes, another blender recipe. Perfect for those of us with a broken arm!
This is certainly one of those recipes that I like to call a "non-recipe". Because it's only three ingredients. And all you have to do is just throw them all into your blender and push the "on" button. It doesn't get much simpler than that. I like to top my adult-only milkshakes with whatever accoutrements I happen to have on hand: sprinkles, chocolate sauce, whipped cream, etc. But all that's just extra fluff. So skip it. Or go big. Your choice.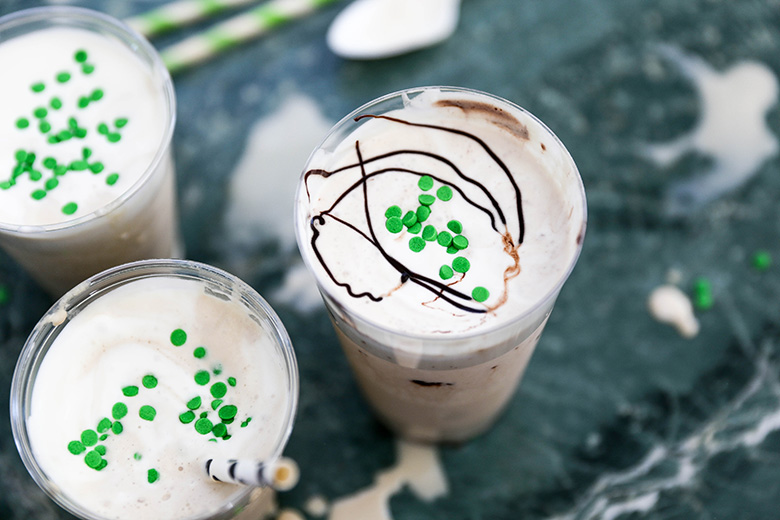 Just one last piece of advice before I go: these are dangerously good. It's very easy to drink a lot of these. And you might find yourself tipsy mid-day (cough, cough). So don't say I didn't warn you.
Cheers,
Liz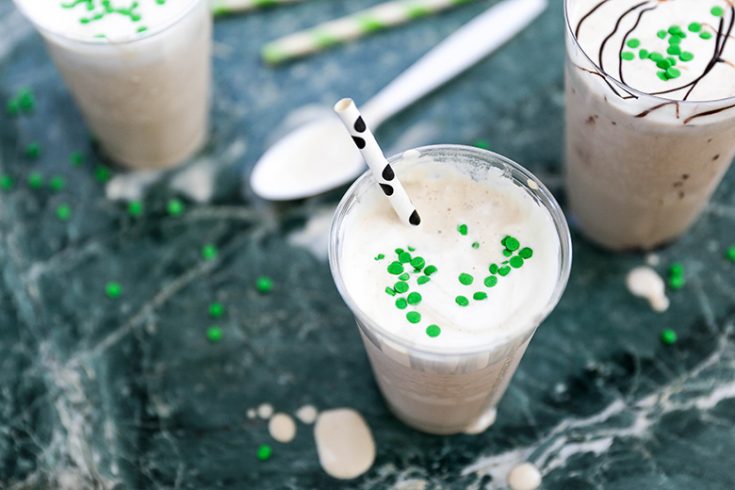 Boozy St. Patrick's Day Milkshakes
Yield: Makes 1 milkshake
Prep Time: 5 minutes
Total Time: 5 minutes
Ingredients
For the Milkshake:
About 1 cup coffee ice cream
2 tablespoons Irish cream (I used Baileys)
2 tablespoons Irish whiskey (I used Jameson)
For Topping:
Whipped Cream
Sprinkles or chopped chocolate
Chocolate syrup
Instructions
Add all the ingredient to your blender. Blend on high until fully combined and smooth.
Pour into a glass. Add toppings, if desired. Enjoy immediately.