This post was originally published here on April 15, 2014. I've since updated the photographs and text. This is a great quick bread recipe to try for Easter or Mother's Day!
You guys. Baking with a broken arm is HARD.
Flour is heavy. Batter can be sticky and clingy. Rolling out dough takes strength. And full disclosure: I'm not particularly skilled at cracking eggs with just one hand.
I'll just turn in my chef's whites now.
But despite these minor inconveniences, I've persisted. I managed to make a couple pies last week to celebrate Pi Day. And I've been baking up loaves of this heavenly scented Coconut Lime Bread.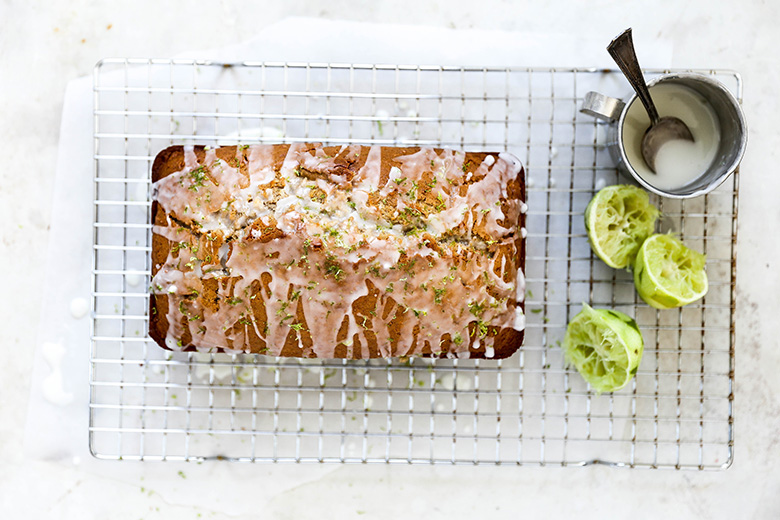 This Coconut Lime Bread is a must-make for Spring. I especially like it for Easter and/or for Mother's Day. Because it's a great, easy addition to any breakfast or brunch gathering.
This bread is a bit more toothsome and less "spongy" than say, a typical piece of banana bread (you can see the texture from the flaked coconut in the slices in the photographs). And it's not overly sweet. So don't worry about that sugary glaze. In fact, I suggest you apply it liberally.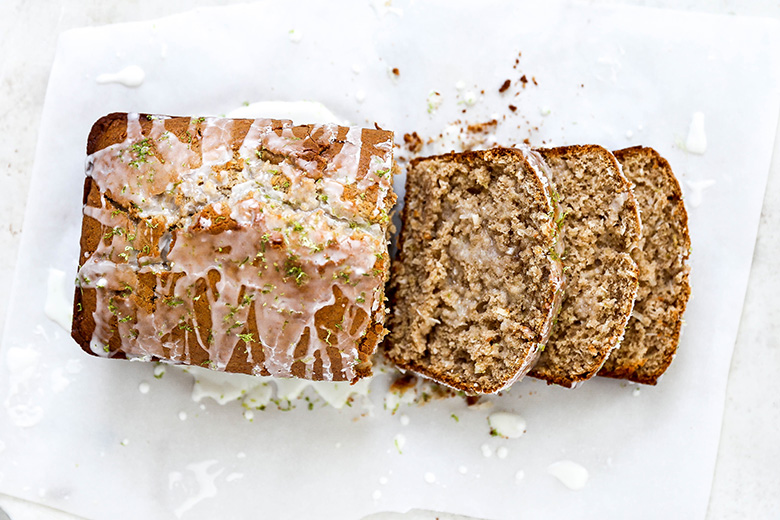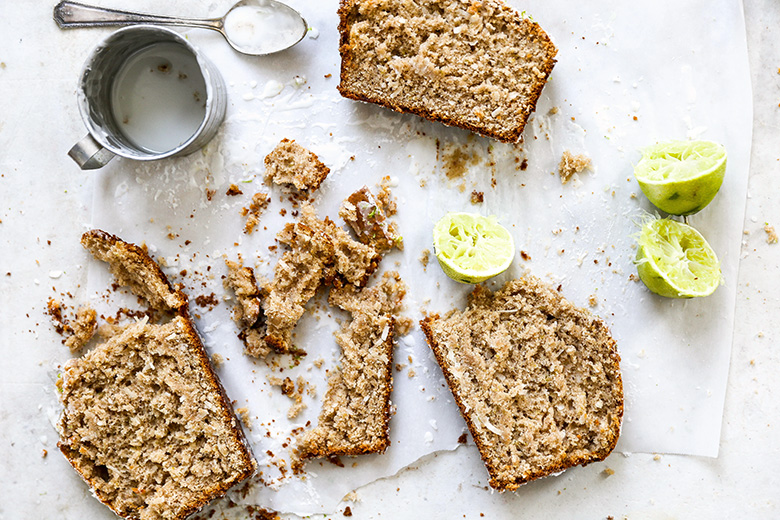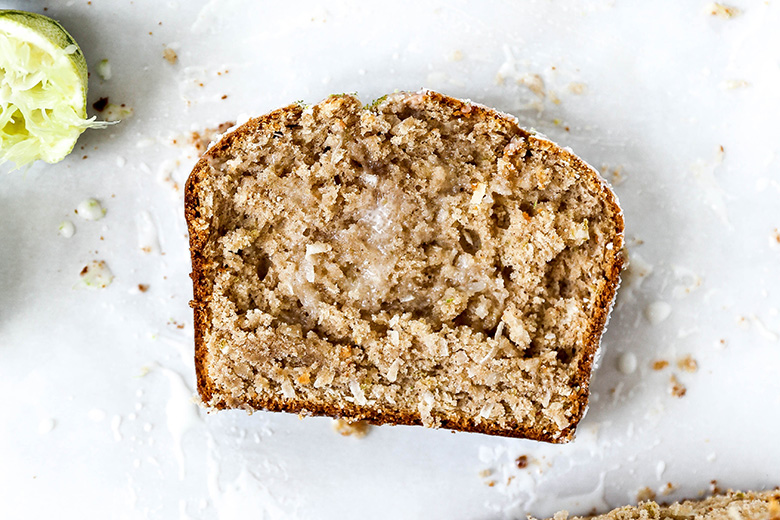 I've made this recipe with lemon or orange zest in place of the lime zest, and while of course it "works" that way, something about it just isn't the same. The flavors of lime and coconut pair so well together (= maximum tropical vibes!), that replacing the lime with a different citrus just feels like kind of a mistake in this particular instance. So my recommendation is to "put the lime in the coconut" and don't look back.
Sorry. Had to do it.
Cheers,
Liz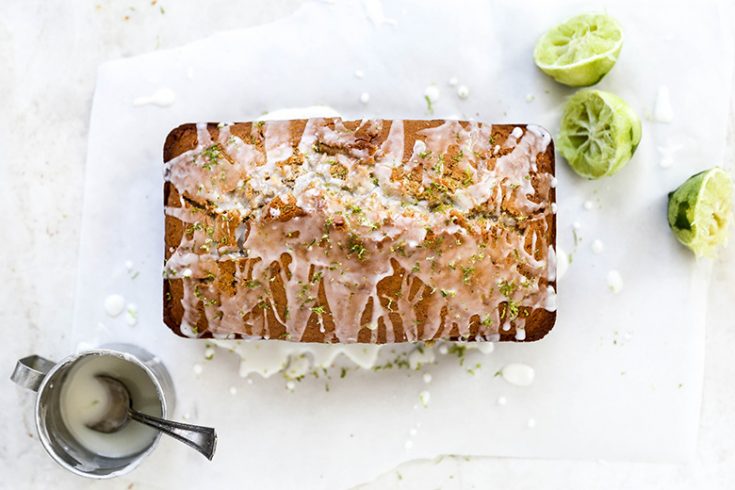 Coconut Lime Bread
Yield: Makes one 9 X 5-inch loaf
Prep Time: 10 minutes
Cook Time: 1 hour 10 minutes
Total Time: 1 hour 20 minutes
Ingredients
For the Bread:
2 1/2 cups all-purpose flour
1 1/2 cups sweetened flaked coconut
1 cup granulated sugar
2 tsp. baking powder
1 tsp. ground cinnamon
1/4 tsp. salt
2 eggs
1 1/4 cups whole milk
1 tsp. vanilla extract
Grated zest from 2 1/2 limes
6 tablespoons unsalted butter, melted and cooled
For the Glaze:
1 cups powdered sugar
2-3 tablespoons fresh lime juice
Grated zest from 1/2 lime
Instructions
Pre-heat your oven to 350 degrees. Coat a 9 X 5-inch loaf pan with non-stick cooking spray and set aside.
In the bowl of your stand mixer with the paddle attachment, combine the flour, flaked coconut, sugar, baking powder, cinnamon and salt.
In a separate bowl, whisk together the eggs, milk, vanilla extract and lime zest. With your mixer on low speed, slowly pour this egg mixture into the dry ingredients. Mix until just combined, scrapping down the sides of the bowl as necessary. Add the melted butter and mix until just incorporated, being careful not to overmix the batter.
Pour the batter into your prepared loaf pan and transfer it to your pre-heated oven. Bake for 65-70 minutes, or until a toothpick inserted into the center comes out clean. Remove from the oven and allow the bread to cool in the loaf pan for about 10 minutes. Then turn it out onto a wire rack to continue cooling.
While the bread is cooling, combine the powdered sugar and lime juice in a small bowl. Drizzle the glaze over the cooled bread. Then sprinkle with lime zest. Slice and enjoy.
The bread can be stored in an airtight container at room temperature for 2-3 days.