SPRING IS HERE!!!
Well, at least that's what the calendar tells me. The weather outside? Not so much.
But that's just par for the course here in New England. We typically have a very slow thaw. Which generates a bonus season between Winter and Spring that we like to affectionately call "mud season".
Oh joy.
BUT! I'm still in good spirits. And I'm charging full steam ahead with some Spring recipes.
If you have any requests for seasonal ingredients that you'd like to see more of here on Floating Kitchen, let me know in the comments!
Today's recipe includes two of my favorite Spring vegetables: asparagus and peas.
I dreamt up this recipe a couple days before Pi Day (= March 14th). I had wanted to create both a sweet and a savory pie for the occasion. I had my heart set on making a pizza, but with my broken arm I didn't think I could manage to knead and shape the dough. Then I remembered one of my favorite pizza shortcuts: using store-bought naan bread for the "dough".
My Pi Day celebrations were saved! And after that singular decision, the whole recipe began to take shape. I opted to use curry sauce instead of tomato sauce. I grabbed some peas and red onion. And well, I couldn't resist the first tender sprigs of asparagus that were peeking at me from over in the produce section.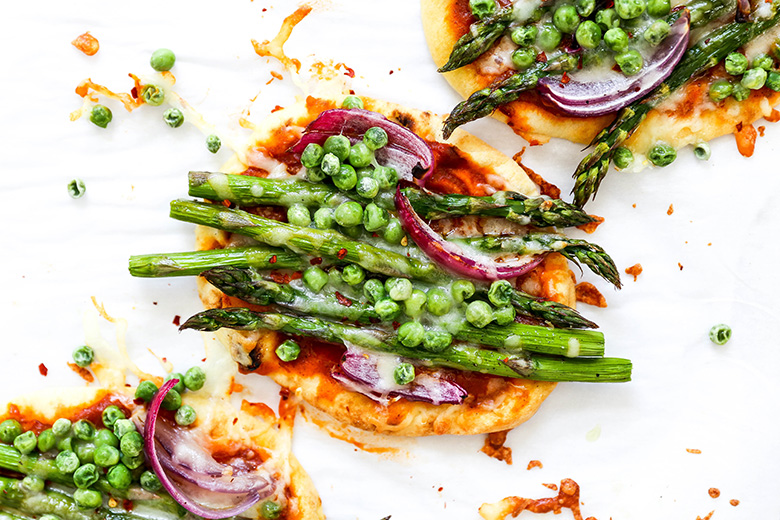 I REALLY believe that this Easy Asparagus and Pea Curry Naan Pizza will become a favorite in your house. It's fast, delicious and perfect for low fuss lunches or dinners. And after you try it once, I bet you'll find ways to make it your own and/or change it up based on whatever vegetables you have in your refrigerator. I did a second version with roasted cauliflower instead of the asparagus and whoa baby that was SO GOOD!
I prefer to use the mini/individual-sized naan breads when possible (= built in portion control!), but I've noticed that I can't always get them reliably at my grocery store. If you find yourself in a similar situation, don't panic. The ingredient amounts listed in the recipe below can be used to top/assemble two pieces of the larger-sized naan breads that are more readily available.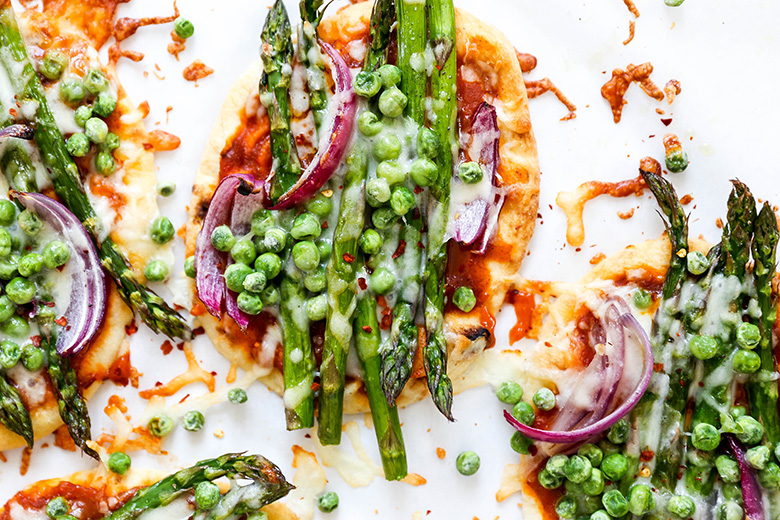 Look for curry sauce in the International aisle at your grocery store. It's often labeled as "cooking sauce" or "simmering sauce" and it's similar in consistency to pizza sauce. It comes in approximately 16-ounce jars (i.e. you don't want to use the small jars of "paste" for this recipe), and you should be able to find several different versions of it.
If you try out my Easy Asparagus and Pea Curry Naan Pizza, please let me know! I'd love to hear about it!
Cheers,
Liz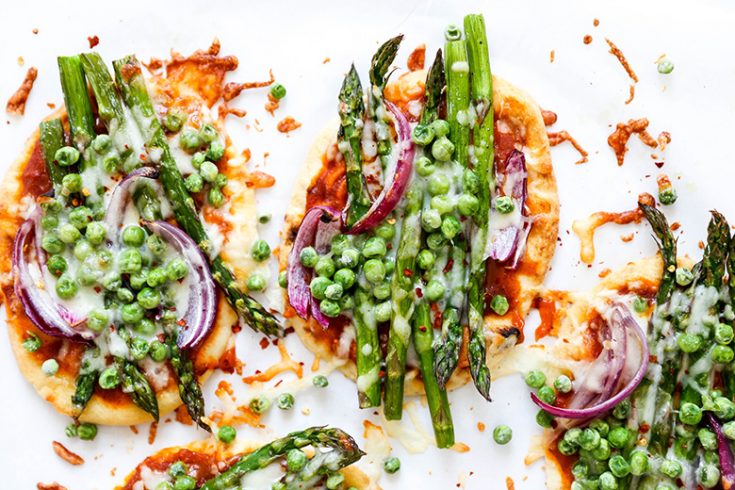 Easy Asparagus and Pea Curry Naan Pizza
Yield: Serves 4
Prep Time: 5 minutes
Cook Time: 20 minutes
Total Time: 25 minutes
Ingredients
1 bunch asparagus, trimmed
1/2 red onion, peeled and sliced
About 1 tablespoon extra-virgin olive oil
1/4 tsp. salt
1/4 tsp. black pepper
4 mini/individual-sized pieces of naan bread
1 – 1 1/4 cups curry sauce (often labeled cooking/simmering sauce)
1/2 cup peas, thawed if frozen
1/2 cup shredded mozzarella cheese
Red pepper flakes
Instructions
Pre-heat your oven to 400 degrees.
Toss the asparagus and red onion in a baking pan with the olive oil, salt and black pepper. Transfer to your pre-heated oven and roast for 10 minutes. Remove and set aside.
Line a large baking sheet with parchment paper. Place the naan bread on the parchment paper and spread about 1/4 – 1/3 cup of the curry sauce on each piece. Arrange the roasted asparagus and red onion over top of the curry sauce. Then add the peas and mozzarella cheese, dividing the ingredients evenly between the four pieces of naan.
Transfer the baking sheet to your pre-heated oven and bake for 10-12 minutes. Remove and set aside.
Sprinkle with a pinch of red pepper flakes, if desired. Enjoy immediately.