This post was originally published here on July 9, 2014. I've since updated the photographs and changed a *few* things in the recipe to make an even better version of the original recipe. I hope you try it!
Today, I'm flipping the script on "cherry pie". Because this isn't a recipe for dessert. It's a recipe for dinner.
It's no secret that I love adding fruit to dishes that are typically savory. But I wasn't sure how the idea of sweet cherries on a pizza would go over. I know people have VERY strong feelings about the use of pineapple as a pizza topping. So it seemed plausible that cherries could also fall victim to that strict "no-go" category.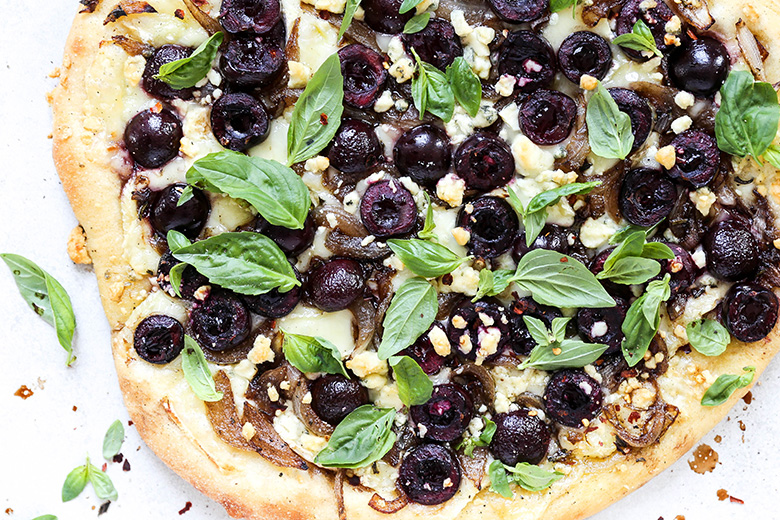 But I'm happy to report that the concept was a success with all my taste testers. So much so, that I decided it was worth putting this recipe out onto the internet for the rest of the world to judge. Hawaiian pizza haters may want to look away. But for those of you who are feeling a little bit more adventurous, I hope you'll give this Cherry and Caramelized Onion Pizza with Brie and Gorgonzola Cheese a try.
Also, can you imagine just how smitten I was with myself upon the realization that this dish could rightfully be called "cherry pie"? As in cherry pizza pie. I was quite tickled, to say the least.
Hey, at least I can make myself laugh. Right?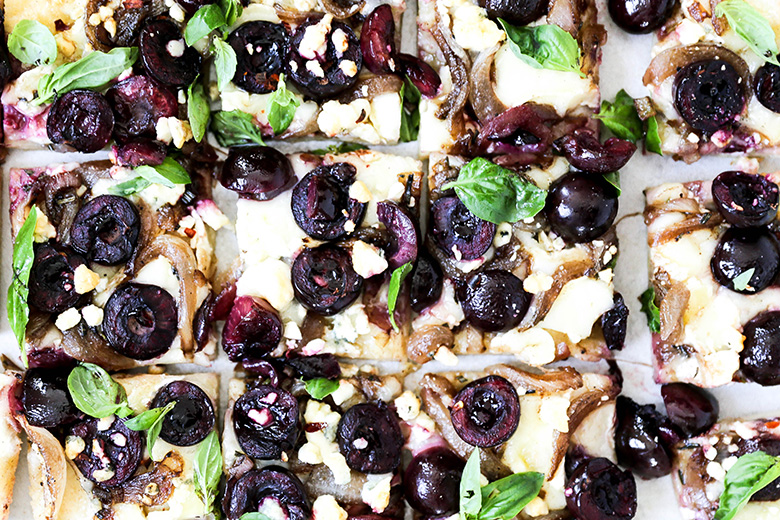 The sweetness of the cherries is well balanced by the caramelized onions, balsamic vinegar, fresh herbs and two types of cheeses. It's a great combination of flavors that pushes the boundaries of your taste buds just a teeny tiny bit. And if you're a person that's already into enjoying savory-sweet combinations, then this Cherry and Caramelized Onion Pizza with Brie and Gorgonzola Cheese won't be much of a stretch for you at all.
And for those of you who are not fully ready to commit, try adding cherries to just half the pizza as a way to test the waters.
If you have time to make your own pizza dough, then more power to you. But these days, I find myself gravitating towards grabbing a ball of dough from the grocery store or my favorite local pizza shop. It saves me a lot of time and tastes just as delicious.
Cheers,
Liz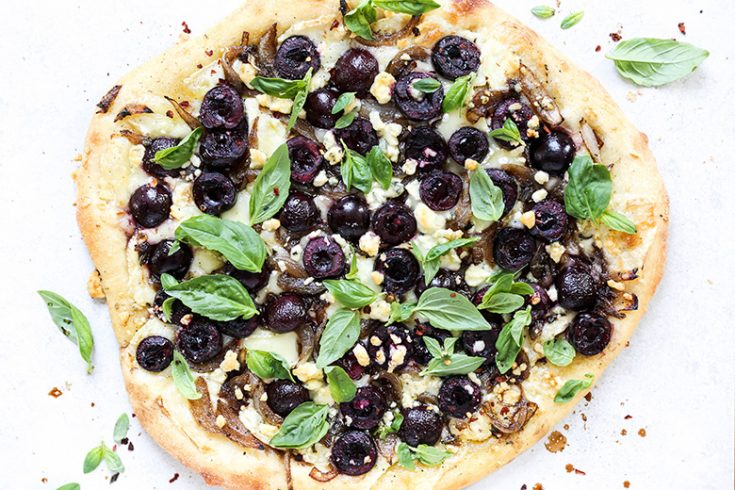 Cherry and Caramelized Onion Pizza with Brie and Gorgonzola Cheese
Yield: Serves 4
Prep Time: 40 minutes
Cook Time: 20 minutes
Total Time: 1 hour
Ingredients
1 lb pizza dough (homemade or store bought)
4 tablespoons extra-virgin olive oil, divided
2 tablespoons unsalted butter
1 large yellow onion, peeled and sliced
1/2 tsp. salt
1/2 tsp. black pepper
2 tablespoons balsamic vinegar
1 tablespoons fresh rosemary, minced
6 ounces brie cheese, thinly sliced
1 1/2 cups fresh cherries, stemmed, pitted and halved
1/2 cup crumbled gorgonzola cheese
1/3 cup fresh basil leaves, torn
Instructions
If your pizza dough has been in the refrigerator, remove it and place it on your counter top to allow it come up to room temperature.
Pre-heat your oven to 425 degrees. Line a large baking sheet with parchment paper and set it aside.
In a skillet over medium heat, warm 2 tablespoons of the olive oil and melt the butter. Add the sliced onions, salt and black pepper. Then turn the heat down to low and cook the onions, stirring occasionally, for about 15 minutes or until the onions are well softened. Stir in the balsamic vinegar and rosemary and cook for 2 minutes more. Remove the skillet from the heat and set aside.
On a well-floured surface, roll/push the pizza dough out until it's approximately a 12-inch circle. The dough will be very elastic, so be patient! I like to alternate between using a rolling pin and my hands to help get the dough to the correct shape.
Transfer the pizza dough to your prepared baking sheet and brush the surface with the remaining 2 tablespoons of olive oil. Arrange the brie cheese slices over the dough in a single layer. Then top with the caramelized onions, cherries and gorgonzola cheese. Transfer the baking sheet to your pre-heated oven and cook the pizza for 16-18 minutes. The crust should be golden brown and the cheese melted and bubbly.
Remove the baking sheet from your oven and let the pizza rest for 5 minutes. Top with the fresh basil. Slice and enjoy immediately.
Leftovers can be stored in an airtight container in your refrigerator for 1-2 days.
Notes
Placing the brie cheese in your freezer for 5-10 minutes will make it easier to slice. You can keep the rind on, or slice it off and discard it.