This post was originally published here October 21, 2013. I've made some changes to the recipe and updated the text and photographs to reflect that. I hope you try these easy Fall-inspired pizzas!
These pita breads are everything that I love about Fall.
Well…at least as far as food is concerned.
They've got roasted butternut squash, sliced apples, fresh sage and sharp cheddar cheese.
And did I mention that they're also miniature? Because they are.
SO freaking cute. Right?!?!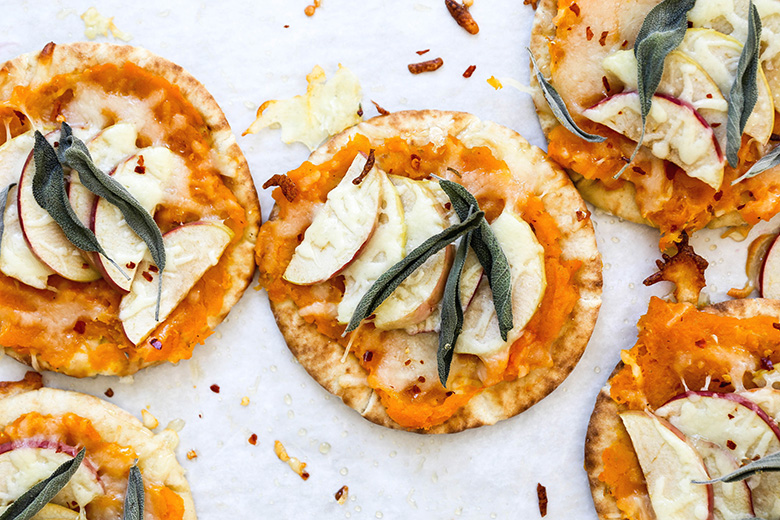 I like to think of these little babies like Fall-i-fied pizzas. But instead of tomato sauce, we've got a thin layer of puréed butternut squash. To make the butternut squash purée, I roast the butternut squash halves until the flesh is completely soft, making it easy to mash the flesh with just a fork. This process will take you over an hour to complete, but it's well worth the time investment. Because both the flavor and texture of the resulting purée is superior over other methods (i.e. boiling or roasting smaller cubes). At least that's my humble opinion.
You will end up with more butternut squash purée than you'll need to make these pita pizzas, but the leftovers will store for 4-5 days in your refrigerator. So you can use it throughout the week as a side dish. Or for making more pita pizzas!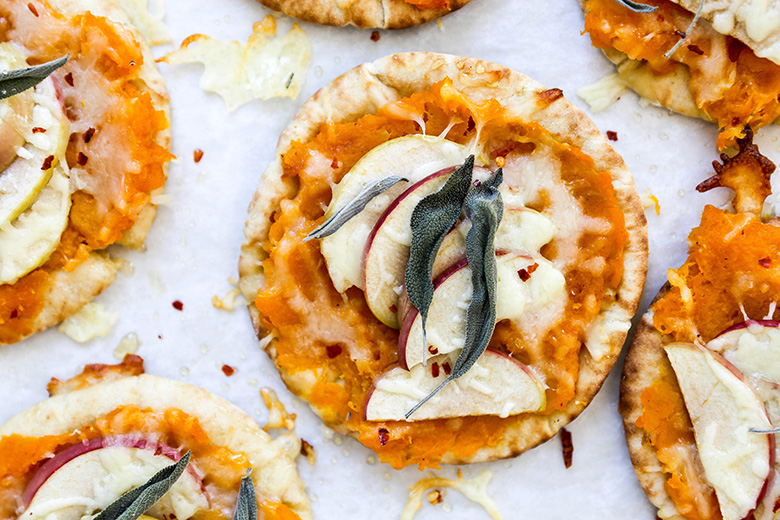 So what should you do with these Butternut Squash and Apple Pita Bread Pizzas with Cheddar Cheese and Sage? Personally, I love them for lunch. I'll typically make up a batch of the butternut squash purée towards the beginning of my week. Then just assemble and bake-off 2-3 pitas at a time for my lunch. Super easy!
I personally love the combination of sharp cheddar cheese with apples. But Havarti or mozzarella also works. Let me know what you try/prefer!
Cheers,
Liz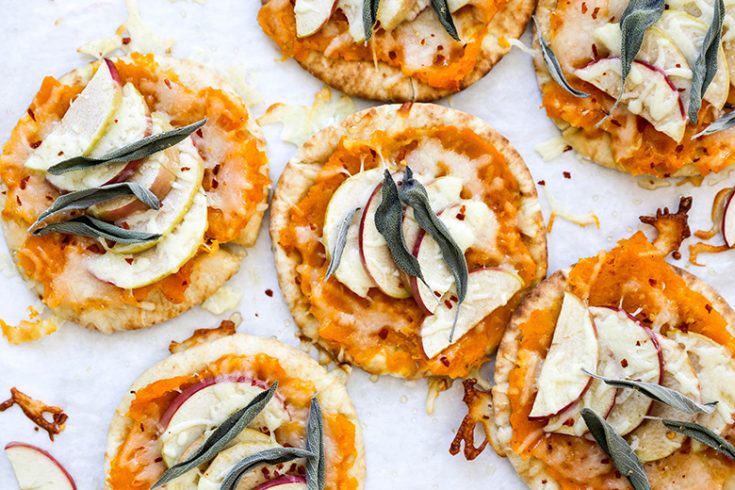 Butternut Squash and Apple Pita Bread Pizzas with Cheddar Cheese and Sage
Yield: Serves 4
Prep Time: 15 minutes
Cook Time: 1 hour 25 minutes
Total Time: 1 hour 40 minutes
Ingredients
For the Butternut Squash:
1 butternut squash
2 tablespoons extra-virgin olive oil
2 garlic cloves, peeled and minced
1/2 tsp. salt
1/2 tsp. black pepper
For the Pizza:
8 mini/individual-sized pita breads
About 1 tablespoon extra-virgin olive oil
2 medium apples, thinly sliced
1 cup shredded cheddar cheese
24 fresh sage leaves
About 1 tablespoon honey
Red pepper flakes
Instructions
Pre-heat your oven to 375 degrees.
Slice the butternut squash in half lengthwise. Scrape out and discard the seeds. Then place the butternut squash halves cut side-up in a large baking dish. Drizzle with the olive oil and sprinkle with the minced garlic, salt and black pepper. Transfer the baking dish to your pre-heated oven and roast the butternut squash for about 50 minutes. Then cover the baking dish loosely with aluminum foil and continue roasting the butternut squash until the flesh is very tender and easily pierced with a fork, about 15-20 minutes more.
Remove the baking pan from your oven and set it aside to cool. Once the squash is cool enough to handle, use your fingers to peel the skin away from the flesh. Discard the skin and transfer the flesh to a clean bowl. Mash it with a fork until it's mostly smooth. Taste and add additional salt and pepper, if necessary. Cover to keep warm. You'll have more butternut squash then you'll need for this recipe. Leftovers can be stored in an airtight container in your refrigerator for 4-5 days.
Line a large baking sheet with parchment paper. Place the pita breads on the parchment paper and brush each piece with a thin layer of olive oil. Spread about 2-3 tablespoons of the mashed butternut squash onto each piece. Then top with the apple slices, cheddar cheese and sage leaves, diving the ingredients evenly between the eight pieces of bread.
Transfer the baking sheet to your pre-heated oven and bake for 12-13 minutes. Remove and set aside.
Drizzle each piece with honey and sprinkle with red pepper flakes before serving. Enjoy immediately.