I feel like I've been struggling to come up with Thanksgiving recipes this year. I have a lot of ideas. But finding the "right" ideas – the ones that seamlessly blend traditional favorites with new flavor combinations – can be challenging.
For example, let's consider mashed potatoes. We all know that Thanksgiving isn't complete without a big bowl of mashed potatoes. And I'll even go so far as to say that they are many peoples favorite part of the big meal. Combine that with the fact that mashed potatoes are already kind of a perfectly engineered food (creamy, buttery, comforting and an excellent delivery system for gravy), and you can see how I would be hesitant to mess with them. There is a lot at stake here.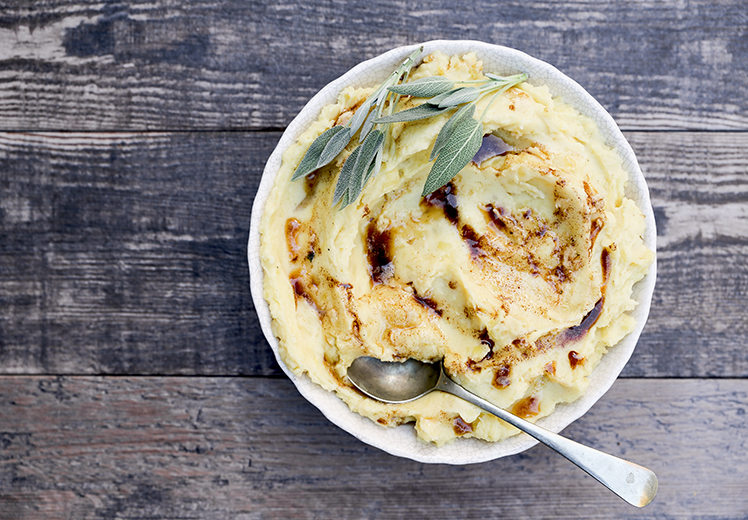 But I really wanted to bring you guys a mashed potato recipe. So I came up with a version that is just different enough to be different. But not so different that you'll be bad mouthing me around the Thanksgiving table. Instead, you might even be singing my praises. Because these Mascarpone Mashed Potatoes with Sage Browned Butter are like your favorite mashed potatoes, just kicked up a notch. The hearty dose of mascarpone cheese makes them extra creamy. And a sage-infused browned butter gives them an irresistible nutty, toasty flavor. It's like mashed potatoes on steroids.
With Thanksgiving fast approaching, I know many of us will be putting in extra hours at the grocery stores and in our kitchens during the next few weeks. So it's a great time to take a peak at Becky's seasonal produce guide and graphic for the month of November. Because taking advantage of the fruits and vegetables that are seasonally available is a great way to shop, cook and eat smarter!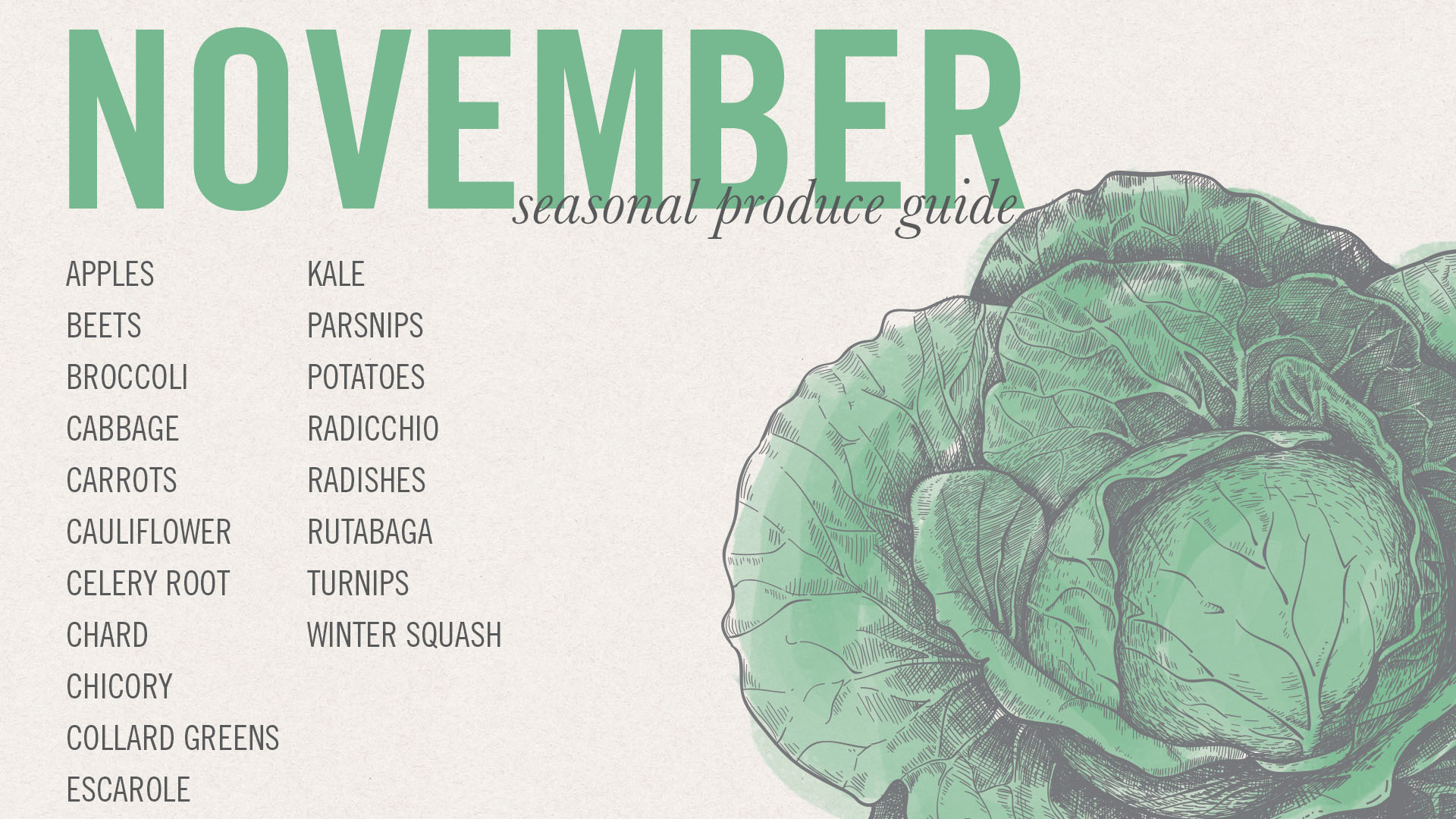 Also, be sure to check out the recipes that my blogging friends came up with this month using the November produce guide. If you make one of our recipes, or make your own creation using any of November's seasonal ingredients, be sure to give us a shout out on social media with the hashtag #eatseasonal so we can see what you've got!
Cheers,
Liz
Ingredients
3 lbs potatoes, peeled and cut into cubes
8 ounces mascarpone cheese, softened at room temperature
1/2 cup milk (I used 2%)
2 tsp. salt
1 tsp. black pepper
1/2 cup (8 tablespoons) unsalted butter, cubed and at room temperature
2 small bunches fresh sage
Instructions
Place the potatoes in a large pot and add enough cold water to submerge them by about 1-2 inches. Cover and place the pot over high heat. Bring to the boil. Then remove the cover and turn down the heat to maintain a simmer. Cook the potatoes, uncovered, until they are soft and can be easily pierced with a small pairing knife, about 20-25 minutes. Drain the potatoes and then immediately add them back to the still hot pot (the helps to evaporate any excess water).
Add the mascarpone cheese, milk, salt and pepper to the potatoes. Then mash with a large wooden spoon, incorporating the other ingredients as you do so. If you want a smoother mashed potato, you can use a hand mixer. Cover to keep warm and set aside.
Make the browned butter. In a medium-large saucepan, melt the butter over medium heat. Once it's almost completely melted, add the sage. Continue to cook the butter, whisking frequently, until it foams and starts to turn brown and smell nutty, about 2-3 minutes. Remove from the heat. Using a pair of tongs, carefully remove and discard the sage. Note: if you want to use some of the sage, you can chop a few of the leaves and stir them into the mashed potatoes.
Add all but a couple tablespoons of the browned butter to the mashed potatoes, stirring to combine. Transfer the mashed potatoes to a serving dish. Then drizzle the remaining browned butter over top of the mashed potatoes. Serve immediately.
Notes
1. I like to use Yukon gold potatoes. I find their texture and flavor to be better than russet potatoes.
https://www.floatingkitchen.net/mascarpone-mashed-potatoes-with-sage-browned-butter/
November Eat Seasonal Recipes
Butternut Squash Apple Soup with Sage Parmesan Croutons by Well Plated
Whole Wheat Pancakes with Balsamic Caramel Apples by Climbing Grier Mountain
Portuguese Kale and Potato Soup by Letty's Kitchen
Easy Cranberry, Apple & Pomegranate Sauce by Cookin' Canuck
Beet, Goat Cheese and Hazelnut Galette by Vintage Mixer
Endive Salad Bites with Pears, Blue Cheese, & Pecans by Flavor the Moments
Pumpkin Roll by Foodie Crush
Butternut Squash Burrito Bowls by Mountain Mama
Slow Cooker Creamy Turkey and Butternut Squash Chili by Bless this Mess
Butternut Squash and Rosemary Biscuits by Completely Delicious
Honey Roasted Beets and Kale Salad with Apple Cider Vinaigrette by Food for My Family